By Matt Weinschenk
The markets have been in uncharted territory for the last eight months or so. Despite everyone's opinion on "what to do with your money today", there's no proven playbook for this specific market. But that shouldn't bother you.
In fact, it should be motivating that the "experts" don't have a clue of what to do next. And their confusion spells opportunity for us. Even though we may not be at the bottom, it's about time to start scooping up high-quality companies at value prices… or at the very least start building up your stock watchlist.
Consider adding Danaher Corp (NYSE: DHR) to that watchlist today.
Danaher Corp is a conglomerate that produces everything from ultraviolet disinfection systems to Craftsman tools. They operate in four divisions:
Professional Instrumentation,
And Tools and Components.
But there's more to it than that. The company is simply a well-run machine – which has helped to boost earnings up 19% a year for the last 10 years. They've done this through organic growth and strategic acquisitions, while keeping debt low.
A Great Addition to Any Stock Watchlist
As a result, the Danaher Corp has blown away the S&P 500 index. It's even trumped one of the most famously run conglomerates in the country, Berkshire Hathaway (BRK.A). Take a look at the results below.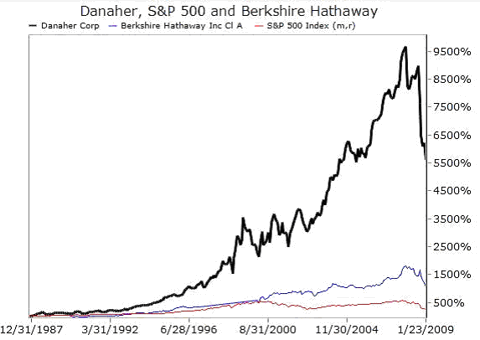 Danaher Corp.'s numbers have been staggering, but can the growth continue?
Yes… but not in this market. And that's not a bad thing.
Danaher will be sensitive to a downturn in consumption and capital expenditure, there's no way around that. However, once the capital markets turn around, it should do the same. And once it does, there's no reason that this stock can't be your next investment "All-Star."
It'll be up to you to decide whether to snatch up shares of this quality conglomerate now or add it to your stock watchlist for when the markets turn around. Either way, I'd suggest you keep a close watch on Danaher.