Weekly Outlook: The market continued to look stronger this past week but showed some signs of uncertainty throughout the week with large moves up and down with volatility as the market keyed in on headlines throughout the week. The market moved well to the upside on solid news while moving down solidly on negative news.
On the positive side, earnings and housing data were strong while Europe has come up again as a sore spot for the market. Political unrest in Spain and Italy helped to give the market some weakness to start the week as Spanish bond yields rose back over 5%. This coming week, we should watch for the market to fixate on Europe again as it begins to move back into the news. Additionally, we should look for the market to focus on a busy week of economic data, developments overseas, and another solid round of earnings
Economic data will pick up again after last week was much lighter. The first major data point to watch is Retail Sales and Business Inventories on Wednesday. Retail sales are expected to increase only 0.1% for January versus a 0.5% increase in December. With expectations low, the market would definitely benefit from a beat here. On Thursday, the market will get Jobless Claims, which are always key to the market with employment such a hot button issue for the market. Friday is a packed day with Empire Manufacturing, Industrial Production, and Michigan Consumer Sentiment Index. Empire Manufacturing is expected to come in flat after a weak January reading at -8. This report has been quite weak since Hurricane Sandy, and a reversal back into the positive would be great for the market.
Consumer sentiment reports have been fairly weak with the fiscal cliff scenario followed by government issues with spending. Any signs of a reversal in the Michigan Consumer Sentiment would lift the markets. While there is definitely more going on than last week, it's still a light week to start the market off, and we should see the market key in on some developments overseas to start off the week.
Outside of the USA, Europe and Asia have an interesting week of economic data along with situations developing in Spain and Italy will be important to the market. As for data, the key reports to watch start on Wednesday with the Bank of England's Inflation Report and eurozone Industrial Production. On Thursday, Japan will put their hot start to 2013 on the line when they report Q4 GDP as well as the Bank of Japan announces its rate decision. In Europe, Thursday is a big day with eurozone, French, German, and Italy Q4 GDP all being announced. It's a big day for Europe, and we will definitely see American markets reacting to the news there. It will be key to see if the eurozone and Germany were able to avoid a recession. Friday finishes up with British Retail Sales.
Outside of data, though, Spain and Italy need to improve their current situations. Last week, Spain saw yields increase fairly significantly due to a scandal surrounding Prime Minister Mariano Rajoy. The scandal threatens the country's stability and ability to continue to maintain its austerity measures. For Italy, the country is seeing former Prime Minister Berlusconi gaining traction by commenting that he wants to reverse conservative fiscal policies, which is not positive for bonds and country stability as well. The situations there could definitely linger and cause some unrest for the market.
Earnings have been very solid all season, and this week we get to see some new sectors / industries report earnings. The key companies to watch this week are Coca-Cola (NYSE:KO), PepsiCo (NYSE:PEP), Cisco (NASDAQ:CSCO), Comcast (NASDAQ:CMCSA), Duke Energy (NYSE:DUK), and General Motors (NYSE:GM). KO and PEP will give an interesting look into both emerging markets' and American markets' appetite for soft drinks. CSCO is coming off a solid last six months, and the company will need a solid report to continue higher. GM might be the most interesting report of the week, after Ford (NYSE:F) said that Europe hurt the company significantly in the latest quarter. How is GM doing in Europe? Key earnings continue this week, and with big name bellwethers set to report throughout the week, we should see the market reacting to some of these reports.
The Federal Reserve has a few speeches planned, but other than that, they have a quiet week.
So, where are we headed this week?
As we can see, it's a pretty packed full week with European data, earnings, American data, and issues in Spain and Italy. Not to mention, the markets should start to see some negativity come into trading as we near sequestration at the end of the month. Sequestration is the automatic spending cuts to the government if no deal is met to reduce spending by Republicans and Democrats. The market seems to be lacking the bullishness to trade up no matter what but still wants to chug higher on good news. It has dipped strongly, though, on weak news as well. We should see the market mostly reacting to headlines throughout the week. Good news in Europe, earnings, and data should give the market reason to move higher, but look for some more sharp declines on negative headlines.
Stocks To Trade:
The four stocks we are watching this week are longs in Eli Lilly (NYSE:LLY) and Bank of America (NYSE:BAC) and shorts in Baidu (NASDAQ:BIDU) and Merck (NYSE:MRK).
Eli Lilly is looking very strong right now, and it looks like it could be ready for a breakout. LLY reported earnings on January 29th with a strong report that should help keep shares moving higher. The company reported a slip in net income, but it was really an afterthought after the company guided higher for its full year EPS outlook. The company raised EPS outlook from 3.75 - 3.90 to 3.82 - 3.97 for the year. In a year where the company loses its patent on Cymbalta on top of losing a patent in Zyprexa in December, one would expect a bleak outlook. Yet, the company is pushing for new revenue in different areas as it moves away from Zyprexa and Cymbalta.
On top of this, the company is pushing growth in Japan, emerging markets like China, and animal health. Earnings slowdown is expected in 2014, but we believe it is priced in at this point. With a 3.7% yield and 15% growth in earnings expected for the year, LLY has the ability to continue higher. The key for the company at this point is will it be able to bring up expectations for 2014 by seeing ventures into new drugs and markets working to offset Cymbalta and Zyprexa? That question, for now, looks to be answered, and we see more upside in shares. On top of this, the company has 13 drugs in Phase III trials right now, and we believe this healthy pipeline is also another reason to like LLY for investing. A great buy point for a trade or investment start is on a break of 54.50, which has been near-term resistance.
Trade #1: LLY, Long
Buy Point: 54.50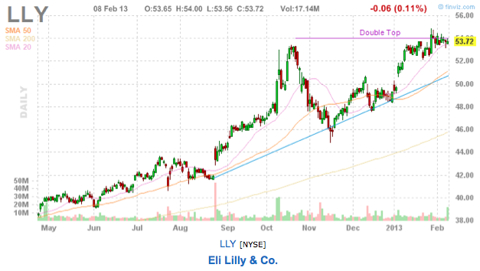 Another stock we like long is Bank of America. The financial institution has looked very strong as of late and looks poised for a big run over the next several months. As of late, Meredith Whitney commented that the worst for the bank is behind it and that it should run to $15 over the next six months. We agree-- the key to BAC is its mortgage business. The company is one of the only banks to cut back on its mortgage business in the latest quarter (the bank originated $22B in mortgages). Yet, the company made great revenue on the mortgages at 4.3%, which beats out most of its competitors like JP Morgan (NYSE:JPM) at 2.6%. While over the next year, this return will likely decline, the company can easily increase its share of mortgages again.
We believe that the margin on mortgages that BAC is making is very attractive and a reason to like the company right now over many other banks. With the company expected to see around 300% growth in earnings in 2013 and nearly 6% revenue growth, we believe BAC is solid for the year. We like the company for a bull put spread to hedge longs as well as open a position if the stock were to decline on any shocks. Right now, we can make 16% on an 11/10 bull put spread for Mar16.
Trade #2: BAC, Mar16, 11/10 Bull Put Spread
Max Gain: 16%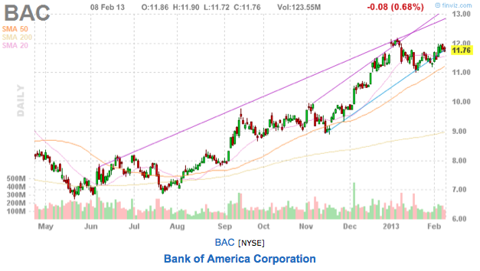 The bearish positions we like are in Baidu and Merck. Last week, BIDU released its latest quarterly earnings, and the results were not very positive. The company reported EPS at 1.31 versus 1.29 expectations along with $1.02B in revenue versus $1.01B expectations. On top of that, the company reported that it expected revenue at $945M - $976M versus the expectations at $967M expectations. The problem for the company is that for the first time BIDU is seeing strong competition - Qihoo 360 (NYSE:QIHU). That competition is causing the company to see declining margins, as it has to spend more money on marketing to obtain users. The decline in margins hurt the stock significantly, causing a 10% drop in the company's stock price.
After earnings, Raymond James, Brean Murray, and Stifel Nicolaus all downgraded the company on belief that this margin pressure will negatively affect the company's value. We agree with them. The company's earnings growth will be severely diminished by its margin compression, causing share prices to decline. With a 22 PE, shares are not drastically overvalued, but we believe that upside does remain limited. Another report from Tech in Asia comments that Qihoo is working with Sogou, which may be a ploy to put even more competition on BIDU. We believe the company is due for a bear call spread, as upside is definitely limited right now. The 110/115 bear call spread for Mar16 is attractive with 6% potential gain.
Trade #3: BIDU, Mar16, 110/115 Bear Call Spread
Max Gain: 6%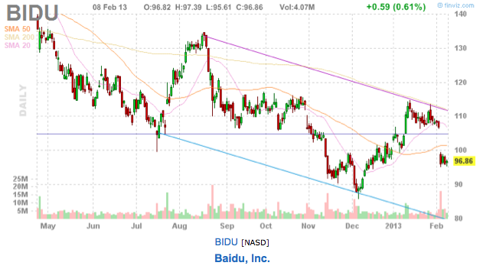 Finally, we like the looks of a bearish position in Merck. The company continues to struggle right now, as the pharmaceutical company has been hurting since the beginning of the year after weak earnings to start the month, as well as a failed heart drug in December. The company's combination of weak earnings and failure in its heart drug Tredaptive is making shares look good for a short. The drug is approved in the EU and wanted to get approval in the USA, but trial results were very weak to show a decline in heart attack or stroke in vulnerable patients.
On top of this, the company reported weak earnings to start off the month. The company beat expectations on EPS and revenue with 0.83 and $11.7B respectively. The company was expected to see EPS and revenue at 0.81 and $11.5B. Despite the beat, the company forecasted weakly, and that was the big news. The company said it was cautious on 2013 outlook and that it would be delaying its osteoporosis treatment odanacatib until 2014, which was a hit to shares as well. It's not a great time for the company, and we believe that there are too many headwinds right now for upside. Growth is very limited right now, and we believe that losing $41 will be a level to watch.
Trade #4: MRK, Short
Sell Point: 41.00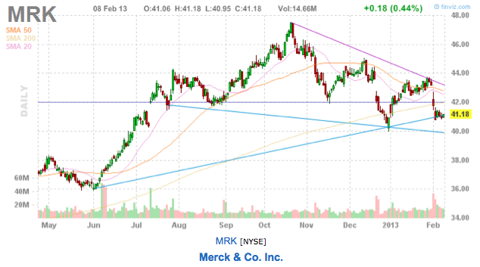 Chart courtesy of finviz.com.
Disclosure: I have no positions in any stocks mentioned, and no plans to initiate any positions within the next 72 hours.
Business relationship disclosure: The Oxen Group is a team of analysts. This article was written by David Ristau, one of our writers. We did not receive compensation for this article (other than from Seeking Alpha), and we have no business relationship with any company whose stock is mentioned in this article.