Food distributor Sysco (NYSE:SYY) reported lackluster second quarter results early last week. Revenue grew 5% year-over-year to $10.8 billion, a touch better than consensus forecasts. Earnings, although in line with consensus estimates, were down 7% year-over-year to an adjusted $0.40 per share (Image Source: SYY 2Q Earnings Presentation).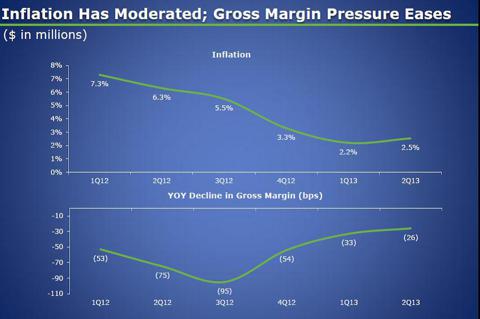 Click to enlarge
Gross margins (shown above) at Sysco were down 26 basis points year-over-year to 17.8%, driven mostly by food cost inflation, which was 2.5% during the quarter. For a retailer that consistently posts 50%+ gross margins, a 30 basis-point swing is largely immaterial. However, Sysco runs on rather thin net margins, so any cost increases have a disproportionate effect on the bottom line. Although it appears inflation is trending downward, the growing season is always uncertain, so inflation could easily reaccelerate in Sysco's second half of fiscal year 2013 (something we are watching very closely). With gross margins languishing, operating expenses jumped 40 basis points as a percentage of sales to 14.2%, though much of the increase was due to restructuring expenses. In order for the company to grow earnings with cost inflation relatively high, operational cost containment will have to drive sales leverage (Image Source: SYY 2Q Earnings Presentation).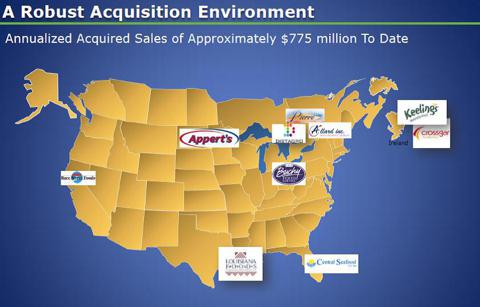 Click to enlarge
The food distributor business remains highly fragmented, and Sysco continues to acquire smaller firms. The firm has spent nearly $200 million on acquisitions year-to-date. Though Sysco's cash from operations declined 28% in the 26-week period ending December 2012 versus the same period a year ago, free cash flow advanced 19.6%. However, capital expenditures fell significantly to $262 million from $434 million (during the comparable 26-week period), which was the main driver behind the expansion. Still, acquisitions may continue to weigh on cash accruing to shareholders, limiting the pace of future dividend increases.
Overall, Sysco's second quarter was relatively weak. Still, we don't overreact to short-term business fluctuations, and we won't be making any changes to our fair value estimate at this time. However, Sysco's business is facing some fundamental challenges that give us pause, and we will continue to monitor the situation for improvement before considering the company for the portfolio of our Dividend Growth Newsletter.
Disclosure: I have no positions in any stocks mentioned, and no plans to initiate any positions within the next 72 hours. I wrote this article myself, and it expresses my own opinions. I am not receiving compensation for it (other than from Seeking Alpha). I have no business relationship with any company whose stock is mentioned in this article.