No More NETS
On Tuesday, Northern Trust (NASDAQ:NTRS) shocked the ETF world by announcing it was closing all 17 of its Exchange Traded Funds, effective February 10 before the open. Shares held past that date would be liquidated for their NAVs on February 20.
The NETS line of ETFs mainly tracks single-country benchmarks, with a few specialty funds thrown in for good measure, such as the NETS FTSE CNBC Global 300 Index Fund (MYG) and the NETS Tokyo Stock Exchange REIT Index Fund (JRE). Since several of the NETS funds had first-mover status, several single-country markets will be left without a corresponding ETF once the funds stop trading.
NTRS shares were higher by more than 3% in pre-market trading Wednesday on the news, which was perceived as good for Northern Trust's bottom line.
The press release included the following list of pertinent funds: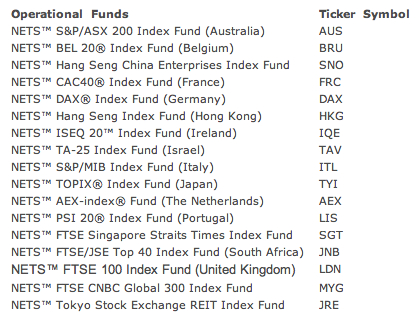 Northern Trust is currently providing a Q&A for investors on the NETS website landing page.
According to the company, the 17 ETFs had amassed just $33 million in total assets as of the last day of FY2008, not nearly enough to make managing the funds profitable. The first of the funds launched in April 2008. According to Northern Trust:
The Board considered current market conditions, the inability of the Funds to attract significant market interest since their inception, their future viability as well as prospects for growth in the Funds' assets in the foreseeable future. Based on these factors, it was determined that it was advisable and in the best interests of the Funds and their shareholders to liquidate the Funds.
Industrywide Fallout?
The shuttering of the entire line of NETS funds raises the specter of a belated industrywide fallout as a result of the global economic downturn. This is especially true for the smaller players and relative newcomers to the industry; established issuers like Barclays iShares (NYSE:BCS) and Invesco Powershares (NYSE:IVZ) have already amassed enough assets to put their ETF businesses firmly into the black.
On the whole, ETFs performed impressively in 2008, as outlined in Murray Coleman's excellent 'Year In Review: ETFs Defy Stereotypes In 2008.' According to Coleman, ETFs saw assets under management decline just 13% last year versus a 38% decline for the S&P 500. That's compared to mutual funds which saw outflows keep apace with general market declines.
But with over 50 ETFs closing in 2008, there are concerns many more funds could close in 2009, cutting into the burgeoning industry's impressive growth to date, and sparking a wave of consolidation. John Spence was already pondering just this possibility in his MarketWatch ETF Investing blog on October 8, 2008:
There are currently plans to launch 601 new ETFs, including 486 in the U.S.

However, with markets in meltdown mode, one wonders how many of these funds will be tossed into the junk pile.

With a flood of ETFs hitting the market in recent years, many are predicting consolidation after the boom. ETFs with meager assets and scant trading volume are seen as most vulnerable. Also, the smaller firms may not be able to subsidize ETFs that have failed to draw significant interest.
In addition to its 17 currently trading, soon-to-close funds, NETS also pulled 27 ETFs still in the filing stages. This list included 20 single-country ETFs, four international REIT funds and three global funds.
What lies ahead for the rest of the industry in 2009 is anyone's guess.