After a modest fiscal year 2012, Emerson Electric (NYSE:EMR) kicked off fiscal year 2013 with a solid first quarter. Revenue for the quarter ticked up 5% year-over-year to $5.6 billion, modestly higher than consensus estimates. Earnings per share jumped 24% year-over-year to $0.62, reflecting stronger net income and a lower share count (but it still was in line with consensus predictions).
Cash flow at Emerson was fantastic, with operating cash flow increasing 66% year-over-year to $554 million, resulting in free cash flow growth of 115% year-over-year to $439 million. Though we wouldn't expect this breakneck pace to continue through the entire year, increases in cash flow will give the firm more flexibility with respect to capital investment and increased returns to shareholders via dividends and share repurchases.
On a segment basis, Process Management was the firm's standout performer, with sales surging 24% year-over-year to $1.9 billion driven by continued investment from the oil and gas, chemical, and power industries. Strength was geographically diverse, with sales up 26% in the US, up 25% in Asia, and up 11% in Europe. Segment operating margins expanded 520 basis points year-over-year to 17.6%.
Climate Technologies was also an area of strength, with sales accelerating 2% year-over-year to $752 million thanks to increases of 1% in the US, 7% in Asia, and 2% in Europe. Although refrigeration demand remained weak on a global basis, the firm expects strength in the residential housing market in the US and Asia to propel solid growth for the rest of the year (albeit at a lower margin). Commercial and Residential Solutions also posted solid growth, with revenue expanding 4% year-over-year when excluding the Knaack business divestiture. Again, strength in the US housing market propelled growth, and the firm anticipates the strength in North America to continue in the near term.
Industrial Automation was considerably weaker, as sales fell 7% year-over-year to $1.1 billion, with revenue from the US and Asia down 7% and European sales off 9%. Though HVAC demand was relatively solid, capital investment remains constrained at this time, and the firm doesn't see much changing in the near term. The segment's operating margin declined 40 basis points to 14.4%, but this can easily turn due to strong operating leverage.
Network Power saw sales fall 2% year-over-year, as weak telecom markets in Asia and Europe tempered revenue expansion. Though Europe drove most of the weakness, the firm expects stronger order trends to drive demand going forward, and it remains confident the segment can see a return to growth.
Overall, we thought the quarterly results were solid, but clearly, the firm remains cautious on the global macro outlook. CEO David Farr did admit to improving sentiment with respect to the US and China, but we were pretty surprised to hear his bullish commentary about Europe on the call, stating:
"…I feel better about Europe today than I did 60 days ago. So I wouldn't be surprised if we do grow our European business in the second quarter. So what I think they will get the significant margin improvement in Europe, you got to get about 5% underlying growth for us. I mean at 2%, 3%, 4%, that's not enough to really ramp at margin, but if you start getting up above that 5% with a restructuring underway, we should see a pretty good margin improvement and that will help us obviously in our overall business, but that's where you have to get it. I don't have a forecast that Europe is going to grow 4% or 5%. So I think that's kind of the growth you need to see and I don't see that happening for a while."
Looking ahead, Emerson raised the low end of its revenue forecast to 2% from 0%, though it made no adjustment to the top end of its range (5%). Earnings per share are roughly in-line with previous predictions, as shown below (Image Source: EMR Earnings Presentation).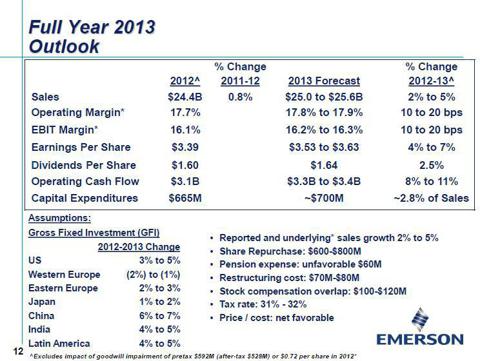 Although Emerson's growth was by no means robust, we're feeling fairly upbeat about the company's prospects through 2013 and particularly in 2014 as global economic growth recovers. The company believes earnings gains will be concentrated in the first half of 2013, so any dynamic improvement in global growth could provide earnings upside for the year. Though the firm did not raise its dividend this quarter (it just raised it), we continue to hold the name in the portfolio of our Dividend Growth Newsletter.
Disclosure: I have no positions in any stocks mentioned, and no plans to initiate any positions within the next 72 hours. I wrote this article myself, and it expresses my own opinions. I am not receiving compensation for it (other than from Seeking Alpha). I have no business relationship with any company whose stock is mentioned in this article.
Additional disclosure: EMR is included in the portfolio of our Dividend Growth Newsletter.