American International Group, Inc. (NYSE:AIG) is a powerhouse. The one strike against it is that little business of the 2008 financial crisis and its brink of total collapse. I may sound a bit flippant over such dire recent history but let us remember the rest of that story. The government of The United States of America, the globe's largest economic power and now the world's largest insurer against moral risk has determined AIG is too big to fail. That is worth repeating.
The government of The United States has determined that AIG is too big to fail.
That is a determination that can not be taken back so long as the structural facts remain true. AIG insures so many of the institutions and financial instruments that are an integral part of the world's economies and represent such a large portion of the asset value of those economies that it is unthinkable to allow them to fail. The domino effect of cascading failures triggered by the loss of this insurer would cripple the world for generations. Therefore, it will not fail. And it has shown its ability to bounce back from even the absolute brink of the abyss and do so in months, not decades or generations.
AIG was an earnings powerhouse long before the 2008 crisis and has returned to that status in the past three years even while still under the boot of the government controlled trust created to oversee it after the huge input of taxpayer cash. The strength needed to accomplish this Herculean labor is awe inspiring.
Many of us may abhor the very concept of "too big to fail" and oppose the intervention of government into the private market place in such a manner as they have undertaken with AIG. I know that I for one abhor it. But, that is no reason not to profit from it.
Ok, enough of the soapbox issues, lets take a look at the performance since 2008. AIG has recovered from its deep 2008 net losses to rapidly return to profitability, passing break-even by the close of 2010 and steadily rising since then. Free cash flow has remained strong and steady around $1.2 billion annually even through the depths of the financial crisis. A sign that the company manages its debt well and can provide a reliable source of dividends when they return.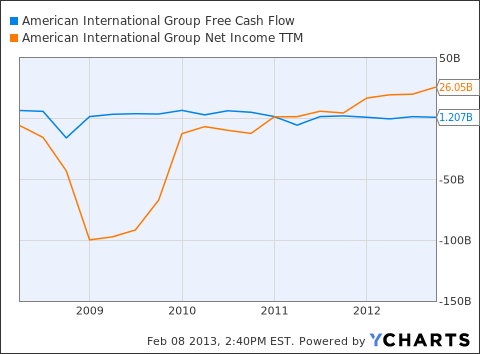 AIG Free Cash Flow data by YCharts
With a book value per share of $62.83, AIG is trading for a deep discount at only 62% with its current price of $38.90. Free cash flow per share since dilution caused by the government conversion to shares in early 2011 has been steady in the area of $0.735/share. Even at a conservative payout ratio of 60%, this would allow a dividend of $0.44 annually (1.1%). Since the 2008 bailout, AIG has repaid the government fully the $182 billion provided for the company's use. The government completed its sale of the last of its shares in AIG in December 2012. This brought to a close a government ownership of 92% of the company (The Treasury Department continues to hold warrants for 2.7 million shares of stock). All this accomplished in less than 4 years. A leaner and stronger company, having divested about 50% of its pre-crisis assets as part of its program to retire government loans and focus on core insurance business, is now ready to resume its place as a cornerstone financial institution. Shares have risen 43.53% in just the past year.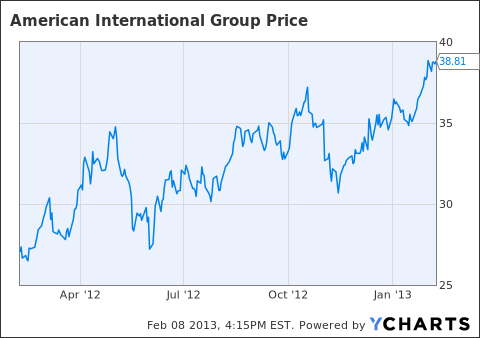 AIG is out performing its competitors in all important metrics including quarterly year over year revenue growth, gross margins, operating margins, and net income per share. At the same time, its P/E ratio is a miniscule 2.67 while its lackluster trailing competitors boast P/E ratios of 10.89 and 12.30. A reasonable P/E ratio of just 11 would place AIG share price at a whopping $160.00 per share. With 1.48 billion shares outstanding, even conversion of the full 2.7 million warrants still in Treasury Department holdings would have a negligible dilutive effect.
(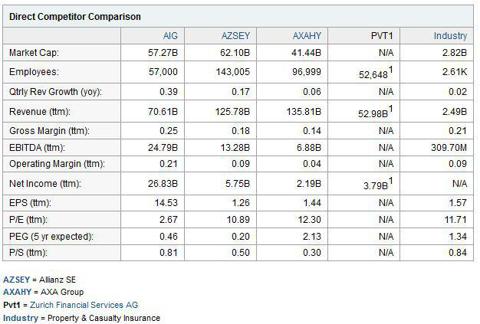 (source: yahoo.com)
All the fundamentals establish that AIG is trading at extremely cheap prices. However, if you are like me, yield for income is important also. For this, the sale of covered calls allows the long holder of shares to harvest income while waiting for suitable dividend yields to be reinstated.
As an example, the March 16 $39 call is at the money and selling for $1.25 with today as I write this. Establishing a long purchase of shares at $38.80 today and selling the covered calls gives a 3.7% yield for just 36 days ($1.25 plus $0.20share price call premium = 1.45/38.80= 3.7%). That is an annualized rate of 37.51%. Those are attractive yields if the stock is called away from you and provides a good reason for staying put and using the covered call writing tactic to continue generating income yield if the price does fall away from $39 for now.
Finally you can ask yourself what stock you would feel safer owning if another major financial crisis shakes the foundations of the global economy this year or in the foreseeable future? The U.S. Government has already conceded the inviolate need to keep AIG afloat and proven its commitments to do so. What other non-government security can you put in your portfolio that has the full faith and credit of the U.S. Government backstopping it?
I am not a licensed securities dealer or advisor. The views here are solely my own and should not be considered or used for investment advice. As always, individuals should determine the suitability for their own situation and perform their own due diligence before making any investment.
Good luck and good investing.
Disclosure: I am long AIG. I wrote this article myself, and it expresses my own opinions. I am not receiving compensation for it (other than from Seeking Alpha). I have no business relationship with any company whose stock is mentioned in this article.