Visa (NYSE:V) announced stellar results for its fiscal year 2013 first quarter last Wednesday afternoon. Revenue jumped 12% year-over-year to $2.8 billion, in line with consensus estimates. Earnings per share, net of a one-time tax benefit of $0.11, increased 22% year-over-year to $1.82 per share, a few cents higher than the consensus expected.
Other than a litigation charge of $4.4 billion that the firm had to pay out during the first quarter, new CEO Charlie Scharf's first quarter on the job went off without a hitch. Payments volume increased across all geographies, growing 3% year-over-year in the US to $544 billion, 13% (excluding currency) in Asia-Pacific to $313 billion, and 37% (excluding currency) in Central and Eastern Europe, Middle East, and Africa to $52 billion. The trend away from cash remains strong, and while some less developed countries have a few minor structural impediments, we believe this trend looks as pronounced as ever (Image Source: V Earnings Presentation).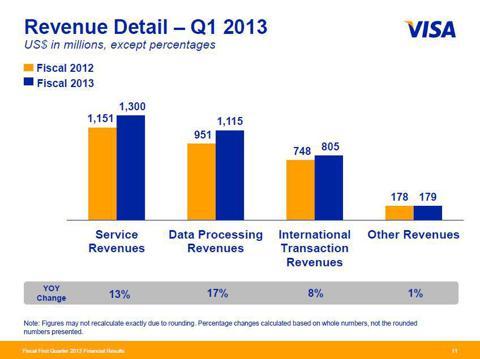 Growth was also strong across all categories, with data processing revenue jumping 17% year-over-year to $1.1 billion. Data processing more specifically addresses the authorization of card usage, clearing, settlement, CyberSource, and other transaction support. We think it could continue to outpace service revenue growth, as we see debit card caps in the US weigh on Visa's services revenue expansion. Needless to say, additional regulatory measures could also impede sales growth to a degree, as Visa and its payments counterpart MasterCard (NYSE:MA) are favorites of regulatory and congressional scrutiny. Still, the power of Visa's network is very apparent, and Scharf provided some interesting commentary that makes us believe its competitive advantage is sustainable, saying on the call:
"The networks been built over decades. We all know that it provides great global acceptance, clearing, authorization and settlement, but it's proven to be safe and secure. It's battletested through the years as though I think about it and we continue to invest aggressively because the world of cyber criminals is growing not shrinking, and I'd rather have our network than anyone else's at this point as we continue to build on that security. And this becomes a competitive advantage over time."
The firm's operating margin declined to 63% from 64% in the same period last year as expenses grew faster than revenue expanded. Personnel expense jumped 17% year-over-year to $454 million, primarily driven by investments made to drive future growth. Still, other than personnel investments, Visa did a fantastic job controlling costs, with marketing up just 2% year-over-year and general and administrative expenses only 4% higher.
Going forward, the company reiterated its previous fiscal year 2013 guidance of double-digit revenue growth, high-teens earnings per share expansion, and an annual operating margin of 60%. However, the firm did raise its free cash flow guidance to $6 billion and authorized an additional $1.75 billion in share repurchases. Since it went public, Visa has done a tremendous job returning cash to shareholders, and we would not be surprised to see another dividend increase this year-though the current dividend yield remains less than 1%.
With over $6 billion of cash in its coffers, as well as a lot more coming during fiscal year 2013, we think Visa has the financial capacity to make a major acquisition relatively easily (whether it is an online payments processor, or a mobile payments processor like Square). A blockbuster acquisition like PayPal (NASDAQ:EBAY) is unlikely due to the fact that eBay wouldn't want to sell its most valuable asset. Also, it would almost certainly be scrutinized by regulatory approval (and probably blocked). For now, the firm will have to push V.me, but smaller technology acquisitions could be on the company's radar.
Overall, we were incredibly pleased with the quarter, and we remain big fans of the company's business model. Still, shares continue to converge to our fair value estimate (click here), so we may look to trim the position in the portfolio of our Best Ideas Newsletter in the coming weeks.
Disclosure: I have no positions in any stocks mentioned, and no plans to initiate any positions within the next 72 hours. I wrote this article myself, and it expresses my own opinions. I am not receiving compensation for it (other than from Seeking Alpha). I have no business relationship with any company whose stock is mentioned in this article.
Additional disclosure: Some of the firms mentioned in this article are included in our Best Ideas Newsletter.