FEI Company (NASDAQ:FEIC) is a technology company that specializes in the manufacturing of electron microscopes. The company has a market cap of $2.3B and yearly revenues of $873m. In this article I'll show why I believe FEI is a well run company that is a leader in this highly specialized industry. From an investment perspective the company is not particularly cheap at the current time, but I would keep a close eye on it to see whether it dips in price in the coming months and a good entry point is provided to take a long position.
Note: Unless otherwise stated, financial figures are sourced from the latest annual report, the Q4 2012 conference call transcript, or yahoo finance.
Business Overview
FEI's customers can be broken down into 2 main groups: Science and Industry. Each of these represents close to 50% of sales as of 2012, with profit margins a little higher on the industry side. The following slide from a recent company presentation highlights the breakdown: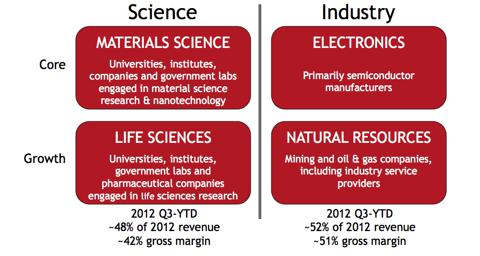 For these customer groups the company makes three primary types of microscopes:
Transmission Electron Microscopes (TEM)
Scanning Electron Microscopes (SEM)
DualBeams
Each of these highly specialized tools has a wide variety of applications. TEMs can show high resolution pictures of individual atoms. SEMs generally have poorer resolution but can image bulk samples up to many centimeters in size. DualBeams are the preferred solution for 3D microscopy.
Business Prospects & Competitive Advantages
The overall market for electron microscopes is expected to grow at a CAGR of 15% between 2011 and 2015.
FEI is the market leader in TEMs, with a dominant 70% market share as of 2011. Electron microscopes like TEMs are high tech instruments that are very expensive. The company has stated that the cost for one of its tools and peripherals can easily run in the range of $1 million. These specialized microscopes have lots of applications in research as well as industry. As the world of electronics and semiconductors continues to get smaller, the demand for high resolution microscopes that can show 1 nanometer images will remain strong. This general trend in the industry will continue to drive growth in the coming 5 years.
The company has continued to expand margins the past few years, and has increased profitability. The following graph from a recent company presentation shows gross margin improvement in the business: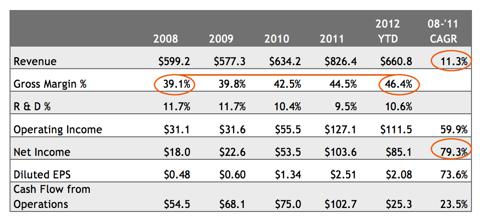 As you can see between 2008 - 2012, the R&D % spend of total revenues was relatively flat. However the company has improved margins by more than 700 basis points and earnings per share have increased at an impressive CAGR of more than 73%. This is quite noteworthy, as revenues have increased at only a CAGR of 11%. Management has done a good job at improving profitability. The company has stated that by 2015 they target gross margin to increase to 50% from the current 46%. This increase is also coming across all segments of the business, as this chart below from the 2012 10-K shows that gross margin has increased across all 4 segments in the past 3 years:
In terms of growth over the next 5 years or so, this should be driven by margin expansion as well as an increase in the available markets served by the company. The company has a strategy to continue to push into new markets and where demand is strongest. The company has seen growth rates in Asia and in China in particular as high as 50% in recent years. Management has stated they expect to double the served market area from $2 billion to $4 billion by 2015. This is a CAGR of 15%, and coupled with margin expansion should lead to a growth rate of 15-20% in the coming 5 years, which is at least as fast if not a bit higher than the industry as a whole. Margin expansion will be driven by lower costs as well as the increased selling of higher end products. An example of a recent step taken to drive this, in 2013 the company has just opened a new $35m facility in the Czech Republic as part of its push for cost reduction.
One other advantage I like about FEI is that they have done a good job of diversifying their product lines, industry segments, and regional sales distribution which lowers overall risks to the company. In 2011, sales to the US region compromised 31%, sales to Europe (including South America and the Middle East) also 31%, and sales to Asia 37%.
A competitive advantage worth mentioning here is FEI's focus on providing solutions for its products. The company does obtain a sizeable portion of revenue from services (23%), and the company puts a strong focus on assisting customers on strategy of how to make the best use of their products. This is a difference from some of the major competitors, which simply focus on selling microscopes.
Evidence of the company's competitive advantages can be seen not just in its decreased cost structure, but also in its better than average industry margins, and in particular what I like is that management effectiveness ratios (Return on Assets, Return on Equity) are all significantly better in the past year than they were 5 years ago. Although still not very high (ROA is about 10%), it is further evidence to show that management is executing well on their plans to improve the company.
Shareholder Friendliness
FEI's stock has done very well in the past few years. It has risen from under $20/share in September 2010, all the way to the current $61.83/share in Feb 2013. Share price gains have been driven by the company's strengthening competitive position and margin expansion that has led to a greatly improved level of profitability. Recently the company has also shown shareholder friendly actions - a dividend was initiated in June 2012 (current yield 0.50%), and 1.9 million shares have been bought back in the past 2 years. Although it should be noted the share count has stayed relatively flat the past 5 years and even increased slightly, indicating that the repurchases have offset stock options but have not done much more than that. It should also be noted that there is $89m of convertible debt that matures in June 2013, which will likely convert to equity. The amount is already included in the diluted EPS forecasts the company gives. Although this debt is convertible at only about $30/share, I don't think it will exert too much downward pressure on the stock when these shares are sold, as continued strong growth of the company should offset any big negative downward movement.
Catalysts for 2013
I think as we get further into 2013, there are a couple of potential catalysts that could help to drive growth at FEI even further than current estimates. Potential positives I see:
The semiconductor rampup towards 20nm nodes could be faster than currently expected
Natural Resource bookings grew by 50% in the recent quarter, and is expected to be a huge growth market going forward with the explosion in shale gas exploration. This could drive sales and earnings higher than is currently priced in.
Looking at the semiconductor industry first, as I recently mentioned in an article on ASML (NASDAQ:ASML), Intel (NASDAQ:INTC) is pushing ahead strongly with capacity buildup for 20nm. This will likely be followed by other competitors. As the industry looks to buildup capacity for ever smaller chips, Capex spending on nanotechnology including powerful microscopes will remain strong. I think the main catalyst here is that as powerful chip makers like Intel are trying to stay relevant in the mobile world they will keep spending on R&D to very high levels. This bodes well for FEI, and there is a significant chance that sales are stronger in the coming few years than are currently expected in the Electronics and Services segments.
In Natural Resources, I think the untapped growth potential is especially compelling. In Q4 2012, results just released a few days ago, bookings for this segment grew by 50%. This was a surprise to analysts and generated some positive buzz on the conference call. Going forward in the next 5-7 years the shale gas expansion in the US with the fracking boom is expected to produce a CAGR of about 25% for the growth in oil barrels per day produced domestically. As the rampup of this technology continues further in the next few years, I would expect sales growth (and subsequent earnings) in this segment to grow at a much faster rate than the before mentioned 15-20% for the company as a whole. A few more quarters of positive surprises in Natural Resources growth could cause analysts to increase their long-term growth rate estimates for the company (currently about 16% for the coming 5 years). This would drive further share price gains in 2013 and 2014.
Investment Risks
Market Share Gains are Difficult because of Established Competition
This industry is highly specialized, and the major competitors are well established. FEI's biggest competitors include: Carl Zeiss SMT AG, Jeol Ltd, Hitachi High Technologies (OTC:HICTF), and Tescan. As discussed more below in the valuation section, several of these competitors operate with very low profit margins, and as a result it is likely that they are undercutting FEI on price. Besides this, once a customer chooses a particular company to purchase high end microscopes, this substantial capital investment means they are likely not to abandon that company easily for a competitor. As the nano world gets smaller and this technology becomes ever increasingly complex and more specialized this fact will only become stronger. It is therefore much less likely that FEI will gain significant market share easily from its competitors - to continue growing the company needs to execute well on its strategy to increase its available serviced markets.
Several Business Segments are Highly Cyclical
The Electronics segment is made up primarily of Semiconductor and data storage companies. These are highly cyclical industries, and the revenues and earnings from this part of the business have fluctuated substantially. Also a significant portion of the Life Sciences and Material Sciences segments are impacted by government spending in the US and Europe. Much of the universities and research institutes which purchase from FEI could experience budget cuts in the coming decade as these governments continue to struggle with high debt loads. Anyone doing business with FEI or considering investing should be aware of the potential that these fluctuations could materially impact the business in any given year. If for example US government spending on education and scientific research was cut substantially, combined with a global recession which caused a strong downturn in the semiconductor industry, then FEI's business could see significant drops in revenues and earnings.
Keeping up with Technological Change is a Constant Challenge
FEI must continuously introduce new product enhancements and adapt to customers' needs. Most of their customers operate in high tech industries where the pace of change is very rapid and increasingly complex. FEI holds more than 200 US patents and more than 300 international patents. The company must make significant R&D investments anticipating the needs of customers into the future, and in the world of technology anything beyond 5 years out is very uncertain. It is therefore a risk to always be aware of and to constantly monitor to be sure the company is maintaining its competitive advantages and demand in the market place. Recently the company continues to lead the market in technological leadership - including the announcement of new correlative microscopy products combining light and electron microscopy. However prospective investors or business partners should evaluate this constant risk at least once per year.
Valuation
The company has just reported the full year results for 2012 with TTM EPS at $2.80/share. I've used this as a basis for a DCF model below. As stated above in the business prospects section, I believe the company has a likely growth of 15-20% in the coming 5+ years based on my estimates. I will use the 15% number to be on the more conservative side. On the more optimistic scenario, if the 2 catalysts I've mentioned both provide positive surprises in the coming 1-2 years which greatly increase earnings further, then earnings could grow substantially more. If you assume 50% growth in Natural Resources, (25% of the business), and 15% growth in the remainder of the business, the CAGR would be about 23%. So I've used this as the optimistic growth number with a 20% probability of occurrence. On the pessimistic side, if the company loses market share in TEM microscopes substantially or has any other major hiccups, such as unexpected prolonged downturn in the cyclical industries it serves, then I think the growth rate could be lower, at 10% per annum.
Optimistic Scenario

Likely Scenario

Pessimistic Scenario

Current EPS

$2.80

$2.80

$2.80

Earnings Growth Rate Next 10 years

23%

15%

10%

Terminal Growth Rate

4%

4%

4%

Years of Terminal Growth

10

10

10

Discount Rate

10%

10%

10%

Intrinsic Value

$118.13

$68.54

$48.30

Probability of Occurrence

20%

60%

20%

Weighted Average

Intrinsic Value

$74.41/share
In my DCF analysis I calculate that the company is worth $74.41/share, which implies that the current price of around $61 provides a margin of safety of around 18%.
Relative Valuation
FEI's biggest competitors include: Carl Zeiss SMT AG, Jeol Ltd, Hitachi High Technologies, and Tescan. Jeol and Hitachi are public companies. Jeol has had very poor operating performance, and lost money in 2012. The company is larger than FEI in terms of revenues, with over $1B in sales, however profit margins have been between -2% and +2% in recent years, which is a far cry from FEI which was over +12% in 2012. Hitachi is a large conglomerate, with sales over $4.5B. Profit margins are also very low - under 4%.
In summary there is no easy comparison companies in terms of valuation for FEI - although clearly the company has higher margins than its competitors, and it seems to be executing much better.
Conclusion
FEI is a well run company that has been greatly improving profits in recent years. The company appears to be best in class compared to much of its competition, in terms of operational excellence and also technological leadership in many areas. That being said, from an investment perspective the company is not particularly cheap, where I've estimated a current margin of safety of just under 20%. With an EV/EBITDA of about 12 and a PEG ratio of 1.19, the company would seem to be fairly valued or perhaps moderately undervalued. The stock has also run up in price significantly in the last year, and it is still in the upper 20% of the 52 week range. As an investment I would recommend to keep the company on your watch list, and consider taking a position sometime in 2013 if the price drops down to about $50/share. This assuming nothing materially has changed in the fundamentals or outlook for the company.
Disclosure: I am long INTC. I wrote this article myself, and it expresses my own opinions. I am not receiving compensation for it (other than from Seeking Alpha). I have no business relationship with any company whose stock is mentioned in this article.