McClendon is out. Finally, in late January, Chesapeake (NYSE:CHK) CEO Aubrey McClendon announced he was leaving the company effective April. The stock was up 6% following the announcement. After investor confidence was destroyed last year, media reports suggested McClendon used minority stakes in company-owned wells to secure personal loans. It is no secret that Carl Icahn and Mason Hawkins of Southeastern Asset Management, who together control 22% of Chesapeake, pushed for his resignation. Icahn, the famous corporate raider, has proven effective at buying stakes in underperforming companies and fighting for their restructuring. Some market participants have anticipated a hostile takeover, but what about the underlying fundamentals? A look at Chesapeake's stock performance over the last five years suggests a management change might not be enough to fix this company's problems.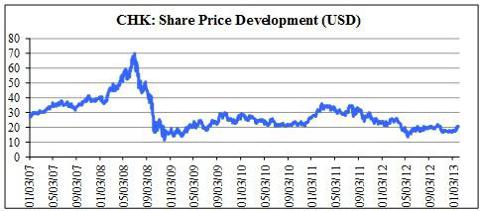 From natural Gas to liquids. Over the past 3 years, the company has focused on finding and developing plays with oil and natural gas liquids, where the oil and gas company is moving towards a greater production balance between natural gas and liquids. For 2013, the company expects to see natural gas production fall 7%.
The low natural gas prices in the U.S. have had a negative impact on the company's revenues and caused significant asset impairments. The Henry Hub natural gas spot prices averaged $2.83 per MMBtu in 2012, down from $4.12 in 2011. What's more is the U.S. Energy Information Administration ((NYSEMKT:EIA)) expects gas prices to average $3.86 per MMBtu in 2013 and $4.02 in 2014. In other words, we cannot expect a significant improvement in Chesapeake's earnings based on favorable development of natural gas prices alone.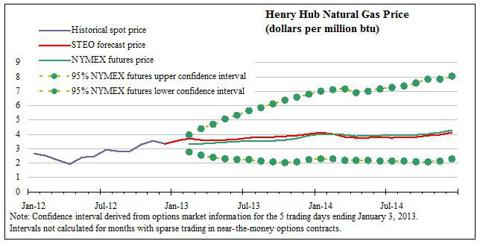 Source: EIA
Trying to lower Debt through asset sales. For the third quarter, Chesapeake had total interest-bearing debt of $16.2 billion, resulting in a debt to equity ratio of 1.06x. Available cash was only $142 million. To close its funding gap and improve its operational structure, the company initiated a program of non-core assets sale. This year, Chesapeake is planning to sell between $5 billion and $7 billion worth of assets. Latest estimates show that the funding gap for 2013 should be around $3.5 billion. The company hopes to reduce its long-term debt to below $9.5 billion (the pro-forma net long-term debt is $13.9 billion, as of 4Q 2012. Investors will be watching closely how the asset sales program progresses. Any favorable developments on the sales front should have a positive impact on the share price.
Stock valuation is not appealing. Since the long-term outlook is so uncertain, it makes sense to look at some of the common valuation metrics. Using management's forecast, 2013 EPS should be in the range between $0.28 and $1.85, implying a P/E ratio between 73.3x and 11.1x. The estimates are based on different prices of natural gas. Given the latest EIA projections of natural gas prices, net income is most likely going to be around $800 million, which gives a P/E of 19.5x. This is not that cheap. The average price to earnings ratio for the companies in the S&P 500 Index is around 13.6x. Company management estimates EV/EBITDA at 6.7x with the current share price and $4.6 billion EBITDA for 2013. Supermajor Chevron (NYSE:CVX) has an EV/EBITDA of 4.5x and a P/E of 8.7x.
In the end. There are too many uncertainties around the stock, leverage is still high, and the 12-month forward-looking valuations are not attractive. Chesapeake might be a good long-term bet; its share price might double or even triple in the next 5 years. In the next 12 months, however, I expect high volatility and limited upside.
Disclosure: I have no positions in any stocks mentioned, and no plans to initiate any positions within the next 72 hours. I wrote this article myself, and it expresses my own opinions. I am not receiving compensation for it (other than from Seeking Alpha). I have no business relationship with any company whose stock is mentioned in this article.