As I'm sure most LinkedIn (NYSE:LNKD) watchers are aware, LinkedIn destroyed earnings and offered improved guidance on Friday, leading to a meteoric 22% rise in its share price, which pushed all-time highs around the $150 mark.
The earnings report had a lot of promising information:
Over 200 million users for the first time
Net Income gained 60% to $11.5 million
Revenue gained 81% to $304 million
Earned .35/share vs. .12/share expectations
7th straight quarter beating earnings
So, can LinkedIn continue its stellar performance against the grain of other failing social media sites? Social media stocks like Facebook (NASDAQ:FB), Zynga (NASDAQ:ZNGA) and Yelp (NYSE:YELP) are off anywhere from 10% to 60% of their IPO prices, while LinkedIn now holds about 300% over its IPO price of $45/share.
(click to enlarge)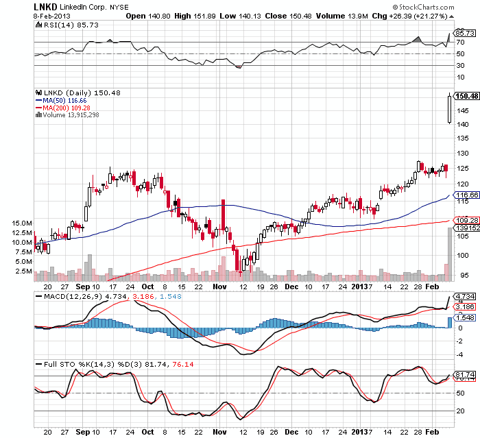 Click to enlarge
LinkedIn, which is really a site based on job recruiting and resume management, now has a market cap that stands at a lofty $13 billion and a price/earnings ratio nearing 1,000. With this lofty (read: retail insanity infused) valuation, the public is betting and betting hard that LinkedIn is going to continue to be the only social media stock thus far that can avoid a bubble with continued exponential growth rates both in users and revenues.
This investor thinks that it's not going to be much longer before the LinkedIn bubble bursts as a whole and that we'll see an immediate correction first thing next week (starting February 11, 2013). Here's a few "red flags" that support my bearish case.
Red Flag #1 : LinkedIn's Chart Indicators Suggest a Correction
At the very least, we're going to see a day or two of correction next week with LinkedIn. This is, in this investor's opinion, a great play for a quick scalp if you're not short LinkedIn long-term. We just went through this same technical situation with Netflix (NASDAQ:NFLX) and RadioShack (NYSE:RSH). Both companies had massive rallies over the past weeks, and both companies took the two days following to correct over 5% to the downside.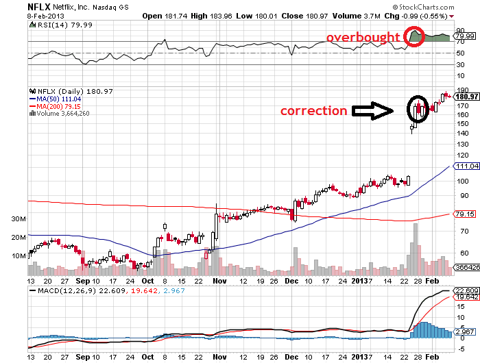 Click to enlarge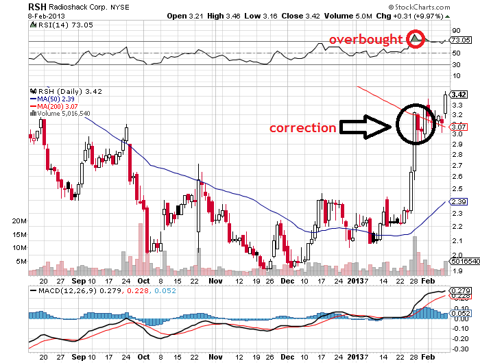 Click to enlarge
When Netflix rallied hard, not just one day but two, I wrote this article that cited technical indicators as one reason I'd be short the company after a run like it had. LinkedIn finds itself in similar technical territory: The RSI is sitting well above the overbought line (70) and is currently at 85, the Full Stochastic Oscillator is also above the overbought line (80) at 81.
If you're not short LinkedIn long-term, this could be a great position for a quick short and cover, or if market futures look glum for the week, a great position to pick up in the money puts that expire end of the week. If you're currently holding LinkedIn shares, why not write calls that would surely offer up an extremely lucrative premium with the stock trading as high as it is? With the retail frenzy and euphoria of Dow 14,000 behind the stock now, it'd be a great way to pocket some premiums and hedge your investment by writing slightly out of the money calls.
Red Flag #2 : LinkedIn's International Market's Membership Doesn't Match Revenue
LinkedIn mentions in it's last 10-K:
The number of our registered members is higher than the number of actual members, and a substantial majority of our page views are generated by a minority of our members. Our business may be adversely impacted if we are unable to attract and retain additional members who actively use our website.

The number of registered members in our network is higher than the number of actual members because some members have multiple registrations, other members have died or become incapacitated, and others may have registered under fictitious names. Given the challenges inherent in identifying these accounts, we do not have a reliable system to accurately identify the number of actual members, and thus we rely on the number of registered members as our measure of the size of our network. Further, a substantial majority of our members do not visit our website on a monthly basis, and a substantial majority of our page views are generated by a minority of our members. If the number of our actual members does not meet our expectations or we are unable to increase the breadth and frequency of our visiting members, then our business may not grow as fast as we expect, which will harm our operating and financial results and may cause our stock price to decline.
Secondly, Motley Fool mentions about LinkedIn:
In Q3 2012 nearly 70% of LinkedIn's new users came from international markets, and nearly 63% of all LinkedIn users were international. However, international markets accounted for only 36% of total revenues. Some may say this means there is "significant opportunity to improve monetization." I say this is a sign that American advertisers are paying for a lot of spammers in India to send emails to Americans.

LinkedIn's high revenue growth rate is not sustainable, not without finding more ways to convince users to regularly return to the site. The site has great potential as a professional networking site or even as a job board. The revenue looks good and the advertisers keep returning, but the growth will not continue if the site does not begin to cater to users.
What does this mean? It means that LinkedIn is attracting a massive number of people, but only a few of them are making up the meat and potatoes of LinkedIn's business and revenue.
It also means that there are apparently tons of people that are signing up for LinkedIn, creating profiles, and then forgetting about the site altogether. When you compare this to the "rapid refresh" style of use that Facebook members often employ, it's almost the direct opposite. Facebook sucks people in with the dirt and drama of other people's lives and is a constant never-ending well of happenings that's updating on a real-time basis. LinkedIn is a place where you can check out a resume that may or may not be out of date and will probably not be changing for a while either way. Where's the Jerry Springer-esque entertainment appeal of checking out accountant "Bill Miller's" twenty year finance background? Who's going to sit with popcorn and a beer and read that?
This lack of retaining initial signups and sourcing revenue and clicks from only a minority group of members is a major long-term risk factor that this investor looks at as a reason to be short LinkedIn for the long-term.
Red Flag #3 : LinkedIn is Having Privacy Issues
As it's been reported, LinkedIn has had some privacy issues. The site apparently leaked 6.5 million passwords back in June of 2012. This came after news of LinkedIn's iPhone app taking calendar information and meeting notes and forwarding them back to LinkedIn's site.
LinkedIn's very own 10-K states:
If our security measures are compromised, or if our website is subject to attacks that degrade or deny the ability of members or customers to access our solutions, members and customers may curtail or stop use of our solutions.

Our solutions involve the storage and transmission of members' and customers' information, some of which may be private, and security breaches could expose us to a risk of loss of this information, which could result in potential liability and litigation. Like all websites, our website is vulnerable to computer viruses, break-ins, phishing attacks, attempts to overload our servers with denial-of-service or other attacks and similar disruptions from unauthorized use of our computer systems, any of which could lead to interruptions, delays, or website shutdowns, causing loss of critical data or the unauthorized disclosure or use of personally identifiable or other confidential information.

If we experience compromises to our security that result in website performance or availability problems, the complete shutdown of our website, or the loss or unauthorized disclosure of confidential information, our members or customers may lose trust and confidence in us, and decrease the use of our website or stop using our website in its entirety. Further, outside parties may attempt to fraudulently induce employees, members or customers to disclose sensitive information in order to gain access to our information or our members' or customers' information.

Because the techniques used to obtain unauthorized access, disable or degrade service, or sabotage systems change frequently, often are not recognized until launched against a target and may originate from less regulated and remote areas around the world, we may be unable to proactively address these techniques or to implement adequate preventative measures. Any or all of these issues could negatively impact our ability to attract new members and increase engagement by existing members, cause existing members to close their accounts or existing customers to cancel their contracts, subject us to third-party lawsuits, regulatory fines or other action or liability, thereby harming our operating results.
Privacy is a major ongoing issue with social media sites. Facebook has felt the wrath of botching security and importance of privacy when they asked users to vote for their new privacy terms. Although only 700,000 of Facebook's over 1 billion members voted, 88% of them voted against the way Facebook was proposing to handle their privacy.
This is remains an issue for LinkedIn and one of the big reasons I'd consider LinkedIn a potential long-term short candidate. All it takes is one screw-up of epic proportions in the privacy and security realm, and it could be the kind of thing that could take down an entire company.
Red Flag #4 : LinkedIn is Going to be Facing Direct Competition At Some Point
Again, I'll cite LinkedIn's 10-K filing:
We expect to face increasing competition in the market for online professional networks from social networking sites and Internet search companies, among others, as well as continued competition for customers of our hiring and marketing solutions.

We face significant competition in all aspects of our business, and we expect such competition to increase, particularly in the market for online professional networks.

Our industry is evolving rapidly and is becoming increasingly competitive. Larger and more established companies may focus on our market and could directly compete with us. Smaller companies, including application developers, could also launch new products and services that compete with us and that could gain market acceptance quickly. We also expect our existing competitors in the markets for hiring and marketing solutions to continue to focus on these areas. A number of these companies may have greater resources than us, which may enable them to compete more effectively. Additionally, users of social networks may choose to use, or increase their use of, those networks for professional purposes, which may result in those users decreasing or eliminating their use of LinkedIn.

Companies that currently focus on social networking could also expand their focus to professionals. We and other companies have historically established alliances and relationships with some of these companies to allow broader exposure to users and access to data on the Internet. We may also, in the future, establish alliances or relationships with other competitors or potential competitors. To the extent companies terminate such relationships and establish alliances and relationships with others, our business could be harmed. Specifically, we compete for members, enterprises and professional organizations as discussed below.
First came Friendster, then Myspace, then Facebook, then Twitter. There was Angie's List and Google Reviews, then Yelp. We went from Napster to Rhapsody, to Limewire to Kazaa, to iTunes.
The point is that all internet-based service providers go through natural selection. Companies are created and replicated over and over until one can find the prescription and has adapted to the public well enough to be successful. This means that LinkedIn is definitely going to see some competition going forward. I'm not sure whether it's going to be in the form of a new company offering the same type of services as LinkedIn, or if it's going to be an existing service, like Facebook, offering a corporate recruiting spin-off in the fashion that LinkedIn is doing. The latter could be the more dangerous, but either way, competition has to be looked at as a risk factor in this emerging online market.
LinkedIn Has Nowhere to Go But Down
Hopefully author Mark Kowalski doesn't mind me borrowing a piece of the headline of his great LinkedIn article to state my conclusion.
How long can we take into account these four red flags and really justify putting in buy orders for a company trading at an all-time high and a P/E of almost 1,000? There's a short-term case for a bearish position here due to technical corrections this week and a long-term case for a short position due to LinkedIn's inflated user numbers and upcoming competition. No matter what side of LinkedIn you're on, this investor wishes you good luck.
Disclosure: I am short LNKD. I own LNKD puts. I wrote this article myself, and it expresses my own opinions. I am not receiving compensation for it (other than from Seeking Alpha). I have no business relationship with any company whose stock is mentioned in this article.