The lack of safe haven demand, driven by a perceived improvement in the global economy, has played a key role in keeping gold and silver prices range bound, however, the chart patterns that have developed in recent months are likely to be resolved with a big move up or down in relatively short order.
This could attract the attention of hedge funds that have clearly lost interest in the metals lately, as the stock market has pushed higher. Fortunately for precious metals investors, demand from Asia remains strong as evidenced by record gold imports and record gold production in China along with reports of a surge in gold smuggling in India following duty hikes by the government, part of an ongoing (and, ultimately, futile) campaign to limit gold imports.
A stronger trade-weighted dollar also contributed to the metals' sub-par performance in recent days, as ECB President Mario Draghi single-handedly sent the euro sharply lower by citing negative risks for the eurozone (the gold price often moves opposite the U.S. dollar).
Long-term macro considerations such as central bank money printing and intractable sovereign debt troubles in many developed nations continue to support precious metals prices, but, absent an outside catalyst, a near-term major move higher for precious metal prices seems unlikely.
In a sign of just how range-bound metal prices have become, spot gold closed on Friday exactly where it did a week earlier at $1667.60 an ounce, while the silver price fell 1.3 percent, from $31.84 an ounce to $31.42. Gold is now down 0.5 percent for the year, still 13.3 percent below its 2011 high, and silver has gained 3.5 percent so far in 2013, down 36.5 percent from its high near $50 an ounce almost two years ago.
Gold tested the $1,680 an ounce level on two occasions last week, and silver tested the $32 an ounce mark as both metals just don't seem to want to go much higher or lower…for now.
Converging trend lines such as those that have developed over the last two months (also known as a symmetrical triangle pattern) are often resolved with a big move out of that narrowing trading range, as shown below via StockCharts.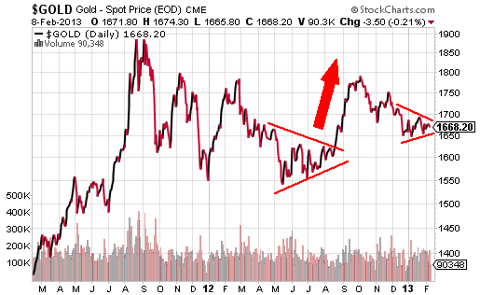 Click to enlarge
Of course, it's important to remember that the direction of that resolution isn't always up.
If it is up, hedge funds will surely take notice and quickly cast aside their current thinking that the receding threat of a collapse in the eurozone or a debt default in the U.S. has made precious metals irrelevant. Fund managers now favor industrial metals and other commodities over gold and silver, and are actively reducing their allocation to precious metals. However, that could change quickly for any number of reasons.
There is still a widespread belief that Federal Reserve money printing will conclude sometime this year and that inflation will not pose a threat during that time. If either of those perceptions change, then hedge funds will make corresponding changes to their views toward precious metals, and it's important to note that few hedge funds see the gold price moving sharply lower; they simply see better opportunities elsewhere at the moment.
Fortunately, demand from Asia and continued central bank gold buying will support metal prices over the near term. European central bank gold selling has come to a virtual stop in recent years as, in 2010, for the first time in decades, global central banks moved from being net sellers of up to 400 tonnes per year to net buyers of 500+ tonnes last year with that pace expected to continue in 2013.
Physical demand for gold in China surged in 2012 as the Chinese people look for more ways to protect their growing wealth and the central bank quietly adds to their gold holdings, swapping out some of their $3.2+ trillion in foreign exchange reserves for more metal when the price dips.
It was reported last week that full-year net gold imports from Hong Kong to mainland China jumped nearly 50 percent to a record high of 557 tonnes last year. When combined with record gold production of 403 tonnes, this puts domestic gold demand in China near 1,000 tonnes as shown below via ChartsRus.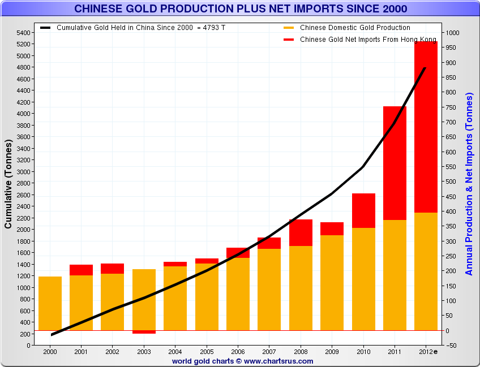 Click to enlarge
Some estimates put the gold reserves held by the People's Bank of China at double or triple their official holdings of just 1,054 tonnes, however, no one really knows how much gold they've been buying and the central bank may not tell the world for years to come.
Importantly, even this increase would put their holdings at only four or five percent of overall reserves, far back of the level of 10 to 15 percent favored by most Western banks, and this means that their gold buying is far from over.
The World Gold Council is expected to release data in the days ahead that will indicate China overtook India last year as the world's top gold consumer, though, the official statistics may be a bit misleading.
Why?
Because repeated efforts by the Indian government to curb gold demand have led to a booming smuggling business that, according to a number of sources last week, now accounts for about 25 percent of gold imports. Gold imports through "unofficial channels" reportedly increased by eight-fold last year from 2011 and, with the duty hike from 4 percent to 6 percent announced last month, it will likely increase further.
Ironically, aside from the occasional smuggler who is caught, this is sort of a win-win situation overall since the Indian people are still getting their gold and the trade deficit is coming down. But, it's certainly a sad testament to the effectiveness of the Indian government in managing their economy.
That, however, hasn't stopped the government from dreaming up new ways to curb gold imports as, last week, they announced measures to strictly limit the volume and value of gold that banks can import under "extreme conditions". Banks currently account for about 60 percent of India's gold imports.
Here in the U.S., just over 1 tonne of gold exited the world's biggest gold ETF, the SPDR Gold Shares ETF (NYSEARCA:GLD), while the iShares Silver Trust ETF (NYSEARCA:SLV) added an impressive 116 tonnes last week, bringing their year-to-date increase to 410 tonnes.
Silver continues to outperform the yellow metal in 2013 and that trend may continue for some time to come, given the apparent waning interest in gold everywhere but in China and India.
Disclosure: I am long GLD, SLV. I also own gold and silver coins and bars. I wrote this article myself, and it expresses my own opinions. I am not receiving compensation for it (other than from Seeking Alpha). I have no business relationship with any company whose stock is mentioned in this article.