Michael Dell is on the verge of taking his company private. Mr. Dell believes that the constant scrutiny from market expectations has forced Dell (NASDAQ:DELL) to underperform. Dell's buyout offer stands at $13.65 per share, which I believe should upset long-term shareholders.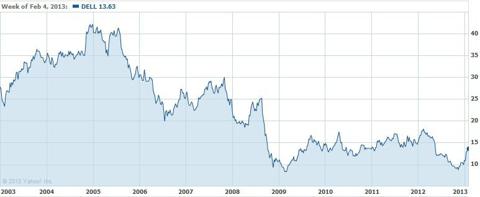 Above is a chart of Dell's stock from 2003 to 2013. The offer made by Michael Dell may seem like a great deal, but given the fact that it's not much of a premium to where its stock has been before, it should upset shareholders. Unless you purchased shares during the bottom of the financial crisis or in 2012, you really are not getting a reasonable premium. Post financial crisis, the stock has on average traded above its buyout price.
This wouldn't have been too bad of a blow if Dell was a consistent dividend payer for the previous years. However, the company just began a dividend late last year. So shareholders who have been holding onto the stock for a long time have basically seen little to no appreciation. For those who purchased shares during the bottom of 2009 or 2012, the premium is fairly decent, but its very likely that you could still get more.
Many shareholders believe that if the deal does not go through, then the stock will fall back to previous levels. I don't think this is the case anymore. It has become clear that the previous levels were attractive enough that Dell and Silverlake wanted to push this deal through faster.
The market now realizes that the stock was incredibly undervalued before and still has plenty of value left in it. Southeastern Asset Management, which is one of Dell's largest shareholders, has made it clear that it plans to block the deal. Southeastern believes that shares of Dell should be worth $24 a share. Southeastern is one of many shareholders which purchased shares with a cost higher than the buyout price.
If Michael Dell truly wants to take the company private, he needs to understand that the current buyout is utterly disappointing to shareholders who were holding it for the long-term. I believe that an $18 price target is much more reasonable. At an $18 price and assuming EBITDA at FYE 2012 levels, the buyout would still be at 7x EBITDA, which is still a good deal for Michael Dell.
Disclosure: I have no positions in any stocks mentioned, and no plans to initiate any positions within the next 72 hours. I wrote this article myself, and it expresses my own opinions. I am not receiving compensation for it (other than from Seeking Alpha). I have no business relationship with any company whose stock is mentioned in this article.