Cisco Systems (NASDAQ:CSCO) is the world's leading provider of data networking equipments and software. Its products include switches, routers, access equipment, and network-management software that allow data communication among dispersed computer networks. The company has also entered newer markets, such as video conferencing, web-based collaboration and data center servers.
Introduction
I don't believe that anyone should argue against the idea that the Internet will continue to grow for many years to come. Cisco Systems is the world's largest supplier of high performance Internet networking systems and solutions.
1st Quarter Performance
The first quarter of Cisco's fiscal year ended on October 27, 2012. Revenue for the quarter was up 6% from the first quarter of the previous fiscal year. The company kept cost increases in check due to lower restructuring charges, and operating expenses were slightly down during the quarter. Reported earnings were up 18%. A modest decrease in share count helped bring earnings per share to $0.48 versus the estimated $0.46 per share.
As expected, Asia was the biggest revenue growth center; overall growth was 10.4% outpacing North America's 6.6% while sales were down 0.1% in EMEA. The U.S. growth was impressive given that Cisco's biggest client, the U.S. Government, slowed purchases by shifting a significant proportion of Cisco's business to the private sector.
Overall revenue distribution in the Q1'13: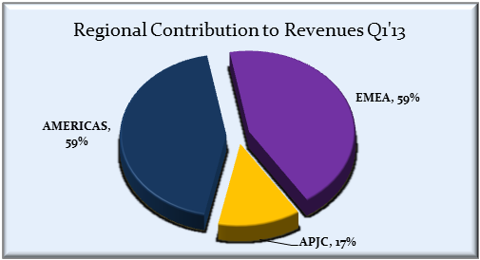 Its wireless segment contributed just 4% to revenue, but its 38% growth in the quarter from last year means that Wi-Fi will play an important role in the company's future. Cisco's service revenues posted double digit 12% growth to $2.6 billion. The company's gross margins were 66% from Service and 60% from Products. Almost 80% of Cisco's revenues come from 'Products' with 'switching' equipments, forming 30% of the total revenues.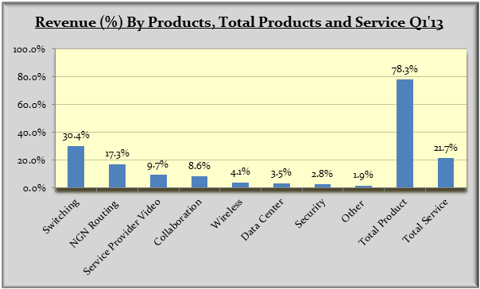 Services represented 21.7% of the total net sales in the quarter; that is a 1.2% increase compared with the year-ago quarter. The consolidated company's operating margin increased to 22.3% in the October 2012 quarter from 19.6% in the year-ago quarter; the higher operating margin provides the company with a margin of safety.
Cisco reported $5.6 billion remaining in its share repurchase program. The pivotal point is that the firm switched from a share repurchase program to a dividend paying policy. The company doubled its cash dividend compared with the year-ago quarter, as net income increased from $1.8 billion to $2.10 billion. Also, the earnings are of high quality, as cash flow from operations is larger than net income. Cash flow from operations was up, approaching $2.5 billion from $2.3 billion in the year-ago quarter.
Cisco reported $45 billion in cash and short-term investments. The current ratio is 3.38; the firm is liquid. Accounts receivable declined while inventories increased; the firm sees increased demand for its products in the second quarter. Goodwill increased to 22% of total assets from 19% in the prior quarter. Long-term debt is roughly $16 billion, which is well below the firm's reported cash balance. Cisco has $3.26 billion of long-term debt maturing in fiscal year 2014 and $500 million maturing in fiscal year 2015.

For its second quarter, Cisco is aiming to increase its revenues by 3.5% to 5.5% year-on-year with an EPS of $0.47-$0.48.
Current Valuation
Cisco trades at 13.50 times trailing earnings. Analyst expectations are for $1.96 in EPS for the current fiscal year, and the current stock price of $21.15 is only 10.80 times that figure. Cisco has an impressive cash flow generation, and when I look at the enterprise value implied by the current stock price, it is only 6.3x trailing EBITDA, not as obviously low a multiple, but still well within value territory for such a large and growing company. Its current P/E of 13.5 is about 22% below its five year average of 17.2, as investors are still not considering Cisco as a growth story again.
The historical P/E ratios explain several interesting stories about this technology bellwether, and the bizarre investor psychology that has been applied over the last decade and a half. From 2000 until the great recession, investors were willing to price this company at a premium valuation to its earnings justified levels. However, since the fall of 2008, the market has begun to value Cisco at more realistic earnings justified levels:
| | |
| --- | --- |
| Year | ~P/E Ratio |
| 2000 | 142 |
| 2002 | 105 |
| 2004 | 42 |
| 2006 | 22 |
| 2009 | 17 |
| Current | 13.5 |
At fiscal year-end July 31, 2000, Cisco's P/E ratio was 142, by fiscal year 2002 the P/E ratio had fallen to 105, by 2004, Cisco's P/E was 42, by 2006 it was 22, by 2009 Cisco's P/E ratio was 17 and by fiscal year-end 2012, the P/E had fallen to just above 12. This seems like an awful low valuation for a company that has consistently shown quarterly Year-over-year earnings growth of almost 18%.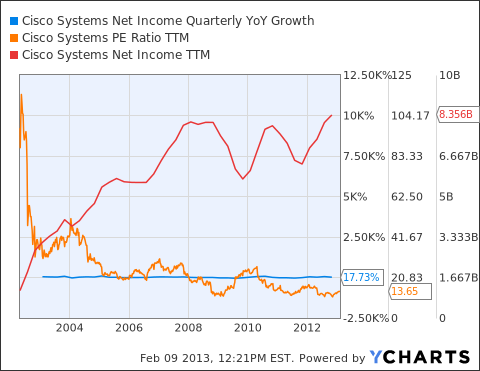 CSCO Net Income Quarterly YoY Growth data by YCharts
Cisco's valuation story becomes even more confusing when you evaluate the company over its more recent history. Since calendar year 2010, the earnings and price correlation shows that Cisco's stock price has remained flat, in spite of the fact that its earnings growth post recession has actually accelerated. Excluding high expenses in 2011, both consolidated sales and net income are trending higher. There is strong revenue growth across all the major business segments.
Moreover, it pays a dividend that has grown rapidly since it was first started.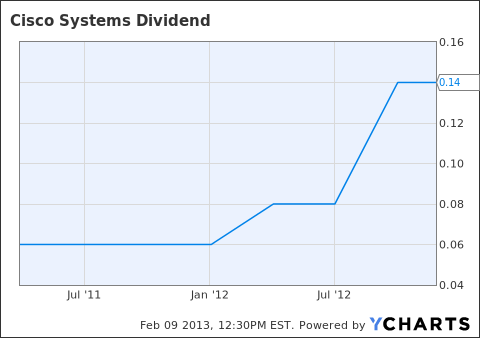 CSCO Dividend data by YCharts
The share count has already fallen from 6.9 billion in fiscal 2004 to 5.3 billion at the end of 2012, and considering management's plan to spend 60% of future cash flow on buybacks and dividends, this trend should continue.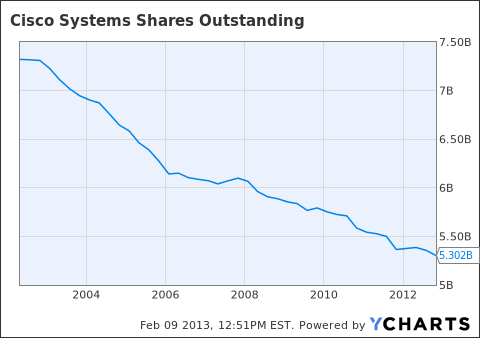 CSCO Shares Outstanding data by YCharts
Discounted Cash Flow Valuation
Current Price: $21.15/share
Recent free cash flows and noted growth rates:
| | |
| --- | --- |
| Year | ~ FCF $Millions |
| 2003 | 4500 |
| 2004 | 6500 |
| 2005 | 6800 |
| 2006 | 7100 |
| 2007 | 8800 |
| 2008 | 10800 |
| 2009 | 8900 |
| 2010 | 9200 |
| 2011 | 8900 |
| 2012 | 10400 |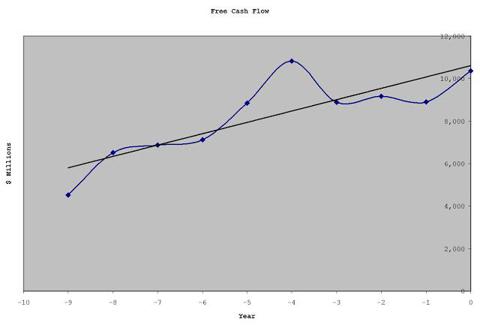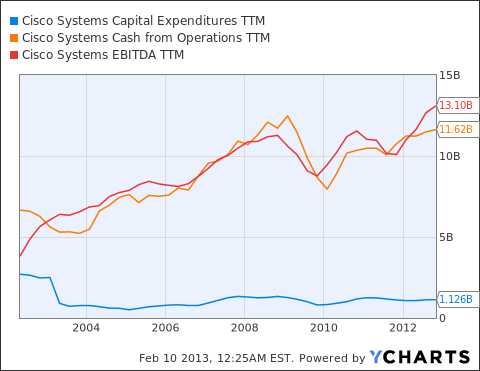 CSCO Capital Expenditures TTM data by YCharts
CAGR FCF: 10%
Consensus Forecast Industry 5-Year Growth: 14% per year
Consensus Forecast Company 5-Year Growth: 9% per year
FCF for TTM is $10.5 billion. Assuming a 5-year growth rate in revenue of 6% and in FCF of 10% per year, then no growth or 0% growth in FCF per year forever.
Future Cash Flows at 10% growth
| | |
| --- | --- |
| Year | ~FCF $Billions |
| 0 | 10.5 |
| 1 | 11.6 |
| 2 | 12.8 |
| 3 | 14.1 |
| 4 | 15.5 |
| 5 | 17.1 |
| Terminal Value | 140 |
Where Terminal Value is 7 times the 5th year expected EBITDA of $17.5 billion (28% expected revenue of $62.5 billion) added FCF of $17.1 billion generated that year.
EBITDA Margin of 28%.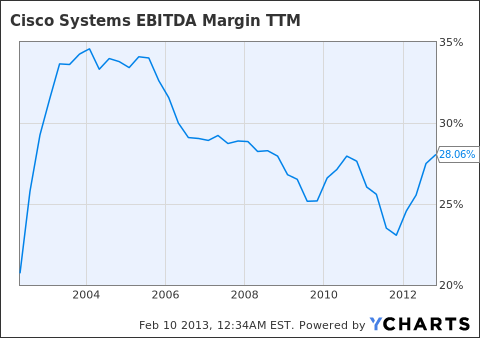 CSCO EBITDA Margin TTM data by YCharts
Estimated WACC for the firm today is between 10-12% using the Capital Asset Pricing Model and the company's recent SEC filings. Therefore, the firm's future free cash flows, discounted at a WACC of 11%:
| | |
| --- | --- |
| Year | ~FCF $Billions |
| 0 | 10.5 |
| 1 * 0.90 | 10.5 |
| 2 * 0.81 | 10.4 |
| 3 * 0.73 | 10.3 |
| 4 * 0.66 | 10.2 |
| 5 & | |
| Terminal Value * 0.59 | 83 |
Total discounted future cash flow gives us a present value for the entire firm (Debt + Equity):
| | |
| --- | --- |
| Year | ~FCF $Billions |
| 1+ | 10.5 |
| 2+ | 10.4 |
| 3+ | 10.3 |
| 4+ | 10.2 |
| 5 & Terminal Value+ | 83 |
| Total= | 125 |
$125 billion. Add current net cash of $29 billion, then the implied fair value of the firm's equity could be $154 billion.
$154000 million / 5330 million outstanding shares is ~$29 per share, a substantial premium from the current price per share of $21.15.
Sector/Industry Strengths & Performance
Cisco's operational performance has been quite impressive in recent years, especially when compared to stumbling giants such as Hewlett-Packard (NYSE:HPQ), Dell (NASDAQ:DELL), Computer Sciences (NYSE:CSC), and especially when compared with more direct networking competitors such as Juniper Networks (NYSE:JNPR). The company is now the second biggest player in the x86 blade server market in the U.S. and third biggest in the world.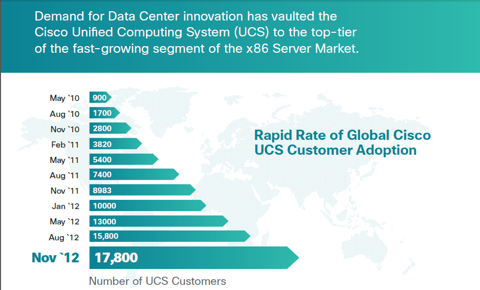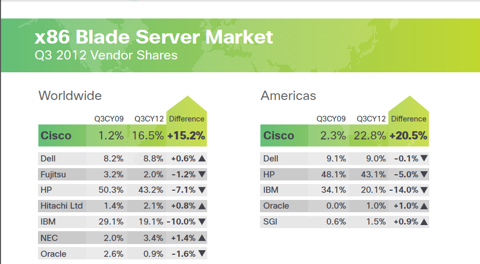 Cisco has put itself in direct competition with data center giants like Equinix (NASDAQ:EQIX) and Hewlett-Packard. HP's earnings are negatively affected by weaknesses in its consumer business. On the other hand, Cisco is expanding adoption of its Unified Computing Services platform. Margins on UCS systems are expanding as sales continue to be driven by their ease of adoption and flexibility. Microsoft's (NASDAQ:MSFT) Private Cloud is just one example of its major adoptions.
Cisco dominates the data networking industry; its share of the $20 billion switch market has remained at over 65% each of the past 5 years, while its closest rival, HP, has a mere 5%. Cisco also dominates the router space, competing with opponent, Juniper Networks. Cisco has also acquired companies to enhance its competitive leadership in the market.
It turns out that Cisco looks quite a bit cheaper than its peers:
Cisco's peers include Alcatel-Lucent (ALU), Riverbed Technology (NASDAQ:RVBD), Palo Alto Networks Inc. (NYSE:PANW), and Juniper Networks.
None of these companies have particularly stable earnings which inspire confidence in me. Alcatel-Lucent is actually supposed to be unprofitable this year. In its recent report for the full year of 2012, the company disclosed that its revenues had come in slightly lower than a year earlier. Palo Alto is also close to zero profitability, and even optimistic estimates for future growth yield a forward P/E of over 125 (for the fiscal year ending in July 2014). The current valuation of Palo Alto has already captured enough growth. I will like to see some bottom line growth here with year-over-year revenue up over 50%. Riverbed and Juniper, meanwhile, have high trailing earnings multiples, but most analysts expect that the next year will be much better. As a result, their forward P/Es are in the high teens, still at a premium to Cisco.
On the other hand, we have Cisco's peers such as IBM (NYSE:IBM), Intel (NASDAQ:INTC) and the Europe based Ericsson (NASDAQ:ERIC). Cisco and Intel have been going neck to neck in terms of gross margins that hover around 60%. On the other hand, Ericsson's gross margins are declining and have fallen from 36% in September 2011 to 31% in September 2012. Ericsson is pressured by the European debt crisis as local carriers reduce their spending. Moreover, the fierce competition in the continent from Huawei and ZTE (OTCPK:ZTCOF) is making things worse.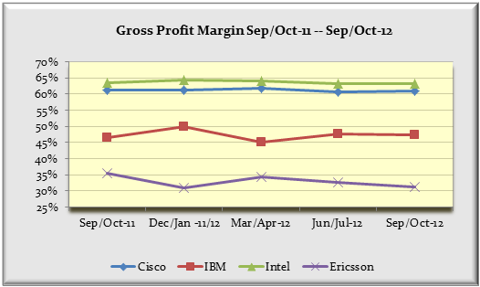 Cisco's strategy will be to focus more on software in the future. Juniper Networks is currently Cisco's major rival in routers, whereas IBM is Cisco's most logical major future competitor in the software and services space.
| | | | |
| --- | --- | --- | --- |
| | Cisco | Juniper | IBM |
| Price to Earnings | 13.3 | 58.8 | 14.0 |
| Dividend Yield | 2.70% | 0% | 1.70% |
| Gross Margin | 61.2% | 61.6% | 47.6% |
| Sales Growth | 5.5% | 1.80% | -0.6% |
| Earnings Growth | 17.70% | -0.50% | 6.20% |
| Market Capitalization | $112 Billion | $11 Billion | $226 Billion |
Of the three companies, it appears as though Cisco has the most attractive valuation. Compared with Juniper Networks, Cisco has managed to grow earnings, while Juniper has seen its earnings remain flat. Cisco also compares favorably to IBM on many valuation metrics. Similar to IBM, Cisco also has a sales team that is recognized for performing very well. Cisco also has a compelling suite of products and solutions, which allows it to keep up its margins and profitability. In the future, I believe that Cisco is well positioned to steal market share in the highly profitable software and services space from IBM. Cisco has set a strategic target of doubling the revenue it derives from software in the next five years. This should lead to a rising take rate for its expanding suite of service offerings.
No one can blame Cisco for a bit of IBM envy. IBM also carries high margins today, but its enterprise value-to-sales (EV/Sales) ratio is 30% higher than Cisco's. That's why emulating IBM is a prudent move. Cisco understands that IBM's focus on long-term service contracts leads to much smoother revenue and profit streams. The company therefore aims to boost service revenue from a current 22% of the sales mix to more than 26% within three years.
Cisco has always been viewed as a networking giant producing the switches, routers and software that execute corporate and telecom data networks. But after heavy spending on research and development and certain acquisitions, Cisco is now set for industry leadership in mobile & cloud computing, video-delivery services, network security and web conferencing. The market is moving to buying solutions rather than buying standalone boxes, playing to Cisco's core strength.
Moreover, Cisco executives now spend a considerable amount of time on the road in Latin America and Asia. Cisco has directed its sales force to treat these markets as a top priority. The timing is good, as many of these markets are now increasingly home to large domestically-grown companies, and not simply the foreign divisions of firms like Wal-Mart (NYSE:WMT) and Coca-Cola (NYSE:KO). Emerging markets currently represent about $9 billion in annual sales or almost 20% of the entire sales base, though Cisco aims to boost that figure by 10% annually in the next three to five years. To get there, Cisco is developing lower-cost solutions for these price-sensitive markets.
In a world of many clouds mobility, bring your own device, and the internet literally connecting everything. The network has never played a more central role, connecting people, the process, data and things, anywhere, anytime, across any device. In this cloud of mobile world, the challenges of scale, agility, security and resilience can only be addressed by an intelligent network, and Cisco is uniquely positioned to help our customers meet business requirements and drive this new growth.
John Chambers - Chairman and Chief Executive Officer
Source: Earnings Call Transcript @ SeekingAlpha
M&A Strategy
Cisco has a sensible M&A strategy. Cisco is making investments that are supposed to have a higher net present value or internal rate of return than returning cash to shareholders. It has unambiguously stated that its focus is on acquiring software-based assets that support Cisco's integrated solutions model. To that end, Cisco has made small acquisitions in the hundred to several hundred million dollar ranges, with the occasional billion or multi-billion dollar deal. Some of the recent acquisitions:
Meraki, a dominant footprint in cloud computing and mobile, will form the basis for Cisco's Cloud Networking Group.
Cloupia, whose products automate converged data center operations, will augment Cisco's Data Center Group.
Cariden, focused on software-based network-planning, will roll up into Cisco's Service Provider Networking Group.
Intucell enables mobile carriers to monitor and tune their networks in real time on the basis of network traffic and user demand, will further strengthen Cisco's Unified Communications solutions. I analyzed the Intucell technology in my previous article in January.
In July 2012, the firm completed its acquisition of NDS Group, a leading provider of video software and content security solutions that enable service providers and media companies to securely deliver and monetize new video entertainment experiences. With the NDS acquisition, the company aims to broaden its opportunities in the service provider market and to expand its reach into emerging markets. The company paid $5 billion for NDS.
A complete list of Cisco's acquisitions can be found here.
Threats & Weaknesses
The past couple of years have been difficult for Cisco as it started focusing on the server market. Its Unified Computing Service platform became its priority from 2010 that saw the company losing some of its traditional customers. Since January 2010 till the end of 2011, its stock had fallen by more than 24%. A turnaround was essential for Cisco to survive and rebuild a long-term growth path.
Despite the upbeat 1st quarter results, the future isn't any less challenging. The slowdown in the European and U.S. economies is translating into weak demand. Although Cisco was able to increase its U.S. enterprise revenue by 10% year-on-year, the revenues from switches and routers, which form around half of the company's business, fell 3.9% year-on-year on weak demand. This in turn dragged the entire product revenue growth which increased by just 4% year-on-year.
Cisco is facing intense competition from new switching products and aggressive discounting used by competitors. This has resulted in declining gross margins for hardware from almost 64% in 2009 to 59% in 2012. Cisco seems to be too content with simply squeezing out cash from a largely mature business.
In recent meetings with analysts, Cisco has discussed plans to trim down to reap synergies where possible in coming quarters. Cisco also understands that profit gains need to be consistent if they are to be applauded by investors. Cisco's operating profits fell by $2 billion in fiscal 2009, rose by a similar amount in 2010. But amazingly it fell again in 2011 and rose again in 2012. This is a clear sign that Cisco needs linearity.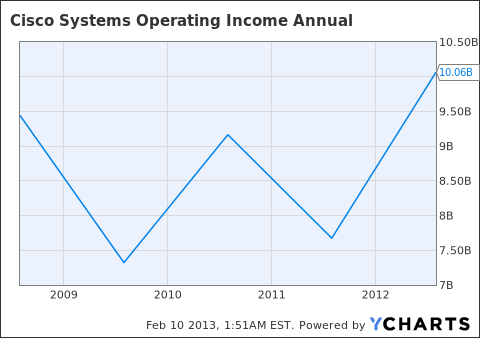 CSCO Operating Income Annual data by YCharts
Versus IBM's Linear Growth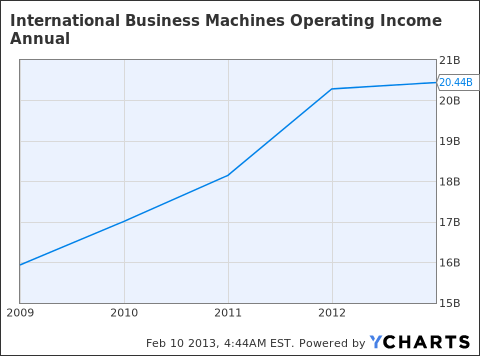 IBM Operating Income Annual data by YCharts
Management has indicated about a sharper game plan in recent quarters that will likely help solidify Cisco's role in its key markets. The plan involves a number of small steps that are unlikely to lead to explosive sales growth, but should fuel a steady expansion in profit margins and a more linear trend of profit growth.
Cisco is deploying a growth through acquisition strategy. There is the long-term risk that the company fails to integrate the acquired companies well. In other words, Cisco's operations could become disorganized and financial performance could suffer.
Now that EMC's (EMC) subsidiary VMware (NYSE:VMW) has entered networking with the acquisition of Nicira, thus positioning itself as a Cisco rival, the company will face fierce competition in converged infrastructure market. Nicira makes software that helps networks operate more efficiently, an area where Cisco is dominant with hardware sales. By helping businesses run their networks more efficiently, such software reduces the need for the devices that make up most of Cisco's revenue. I analyzed Nicira's acquisition and technology in my previous article here.
Cisco could also face tough competition from Oracle (NASDAQ:ORCL) in the Unified Communications space. Oracle recently agreed to pay $2.1 billion to acquire Acme Packet (NASDAQ:APKT), a leading network equipment vendor specializing in session delivery network solutions. I analyzed that acquisition in my previous article here.
Cisco is also struggling with some challenges of fiscal consolidation in developed countries, the U.S. and European Union member states, and slowing growth in China. Cisco will continue to face headwinds from sovereign expenditure.
Cisco also faces concerns of losing U.S. market share from the rise of Chinese telecom equipment manufacturers Huawei and ZTE. Huawei is now gearing up for Europe, Ericsson's primary market. Huawei has so far made investments of around $2 billion in Britain and is one of the key suppliers of British telecom firms such as BT (NYSE:BT). Cisco is currently avoiding any further investments in Europe which is smart for a company still completing its re-imaging. Ericsson is being pushed to lowest margins in more than 20 years as Huawei aims to expand further in Europe. I expect Cisco to face continued competition from Huawei and ZTE in almost every other part of the world.
Conclusion & Recommendation
Cisco is working to ensure that it maintains a dominant position in all of its markets. Cisco has a goal of being the best IT Company and has the scale and a product portfolio to achieve that goal. The company has a phenomenal product portfolio that allows it to maintain its margins even in the toughest of times. Cisco has very methodologically used acquisitions as a vehicle to build capability, as well as to enter new markets and obtain a dominant competitive position.
I believe that Cisco remains a very undervalued blue-chip technology company. Going forward, I am confident that the company will continue to deliver above-average earnings growth. I share the view that Cisco's new product segment will be the primary driver of future growth. Furthermore, I believe there's no other company in the industry that possesses the size and scale that Cisco does to continue to serve its ever expanding market, and with approximately $45 billion in cash, the company's financial profile is impeccable. I also expect to see a continuing dividend increase in the future.
Consequently, I believe that Cisco represents an excellent opportunity for investors seeking a high-quality stock with above-average growth potential and an above-average and growing dividend yield. I see Cisco shares as undervalued relative to their current fundamentals and also relative to their long-term growth potential. In other words, I'm suggesting that Cisco's fundamentals warrant a much higher valuation than they are currently receiving; at an entry price point below $21.50 per share Cisco is very attractively valued. At that price point, investors can reasonably expect a very solid total return of 10% - 15% per year over the next few years with minimal downside risk. I think that investors should take a closer look at the company and consider it for their portfolio.
The company will release the financial results for the second quarter of fiscal 2013 on February 13, 2013. Analysts on average expect EPS of $0.48 on 4.6% revenue growth.
I expect FY'13 revenue growth of about 6.5%; revenue should increase to $49.1 billion from $46.1 billion in fiscal 2012. Revenue growth was about 6.5% between fiscal 2011 and fiscal 2012. Current average analysts' expectations for FY'13 revenue is $48.73 billion.
Disclosure: I have no positions in any stocks mentioned, and no plans to initiate any positions within the next 72 hours. I wrote this article myself, and it expresses my own opinions. I am not receiving compensation for it (other than from Seeking Alpha). I have no business relationship with any company whose stock is mentioned in this article.