Chevron Phillips Chemical Company, better known as "CPChem", is a 50/50 joint venture between Chevron (NYSE:CVX) and Phillips 66 (NYSE:PSX). CPChem has two research facilities, 36 worldwide manufacturing sites, and sales in over 100 countries. The company is one of the world's top producers of olefins and polyolefins and a leading supplier of aromatics, alpha olefins, styrenics, specialty chemicals, piping, and proprietary plastics.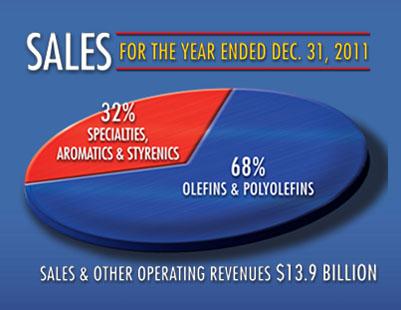 Chevron Phillips Chemical's product offerings are divided into two business units. In 2011, the olefins and polyolefins unit brought in two thirds of total sales. The specialties/aromatics/styrenics unit chipped in one third of sales (2011 data).
Most investors and analysts primarily recognize Phillips 66 as a refining company - and it is. That said, CPChem is a large part of the company. For full year 2012, CPChem earned $716 million in net income for PSX - 20% of the company's total adjusted earnings.
Chevron is the second largest U.S. based integrated oil and gas company and is known primarily for its upstream and downstream businesses. CVX doesn't break out CPChem's earnings separately in its quarterly statements - it is included in the "US downstream" results. However, since CPChem is a 50/50 JV, let's assume its contribution to CVX's earnings were the same as they were for PSX: $716 million for 2012. In this case, CPChem would have chipped in only 2.7% of Chevron's full year net income of $26.179 billion.
In the company's Q4 and full year 2012 presentation, PSX reported that CPChem led the industry with a 31% return on capital employed (ROCE), up from 28% in 2011. In fact, CPChem has been #1 in this metric within its peer group for three of the last four years (#2 in the other year).
A primary reason CPChem is leading the industry is due to the location of CPChem's production capacity for ethylene. Worldwide production of ethylene exceeds that of any other organic compound. As the following slide shows, the Middle East and the U.S. are the most advantageous regions to produce ethylene.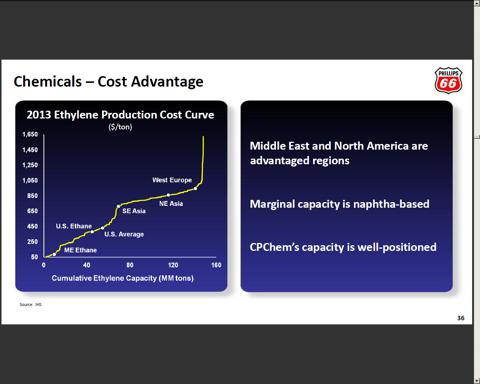 The next slide shows that 32/33 billion lbs/year of CPChem's production capacity is in the Middle East and the U.S.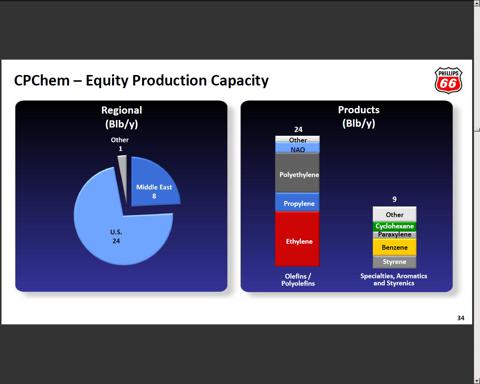 Put the two slides together, and it is clear CPChem is in an excellent position to lead the industry as a low-cost chemicals producer.
CPChem Profitting from Low U.S. Feedstock Prices
Perhaps even better still, 73% of CPChem's production capacity is here in the United States where prices of natural gas and natural gas liquids (NYSE:NGLS) feedstocks are very low and expected to stay low for quite some time to come. This is a huge advantage for CPChem versus its worldwide competitors.
During Chevron's recent Q4 conference call, energy analyst Alan Good from Morningstar asked if Chevron was prepared to increase the company's advantaged crude refining capability in the U.S. CVX CEO John Watson responded he expected the spread to equalize over time and regarded it as a short-term phenomenon. However, he said the best way to profit long-term from low-cost U.S. feedstocks was through the chemical business: CPChem.
Strategic Future Growth Plans
Chevron and Phillips are involved in, or considering, several different CPChem projects to expand its competitive advantage in the U.S.:
Expanding its normal alpha olefins (NYSE:NAO) capacity - targeting at least a 20 percent increase in a phased approach - at its Cedar Bayou Chemical Complex in Baytown, Texas.
The company is nearing completion of the expansion of a Natural Gas Liquids (NYSE:NGL) Fractionator Complex at Sweeny(Texas). With the expansion, the NGL fractionation unit will increase capacity by approximately 22,000 barrels per day or a 19 percent increase over current capacity.
Construction is under way on a project to build the world's largest on-purpose 1-hexene plant capable of producing up to 250,000 metric tons (551,000,000 pounds) per year. The project is anticipated to start up during the first quarter of 2014.
In March 2011, Chevron Phillips Chemical announced that it plans to pursue a project to construct a 1.5 million metric tons/year (3.3 billion pounds/year) ethane cracker and ethylene derivatives facilities in the United States Gulf Coast region. The two new polyethylene facilities would each have an annual capacity of 500,000 metric tons (1.1 billion pounds) and would utilize Chevron Phillips Chemical's proprietary Loop Slurry Technology.
The following slide shows CPChem's growth projects on the Gulf Coast.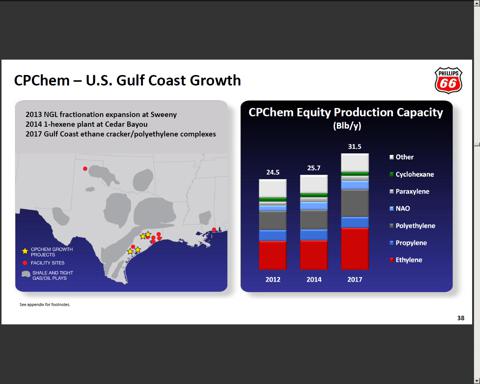 How Best To Invest in CPChem
Obviously there are two ways to invest in CPChem: Chevron or Phillips 66. As shown earlier, CPChem is a must bigger component of PSX's net income than it is for Chevron (20% versus 2.7%). So PSX is a more direct way to invest in the advantages of CPChem versus its competitors.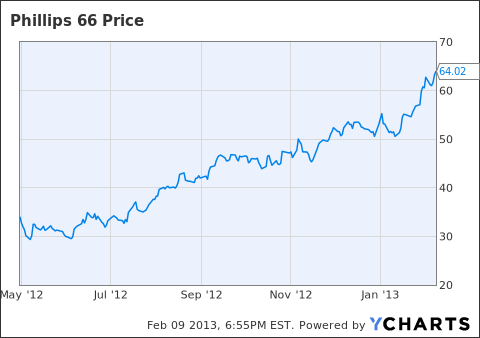 And of course, Phillips 66's large refining business is also benefiting from the over $22 spread between Brent and WTI. Even after the run-up in 2012, PSX still has a single digit P/E (9.8) and the dividend yield is 1.6%.
Chevron Is Undervalued
Chevron's Q4 2012 results were excellent. It reported earnings of $7.2 billion ($3.70 per share - diluted) compared with $5.1 billion ($2.58 per share - diluted) in the 2011 fourth quarter, up 41%. If a gain of $1.4 billion from an upstream asset exchange is backed out, earnings were up 14% in Q4 over the year earlier quarter. Full-year 2012 earnings were $26.2 billion ($13.32 per share - diluted).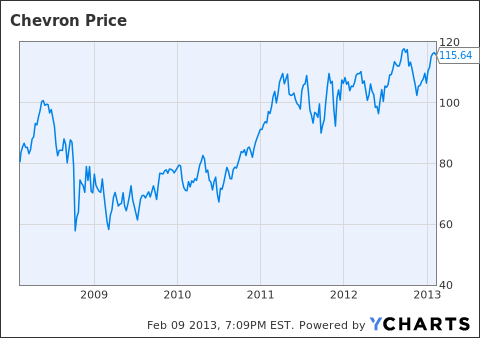 CEO John Watson commented:
Chevron delivered another very strong year in 2012. Our upstream portfolio continues to produce excellent results. We've now led the industry in earnings per barrel for over three years. Our downstream businesses also delivered highly competitive earnings per barrel.
On the Q4 conference call, Watson said 2014 will be a very good year for production growth. Angola LNG will have been operating for a full year. Also, two large Gulf of Mexico projects - Big Foot and Jack/St. Malo, are 50% and 60% complete (respectively) and both are on schedule to come online in 2014.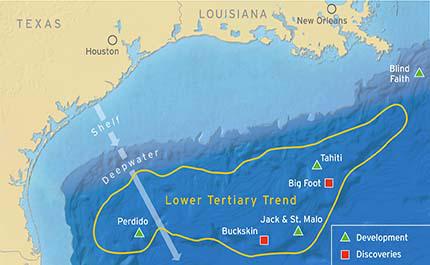 The Jack and St. Malo project will have a capacity of 170,000 barrels of oil and 42.5 million cubic feet of natural gas per day. The fields are estimated to contain combined total recoverable resources in excess of 500 million oil-equivalent barrels. Chevron has working interests of 50 percent in the Jack field, 51 percent in the St. Malo field, and 50.67 percent in the host facility
The Big Foot project is also in the deepwater GOM. The development will have production capacity of 75,000 barrels of oil and 25 million cubic feet of natural gas per day. Discovered in 2006, the Big Foot is estimated to contain total recoverable resources in excess of 200 million oil-equivalent barrels. Chevron has a 60 percent working interest in the Big Foot project.
Despite 2012's nice results, and the large oil production growth projects coming online in 2014, CVX currently trades at a P/E=8.7 and yields 3.1%. Chevron may not be the best way to invest in CPChem, but I believe the company is quite undervalued and a good long-term buy.
CPChem is a very well positioned chemical company with long-term fundamental advantages over its competitors. Phillips 66 is the most direct way to invest in this company. However, Chevron is a sleeping giant and is undervalued in terms of its 2014 production growth outlook. Both companies should be considered by investors in light of current positions they may or may not hold in the energy and chemicals sectors.
Disclosure: I am long CVX, PSX. I wrote this article myself, and it expresses my own opinions. I am not receiving compensation for it (other than from Seeking Alpha). I have no business relationship with any company whose stock is mentioned in this article.
Additional disclosure: I am an engineer, not a CFA. Please do your own research and contact your investment adviser. I am not responsible for investment decisions you make. Thanks for reading and good luck!