Last year I wrote an article on the proposed conversion of CyrusOne Inc. (NASDAQ:CONE), formerly a subsidiary of Cincinnati Bell Inc. (NYSE:CBB), into a Data Storage REIT. More recently, Lou Basenese wrote an article on CyrusOne, as the collocation unit of Ohio-based telecommunications company, Cincinnati Bell, has officially become a new peer for the growing specialty Data Storage REIT sector.
CyrusOne, a small-cap REIT with a market capitalization of around $495 million, has around 23 properties and is one of the smaller peers of the growing high-tech specialty real estate sectors. Basenese concluded that Cyrus could be opportunistic if the shares fall below $12 (recent close was $22.60):
Bottom line: Wait to see if a more attractive entry point materializes (below $12 per share). It might not. But if it does, we'll definitely be getting a bargain. At the same time, we'll be earning a higher yield, too.

As a REIT, CyrusOne plans to pay an annual dividend of $0.64 per share, which represents a 3.6% to 4% yield based on the proposed price range. That's in line with CoreSite's yield of 3.6%. But if we can scoop up shares for $12 or less, CyrusOne's yield would top 5%, which is much more attractive.
Equinix (NASDAQ:EQIX) has also said for some time that it would likely transition to become a REIT in 2014, and Mr. Market has already priced the opportunity accordingly (shares are up over 143% over the past two years).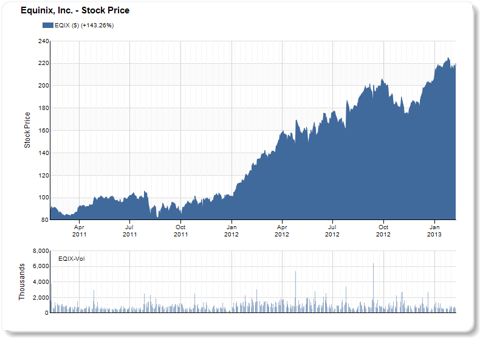 It's clear to see that the demand for the growing internet cloud and specifically storing digital data has become a very popular and attractive REIT alternative. Likewise, investors are benefiting from the continued demand and added diversification that provides growing exposure to just about every real estate product and/or sector imaginable. As I wrote in a recent Forbes Magazine article:
Now, 50 years after REITs' inception, the industry is buzzing again. A generation of boomers craves income, and more and more companies have become wise to tax and other advantages of the REIT structure. Everyone wants to get in on the REIT bonanza, as operating businesses from cellphone towers to timber companies, billboard firms and private prisons are converting to REITs.
The Big Dog of the Digital Dog House
Digital Realty (NYSE:DLR) owns 116 properties comprising of 21.6 million square feet, including 2.1 million square feet held for redevelopment. As one of the 15th largest U.S. REITs, Digital Realty has a market capitalization of around $8.1 billion (source: SNL Financial) and is almost three times the size of the combined smaller peer group.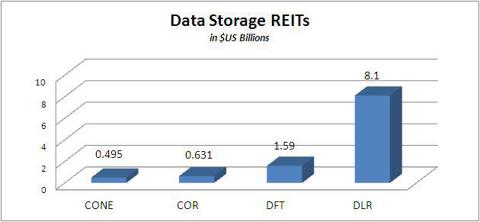 Digital Realty, a pioneer of the data center sector, started out as a private equity fund (GI Partners Fund I) in 2001 and later became public in November 2004. As the demand for data space has exploded, Digital Realty has been in the forefront of the sector. As explained in a white paper (The Industrialisation of the Data Centre) on Digital Realty's website:
The level of complexity associated with acquiring, designing, building and operating these new facilities is accelerating accordingly. This increasing level of complexity is rapidly outstripping the ability of even the largest companies to effectively acquire, design, build, and operate their own facilities. These demands have prompted a revolution not dissimilar to past eras of industrial change within modern economic history in which effective "division of labour" emerges as the most reliable method of delivering the sophisticated end product that customer's require. As a result, this new construct of the "Industrialisation of the Data centre" includes many of the same elements that have characterized the rise of industrialized production methods throughout a variety of industries for the past 100 years.
Digital Realty has clearly become the "big dog" in the digitalized Data Storage sector and the company's "core of competence" has also been its primary value proposition. With a strategically-aimed objective of data storage expertise, Digital Realty has become a massive "railroad of this generation providing the infrastructure to support the global economy." As explained in the previously referenced company white paper:
FedEx (NYSE:FDX) doesn't build its trucks or planes even though these assets are mission critical for the company. FedEx is in the delivery business, not transportation or manufacturing. These goals are most effectively achieved through the use of partners whose business is data centre facilities. In this area, experience does count and the lack thereof is typically measured in inefficiency and added costs.
Since 2005, Digital Realty has closed on nearly $4.9 billion in acquisitions and the company closed on a record of $1.55 billion in acquisitions in 2012.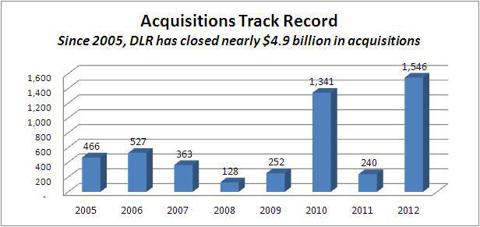 Digital Realty has grown its asset base by over 200% since 2005. As of the third quarter of 2012, Digital Realty had over $8.5 billion in assets.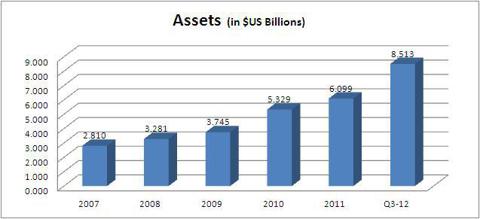 Digital's Dominating and Durably Diverse Data Storage Platform
With a high-quality tenant base of over 2,000 leases with over 550 tenants, Digital Realty has become a leading global provider of data storage facilities. The multiple sites are located in 32 markets across 10 countries and 4 continents.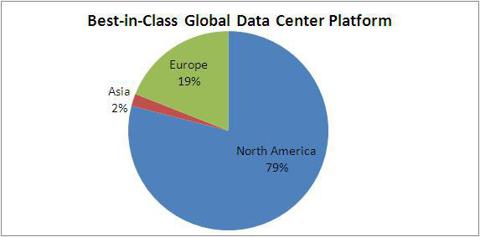 Here is a snapshot of Digital's top markets - with the top regions including London, Silicon Valley, Dallas, Northern Virginia, and New York.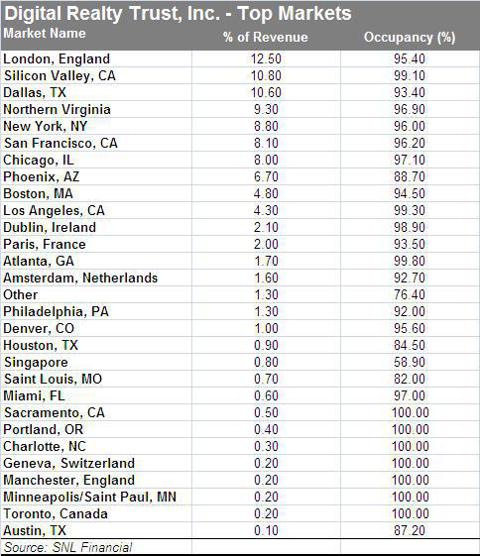 Digital's European portfolio consists of 21 properties located in 6 markets totaling 2.1 million square feet. 64% of the European portfolio (based on annual rent) serves the London market and the income producing assets in Europe are 94.9% occupied.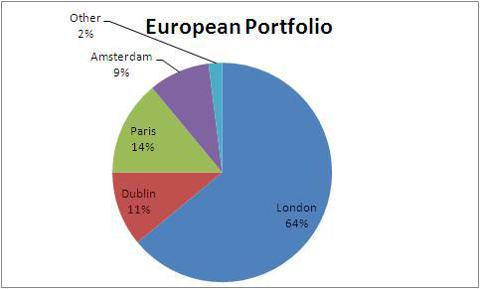 Digital's Asia portfolio consists of 5 properties containing in various stages of operation, construction and fit out, totaling approximately 726,000 square feet and approximately $23.5 million in annualized rental revenue in 2012. Singapore is the largest Asian market and Digital is exploring new market opportunities in Japan and China.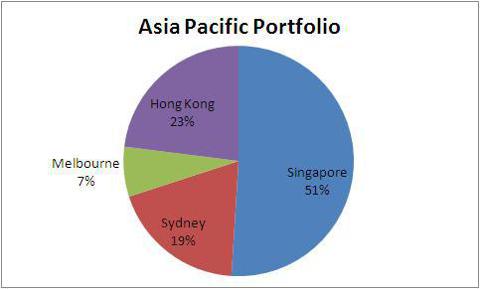 In addition to broad geographic diversification, Digital Realty also has a highly diverse tenant base; no single company accounts for more than 9.1% of Digital's annualized rent. In addition, Digital has diverse tenant categories that include financial services (20%), internet enterprise (7%), IT services (29%), telecom network providers (27%), and other corporate enterprise (17%).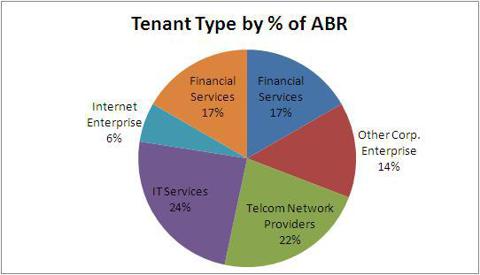 Here is a snapshot of Digital's top tenants:
Digital Powers Up the Dividends
As Digital continues to rapidly grow its pipeline to support the global data storage industry, investors have benefited from the strong growth fundamentals. From 2005 to 2011, Digital reported 19.8% compounded annual funds from operations (FFO) per diluted share growth.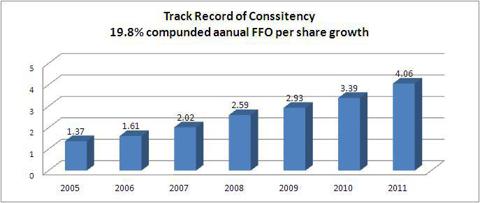 2012 FFO results were equally impressive as Digital grew its per share FFO by 6.6% over the first three months of 2012.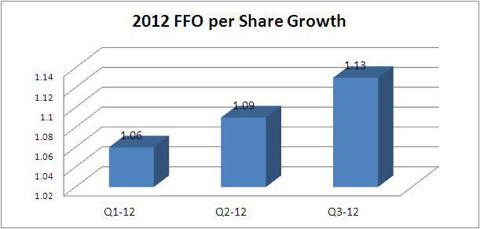 In 2011 Digital increased its common dividend by 7.4% and the company increased its dividends paid by over 17% from 2005 through 2012. Digital's current dividend yield is 4.46%.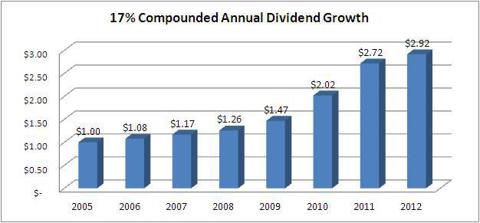 Part of Digital's multi-pronged growth strategy has been its high-quality cash flows balanced by very stable lease roll-overs. The average original lease term for Digital's portfolio was 13.6 years and the remaining average lease term is 6.9 years. Here is a snapshot of Digital's well-laddered lease expirations:

Also supporting the durability of Digital's dividend are the significant barriers to exit - that leads to high tenant retention (85% of GAAP revenue) and very stable occupancy (greater than 93% for last 5 years).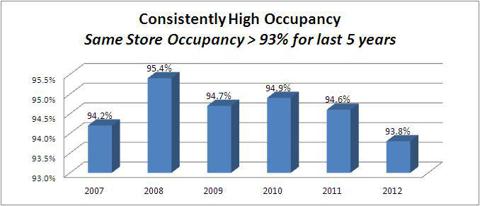 Digital's Exceptionally Strong Access to Capital
Digital's capital structure consists of common equity (66.3%), fixed-rate debt (26.1%), preferred shares (4.5%), and variable rate debt (3.1%). The company has raised over $11.2 billion of capital since inception (2004) and that makes for an unconstrained supply of new deals. Digital has investment grade ratings (S&P BBB) with a global $1.8 billion revolving credit facility ($450 million accordion) and a $750 million multi-currency term loan (with a $100 million accordion). Digital's debt maturities are well-staggered.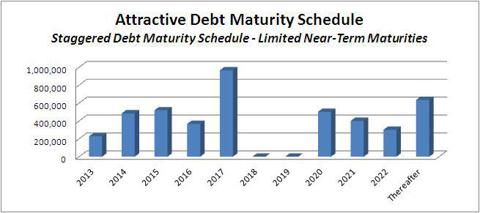 Digital's conservative capital structure includes a debt/enterprise value of 30%: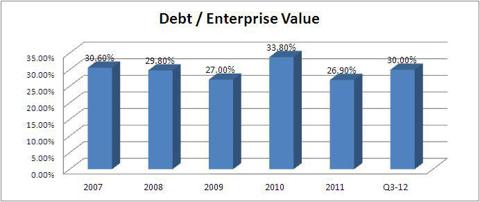 Debt Service Coverage of 4.9x: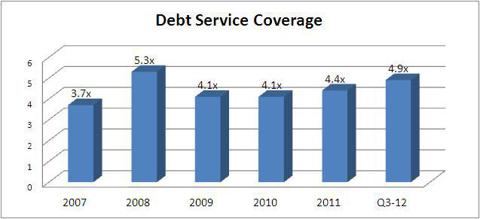 Fixed Charge coverage of 3.7x: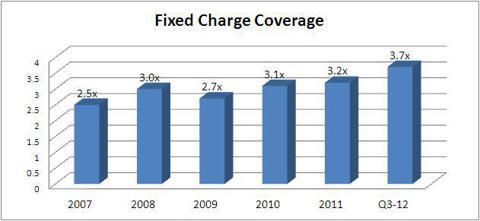 Should I Pull The Trigger Now?
So far, so good. Digital Realty is certainly the "big bad dog" of the Data Storage sector. Shares are currently trading at $65.40 and the price has grown over 445% since the company went public in 2004.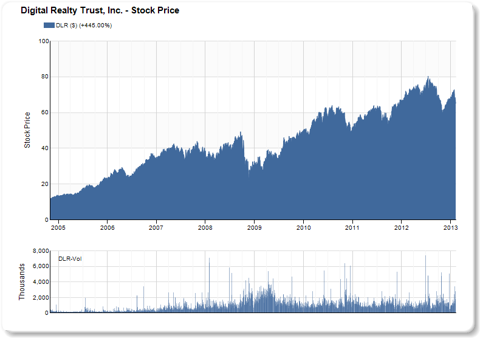 And Digital has returned over 659% since the public listing: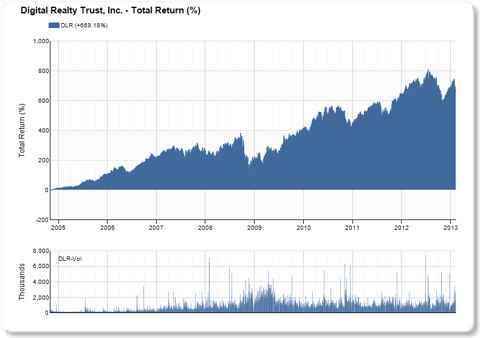 Digital has under-performed over the last year as the REIT reported a negative return of -2.93%, while CoreSite returned over 48%.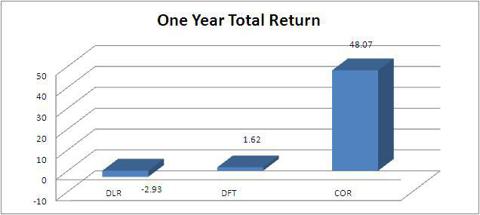 Shares of Digital Realty currently trade at a 12.8 P/FFO, a premium compared with peers CoreSite (P/FFO of 9.0) and DuPont Fabros (P/FFO of 10.9). Given its strong diversification and strong capitalization fundamentals, the higher peer valuation is justified.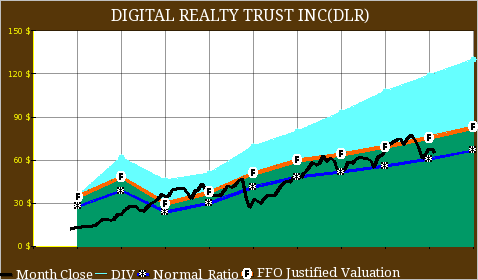 As the FAST Graph (above) illustrates, Digital represents an attractive buying opportunity (the black line shows the price, currently at $65.40), well below the intrinsic value based on funds from operations (FFO - the orange line marked F) of $75.00 per share.
Digital shares have recovered over the past few months after sustaining a 20+% sell-off that began in July 2012 and bottomed in October 2012.
One other observation: On February 6, Digital's peer Dupont Fabros reported their 2012 earnings to the market. Dupont met consensus and 2013 guidance expectations and leasing looked pretty good. However, they had one rather large tenant who gave back some space. Some of this space was in New Jersey, the market causing investors the most concern. This tenant also restructured the lease on their remaining space - essentially they will not transfer any cash to Dupont for the next 18 months and this rent and any deferred to this point will accumulate as a loan on Dupont's balance sheet.
The implication is that the tenant may have cash flow problems and/or Dupont doesn't believe they can easily re-lease the space so they took what appears to be pretty unfavorable terms. The market did not like this transaction and this also impacted the price of all the data centers this week.
Another risk for Digital Realty is the specialized nature of the growing Data Storage sector. Because the Data Storage industry is considered a niche business, there is a smaller pool of potential buyers - especially in the private markets. That means that there are a limited number of assets and that the properties are much less liquid.
However, I feel as though the limited "buyer market" is muted by the extraordinary growth, and especially the dominating strength of Digital Realty. As Michael Foust, Digital's CEO, explained on the most recent (Q3-12) earnings call:
In fact, we are on the offensive, taking advantage of our strong balance sheet and financial resources to continue to both expand our portfolio through new development leasing and to be the consolidator in the industry consistently making accretive investments of strategic data center portfolios and individual properties.
Foust went on to say:
We believe that our disciplined investment management approach and superior balance sheet allows us to better manage market risk by diversifying our capital deployment across geographies and product types. Our strategy is both unique in the marketplace and a critical component to our continued success. We attribute this success with a team of dedicated real estate and technical professionals which continue to drive the growth of our business.

In closing, I recommend Digital Realty shares at the current price of $65.40. Digital is indeed the "big dog" of the Data Center space. In addition, Digital has a proven track record for paying and maintaining dividends, and with considerable demand for high-quality data storage, the big dog has plenty of room to run. Digital Realty barks louder than the smaller peers as the San Francisco-based REIT has a beastly dividend yield of 4.46%. But get ready; Digital Realty should be a valuable REIT companion in 2013 as I expect continued dividend increases as well as strong appreciation. I will provide a follow up post after the earnings call on February 15th.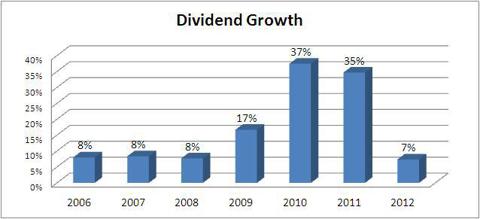 Sources: FAST Graphs, SNL Financial, Digital Realty Website
Disclosure: I have no positions in any stocks mentioned, and no plans to initiate any positions within the next 72 hours. I wrote this article myself, and it expresses my own opinions. I am not receiving compensation for it (other than from Seeking Alpha). I have no business relationship with any company whose stock is mentioned in this article.