Back in June of 2012, I applauded Philip Morris (NYSE:PM) when the company announced a new 3-year, $18 billion share repurchase plan. The cigarette maker was already a value investors dream, as the company paid a nice dividend which was increasing at a solid pace. Additionally, the company was buying back plenty of stock, and this new plan would accelerate the repurchase of shares. At that time, I stated that Philip Morris was my top value pick, and I reiterated that the stock was most likely my top value pick for 2013.
I still believe that the stock is a great value. As of Friday's close, the dividend yield was 4.05%, and you still have about $15 billion or so left on the buyback. However, in my last Philip Morris article, I described one worry I had with the company, and it was the balance sheet. I was worried about the company's debt that was piling up, and the fact that the company's financial flexibility was not very great. I don't believe that the company is in any financial trouble currently, but down the road, my worries have expanded a bit. The company just released its quarterly earnings report, and the balance sheet is getting worse. Today, I'm going to describe a couple of worries I have that are starting to increase.
The updated balance sheet:
In the following table, I have provided some key balance sheet numbers, with dollar values in millions. The yellow boxes show where working capital is negative, and thus the current ratio is below 1.00. I've gone back to the end of 2010 to show how the balance sheet has evolved over the past two years.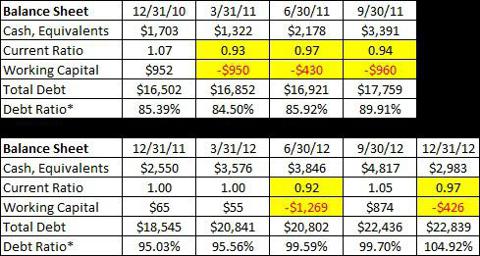 *Debt ratio is calculated as total liabilities / total assets. These numbers do not include the redeemable non-controlling interests.
Rising levels of debt and liabilities:
Over the last two years, the amount of debt on the balance sheet has risen quite a bit, as you can see from the below chart (dollar values again are in millions).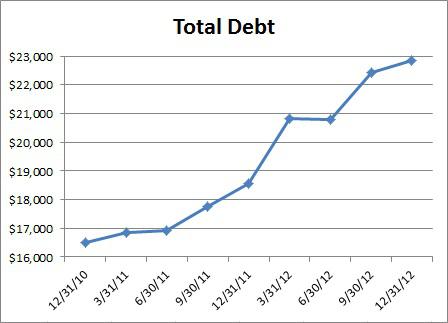 Over the last two years, Philip Morris has added more than $6.3 billion in debt, with about two-thirds of that being long-term debt. But it's not just the debt amount that is rising. Total liabilities are rising, and fairly quickly. The chart below shows the company's debt ratio over the past two years. For those that don't have an accounting background, the debt ratio I refer to is also known as the liabilities to assets ratio. It is calculated by dividing total liabilities into total assets, so it doesn't just include debt. It includes all liabilities.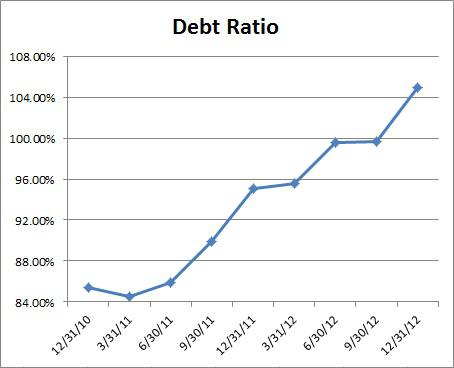 Two years ago, the company had a little more than 85 cents of liabilities for every dollar of assets. At the end of 2012, that number was up to almost $1.05 of liabilities for every dollar of assets. Yes, the company actually has a negative equity balance.
But the other important item to note is that Philip Morris had $5.2 billion worth of short term debt at the end of 2012. That includes both actual short-term debt, as well as the current portion of long term debt, which is due in the next twelve months. However, at the end of 2012, the company only had about $2.98 billion of cash and equivalents on the balance sheet. What this means is that the company will most likely refinance this debt as it comes due. They probably won't pay all of it off, and they may not pay any of it off. It's possible that the total amount of debt will continue rising going forward. Yes, interest rates are low now, but eventually you have to pay that money back. The company also provides debt ratios when it comes to EBITDA. The total debt to EBITDA ratio went from 1.29 at the end of 2011 to 1.55 at the end of 2012. The net debt (total debt minus cash) to EBITDA ratio went from 1.12 to 1.35. Right now, the trend is going the wrong way, and it has been for a number of quarters.
Earnings per share / buyback / dividend / etc:
A company can buy back stock for a variety of reasons. The first reason is to signal that shares are undervalued. Philip Morris actually spent more money in Q4 on buybacks than expected for that given reason. A second reason is to boost earnings per share, as a reduced share count will boost that number, if a company is profitable. A third reason is that you will pay less in dividends with fewer shares outstanding. This allows a company to boost dividends even more.
Now, when you have a company flush with cash, like Apple (NASDAQ:AAPL), a buyback is a lot easier. For a company like Philip Morris that doesn't have a ton of cash, issuing debt is sometimes the way to go, especially with low interest rates.
I cannot argue that the buyback has been negative in terms of earnings per share. In the fourth quarter, Philip Morris' buyback impacted earnings per share positively by five cents. The company's GAAP earnings per share were $1.25 in the quarter, up from $1.08 in the prior year period. A nickel of that gain was due to the buyback. When you look at the full year EPS rise from $4.85 to $5.17, 20 cents of the rise was due to the buyback.
The one negative here is that net income isn't rising as fast. So when you see that 2012 earnings per share rise by 6.6%, you have to realize that net income only rose by 3.1% (2.4% rise if you subtract out earnings attributable to non-controlling interests). The buyback can sometime make things a little better than they appear.
Conclusion - Why I am worried:
I'm not worried about Philip Morris in the short term, that being 2013 or probably 2014 either. I am worried a little bit down the road if the company's debt pile continues to build, and if liabilities continue to rise quicker than assets. Even though rates are low currently and the company can refinance easily, rates will eventually go up. Refinancing now for 10 years at say 2% is one thing, but if you have to do it at say 5% or 8% you'd be looking at a lot higher interest costs. That would hurt buybacks and dividends down the road. Philip Morris doesn't have the highest dividend yield of the cigarette names at the moment, so if the dividend isn't raised as much, the yield in this stock becomes even less competitive with others in the space.
As I mentioned above, Philip Morris announced a new 3-year, $18 billion buyback program during 2012. That program started during August, and it was expected to be $6 billion per year. However, I mentioned above that due to a low stock price, the company spent more in Q4 than anticipated. You would expect them to buy back half a billion dollars a month, which is $6 billion per year. From August through December, which is 5 months, they bought back $2.853 billion worth of shares. You would expect $2.5 billion. This means that Philip Morris could finish the current buyback plan earlier than expected, as they did with the previous buyback plan. However, it could also mean that next year or going forward, the buyback could slow down a bit, especially if they don't have the money for it.
For those that have read any of my past articles on Philip Morris, you know that I always show how this stock trades at a significant premium to other names in the space. The company offers more growth than those other names, but the dividend yield is lower, so those two almost cancel out. Investors are willing to pay that premium because of the buyback. However, if the company were to stop buying back shares after this 3-year plan ends, or the pace of the buyback were to slow down, the premium this stock trades at could come down. I applauded this company for the buyback several months ago when the balance sheet looked a lot better. That balance sheet is starting to worry me a little, so I hope the company can improve it going forward. Philip Morris has been one of my top picks over the last year, but if the recent trend continues, my thoughts on the company could become increasingly more negative.
Disclosure: I have no positions in any stocks mentioned, and no plans to initiate any positions within the next 72 hours. I wrote this article myself, and it expresses my own opinions. I am not receiving compensation for it (other than from Seeking Alpha). I have no business relationship with any company whose stock is mentioned in this article.
Additional disclosure: Investors are always reminded that before making any investment, you should do your own proper due diligence on any name directly or indirectly mentioned in this article. Investors should also consider seeking advice from a broker or financial adviser before making any investment decisions. Any material in this article should be considered general information, and not relied on as a formal investment recommendation.