Software company VMware (NYSE:VMW) reported stronger than expected revenue and earnings when it released 4th quarter numbers earlier this month. Total revenue of $1.29 billion just beat consensus of $1.28 billion and EPS of $.81 was solidly ahead of the street estimate of $.78.
However, the company offered much lower 2013 guidance than the street expected and said it would cut up to 900 jobs as revenue growth slows. This news was a splash of cold water in the face of investors used to years of top-line growth, and the stock was quickly downgraded by no less than seven analysts as the share price plunged over 20% from its pre-earning levels.
Going forward, management guided license revenue growth in the 8%-11% range while the street had expected something north of 13%. Margins are expected to remain flat to slightly down from the current 16.2% level.
Management further noted that because of the cyclical nature of business renewals of Enterprise Licensing Agreements (ELAs), any growth in this area will not have an effect on the top line until the 2nd half of 2013-- and they guided FY13 revenue to $5.23-$5.35 billion while the street was expecting something in the neighborhood of $5.42 billion. In fact, it seems that at least some of the ELA revenue that was expected to be generated in Q1-13 has already been booked and was a strong contributor to the better than expected Q4-12 numbers. As a result, Q1-13 license revenue is expected to be about 10% lower than revenue for the year earlier quarter.
Meanwhile, the company indicated that charges from job cuts and costs associated with exiting lower margin business will weigh on 1H13 earnings. While guidance does appear to be on the conservative side, it still makes investors hesitant to justify higher multiples from the current levels - hence the sell-off. However, keeping within new guidance for revenue, the top line should still grow by 15% for FY13. Therefore, if margins stay relatively flat, EPS should be around $3.16 and FCF will grow to around $4.20/share. Using a modest 30x multiple of earnings, that would put a $95 price tag on the stock, which was trading just north of $79/share as of Friday's market close. This implies a 20% upside to the current price based on the company's own conservative guidance.
However, with slowing growth projected by management and no real catalyst on the near term horizon, I expect the stock to trade sideways from its current price for the next several months until it starts gaining traction in the second half of the year.
If you are sitting underwater on higher cost basis VMW shares and you can afford to wait, I would urge patience - the stock will recover. The company is well positioned to take advantage of business enterprise solutions as it continues to adopt virtualization and cloud computing solutions. However, instead of just waiting until the 2nd half of the year before you see any meaningful upward movement in the stock price, why not get paid to do that waiting by selling covered calls against your current position?
If you look at the chart below, you can see the stock is now sitting just above its Fibonacci support at $75, and there appears to be significant Fibonacci resistance at $90.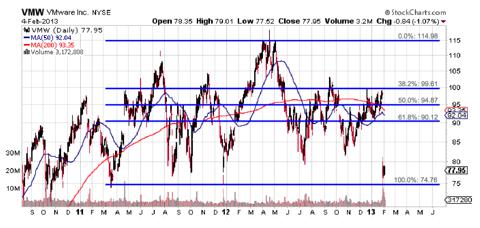 As I said, I would be surprised to see the stock break out in any meaningful way from current levels for the next several months. Even if there were some upwards price movement, it would at most be a short lived gap-fill from the 20% drop since earning were released. At the same time, while macroeconomic events would certainly have an impact on VMW as it would with any stock, the share price is sitting just above a strong support line that held nicely during the post earnings sell-off.
Therefore, if you are long the stock you may want to consider selling the July VMW 85 covered calls at $4.50 or so. With this trade you cap your upside to $89.50 (strike plus call bid), which is just shy of the Fibonacci resistance at 90. In exchange for limiting your upside, you receive a $4.50 premium which is a 5.7% (approximately 12% annualized) return for the remaining time that the contract is in force.
To my way of thinking that sure beats waiting around for something to catch hold and move the stock.
Disclosure: I have no positions in any stocks mentioned, but may initiate a long position in VMW over the next 72 hours. I wrote this article myself, and it expresses my own opinions. I am not receiving compensation for it (other than from Seeking Alpha). I have no business relationship with any company whose stock is mentioned in this article.