Altria (NYSE:MO) announced strong fourth quarter results, reflecting the firm's resiliency in the face of a secular decline in its core product. Revenue increased 1.8% year-over-year to $6.2 billion, slightly above consensus estimates. Earnings were superb, growing 10% year-over-year to $0.55, excluding certain items (Image Source: Altria).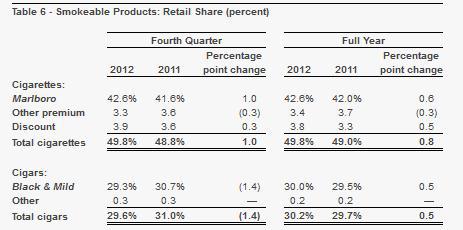 Altria's share gains at Marlboro drove smokeable products revenue higher during the fourth quarter. The firm's market share increased one percentage point versus a year ago and was 0.6 percentage points higher by the end of 2012 versus the end of 2011. Such brand strength resulted in revenue expansion (net of excise taxes) of 3.6% to $3.8 billion (up 2.4% to $5.6 billion including excise taxes). Even though total smokeable products volumes advanced 0.4%, the company was able to selectively raise prices, which resulted in adjusted operating income (OCI) margins of 39.9% (which were an impressive 90 basis points higher than the previous year). Adjusted OCI for the smokeable segment increased 6% year-over-year during the quarter and advanced 4.2% for the full year. We think the firm's Marlboro brand will remain resilient, and the company's solid market share continues to hold up in the face of competitive challenges (Image Source: Altria).
Smokeless products, though a considerably smaller segment, experienced revenue growth of 7%, which boosted adjusted OCI 9.5% higher year-over-year to $254 million. On a comparable basis, smokeless tobacco is even more profitable than the smokeable variety, and we saw tremendous growth in shipments of both Copenhagen and Skoal during the fourth quarter.
Although smoking among young adults seems to have bottomed, smokeless tobacco has become more prevalent in the wake of the campaign against cigarettes. This form of consumption is often perceived as "safer", carries less of a social stigma, and tends to be less expensive. Though smokeless tobacco products harm a user's health in a number of ways, it has become particularly popular among younger athletes (given that it does not target the lungs as cigarettes do). Though we're not thrilled about the health hazards of the product, we're fairly optimistic about the segment's growth rate-at least until it becomes the target of public health like cigarettes have been during the previous twenty years.
Looking ahead, Altria believes it will earn $2.35-$2.41 per share on an adjusted basis, which represents solid growth of 6%-9%. We're also looking forward to the company raising its dividend modestly as earnings expand. Still, we're not ignoring the regulatory risks. Plenty of states are strapped for cash to the point where states such as Illinois are even pondering a gym shoe tax, for example. Given the strong, inelastic demand for cigarettes, we would not be shocked to see governments continue to increase excise taxes on tobacco. Nevertheless, such risks are not new, and we continue to hold shares of Altria in our actively managed portfolios. We especially like the company as a relatively stable income play.
Disclosure: I have no positions in any stocks mentioned, and no plans to initiate any positions within the next 72 hours. I wrote this article myself, and it expresses my own opinions. I am not receiving compensation for it (other than from Seeking Alpha). I have no business relationship with any company whose stock is mentioned in this article.
Additional disclosure: MO is included in our actively-managed portfolios.