ConocoPhillips (NYSE:COP) recently reported its 2012 operating results and many were not happy. 2012 earnings were down on lower realized oil prices. Year over year production declined on asset dispositions. Finally capital expenditures [capex] alone have outstripped cash flow, causing a substantial funding gap.
The funding gap, which does not even include its $3.3 billion dividend obligation, is probably what has investors most worried. As the company splits off, sheds assets and rearranges its business, it is burning through cash. Many seem concerned by the decline in cash flow and heavy capital expenditure and have thus sold the stock, driving the price down by nearly 5% in one day.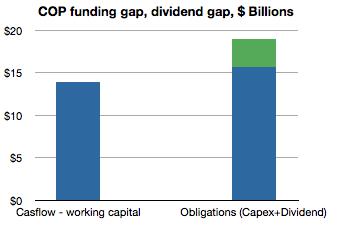 Chart by author, data from 12 Q4 Earnings Presentation
While this is legitimately concerning, management has been embarking on a turnaround plan since 2011. If that plan is successful, ConocoPhillips will be able to fund its capital expenditures as well as dividend with cash flow alone. Perhaps many analysts and investors don't understand that this transition will be expensive and take time. Or maybe they are just impatient and demanding faster results.
In this article we will look at how this newly independent Exploration & Production company will close its funding gap and balance out its obligations in a sustainable way. Since this reorganization is operational as well as financial, we will also take a look at what kind of company it will be when the plan is complete. This will hopefully give the reader a more big-picture perspective of ConocoPhillips as well as the exciting prospects of this company.
Funding Gap
Before we look at how ConocoPhillips will close this gap in the long term, it is important to know that there are $9.6 billion in scheduled asset dispositions for 2013 which will fund operations as well as the dividend for at least the next year. There is no immediate danger. That being said, lets look at the company's cash flow throughout 2012.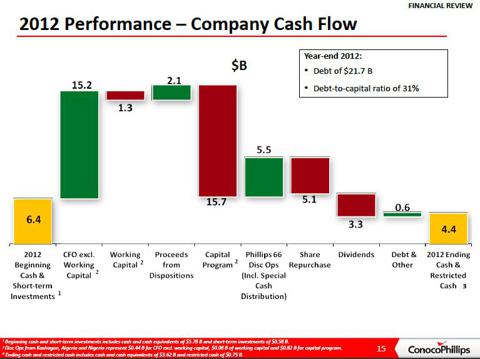 Source: 12 Q4 Earnings Presentation
This graphic provided by management provides a good big picture of the company's 2012 performance. There are a few non-recurring items, however, most notably the cash from Phillips66 (NYSE:PSX), which is now no longer part of the company. In addition, a good bit of the capital expenditures, working capital and cash flow came from now dispossessed assets.
When we strip out all of these things and subtract working capital from the cash flow, we got $13.9 billion in cash flow last year. Adding capital expenditure to the dividend, there were recurring obligations of $19 billion. This gives us a shortfall of $5.1 billion that must be accounted for in the long-term.
Expect More Share Buybacks
Many critics see buybacks as a way for management to massage Earnings Per Share numbers with the intent of maximizing their own compensation. They do this by simply reducing the number of outstanding shares. ConocoPhillips, however, is using buybacks as a means to lower cash flow obligations to its shareholders without reducing the actual dividend.
Essentially, management is treating outstanding shares as if they were bondholder obligations. Because the dividend yield for its common stock is higher than the interest rate of its outstanding debts, retiring stock is seen as superior to retiring debt from a cash flow perspective.
Last year, ConocoPhillips bought back $5.1 billion of its stock. The post-spinoff yield bounced between 4.8 and 4.3%. Assuming the company bought back stock at an average yield of 4.5%, we get a figure of $219 million in reduced cash flow to shareholders in the form of dividends. This will be permanent.
Considering the $9.6 billion in incoming cash from asset sales, we can expect a similar level of buybacks in 2013. Maybe more. The bottom line is that management is using buybacks as a way to reduce its obligations.
Asset Dispositions Are cash flow Positive
Management has been explicit in its criteria for selling assets. Non-core projects in far-flung geographies and those whom have lower production margins and returns are the target. These projects are therefore very cash-intensive, and getting rid of them has improved capital expenditures relative to cash flow.
This year, for example, operations in Nigeria, Algeria and Kashagan in central Asia have been sold. The result was $440 million in cash flow from discontinued operations and $900 million in discontinued capex and working capital, providing net cash savings of $560 million in 2013.
Like buybacks, cash flow improvement from asset sales in 2012 will be permanent and continued sales in 2013 will only compound atop those improvements.
In 2013, we are expected to have a further $9.6 billion in dispositions. Since these assets will be different from those sold in 2012, we cannot extrapolate the same numbers to them as Nigeria, Algeria and Kashagan. In their Q4 conference call, CFO Jeff Sheets said the capital expenditure associated with the dispositions in 2012 will be "probably a little lower" depending on when the assets leave the portfolio. So, expect an even greater net positive effect from sales in 2013.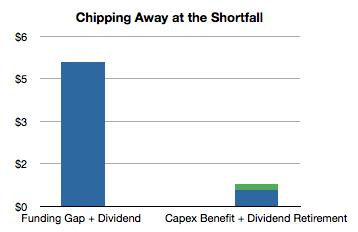 Chart by author, data from 12 Q4 Earnings Presentation
Improving Margins Will Grow cash flow
At the Credit Suisse 2013 Energy Summit just a few days ago, CEO Ryan Lance offered color on the company's asset disposition plan as well as their plan to spend capital on developing new fields. Those projects which are being dispossessed have per barrel margins only in the mid $20s. Meanwhile, new fields being brought online are expected to have margins of around $40 per barrel.
So long as production can remain stable, these margin improvements will increase cash flow substantially. As it is, management in fact has a plan to not keep production stable but to increase it. The long-term result of both production growth and margin improvement means that ConocoPhillips will be able to fund its capital expenditures and dividend from cash flow alone.
Long-Term Growth
Management has been careful and selective in its growth strategy, making sure these new projects are high-margin and high-return. Not only that, these new projects all tend to be in politically stable areas. As highlighted in the Credit Suisse Energy Summit presentation, growth will come from the following opportunities:
The Canadian Oil Sands, which have huge Bitumen deposits and were described to have "virtually no decline"
US unconventional plays such as the Eagle Ford, Bakken and even the Permian Basin
The North Sea on both the UK and Norwegian side
Australian LNG projects which are very long-life but have lower returns, and finally
Malaysian deepwater
Looking Ahead
As this transition progresses, the risks still linger. Chief among them are oil prices. A continued drop in realized prices could prevent the company from funding capex and the dividend from cash flow. Second among them are asset dispositions. Failure to dispossess some assets could cause problems in the short term, although they do seem to be going forward smoothly. Management has always been open about this being a turnaround story. It's going to take patience and they probably won't raise the dividend for awhile out of need to conserve cash.
After ConocoPhillips' transformation is complete, the company will be lean and focused in both geography and higher return assets. It will be the largest unconventional oil producer in North America. It will have higher margins. Last but not least, it will be able to grow its already industry-leading dividend. Despite the short-term noise there is a lot to be excited about.
Stay Tuned
ConocoPhillips is a company intend to follow and provide updates on when relevant and material.
Disclosure: I am long COP. I wrote this article myself, and it expresses my own opinions. I am not receiving compensation for it (other than from Seeking Alpha). I have no business relationship with any company whose stock is mentioned in this article.