The following is part 2 in a three part intermarket series covering commodities. Part 1 focuses on equities and bonds, while part 3 focuses on gold, silver, and miners.
Intro:
Relative strength is a concept that has been widely accepted in both fundamental and technical analysis. Relative strength tends to persist over long periods of time, and numerous studies note the value in investing in those securities that exhibit relative strength.
Ratio charts are often used in intermarket analysis as it is one of the most effective ways to examine relative strength in one group compared to another, and accordingly have been used frequently in my work. Put simply, a declining line means that the numerator is underperforming the denominator, and vice versa.
Correlations are also analyzed frequently to determine the strengths of certain relationships in identifying favorable trade setups. Correlations used in my analysis will involve various time periods, from 20 days to 200 weeks. Important signals are often given when correlations cross the zero line - when they go from positive to negative, or vice versa.
The conclusion of these articles is that commodities, and commodity related equities, could be the best place to be invested in the near future. The energy (NYSEARCA:XLE) and basic materials (NYSEARCA:XLB) sectors look set to outperform, and precious metals and miners offer an attractive risk to reward ratio for anyone considering a long. I would also be looking for opportunities to short bonds. This is the same outlook I have maintained over the last month and recommended in previous articles.
Commodities:
The $USD (NYSEARCA:UUP) is likely the most important instrument to keep in focus. There is the obvious head and shoulder pattern that appears to be developing; however one must note that it is not a head and shoulders pattern until the neckline is breached. The implications of the dollar's direction are more predictable for commodities than equities. Notice in the chart below that the 500-day correlation between then USD and the CRB (NYSEARCA:CRBQ) has remained consistently negative. The 500 day correlation between the USD and S&P500 (NYSEARCA:SPY) however has turned positive recently. The consistency of the negative correlation between the USD and commodities and the inconsistency of the correlation between the dollar and equities is well established throughout history. Accordingly, I would suggest using dollar direction as a proxy for commodity positioning more so than for equities. A break below the neckline in the head and shoulders pattern will be bullish for commodities, while a breakout to the upside in the $USD would be bearish.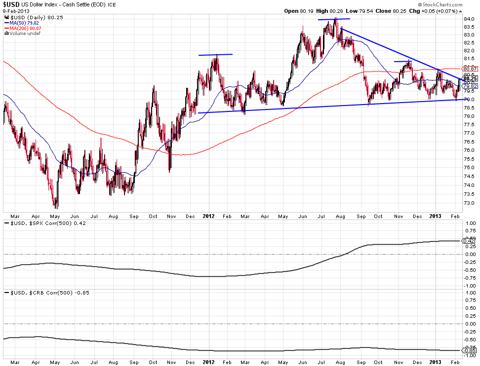 Brent Crude Oil (NYSEARCA:BNO) is charging upwards, and it will be interesting to see if the WTI-Brent spread comes in. Such a move could bring the energy sector and potentially commodities as a whole up as well. Technically, it looks like the ADX and RSI confirm that a renewed uptrend in Brent has begun.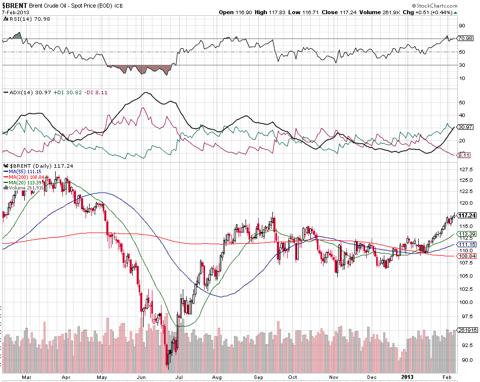 WTI (NYSEARCA:USO) could be forming a bullflag shorter term which implies higher prices, however there are important obstacles to get over. The obvious $100 psychological level has long been important in WTI. A close above this level would be significant, especially since it would mark the end of the trend of lower highs experienced since 2008.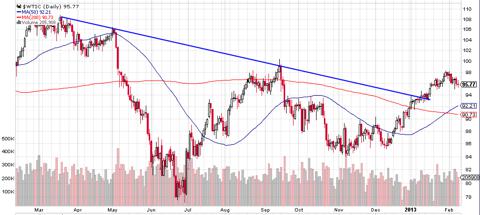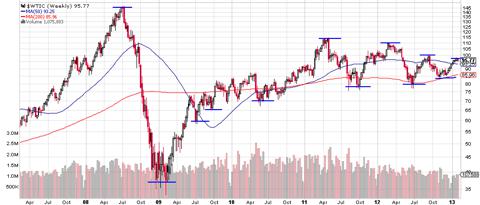 Copper (NYSEARCA:JJC) is still interesting, and in my opinion a critical part of the equity bull market equation. For the last couple of weeks momentum in equities to the upside has stalled; US equities remain close to highs however many global markets have retraced. A breakout in copper to the upside would support a renewed thrust upwards in equities despite remaining overbought and not having experienced a meaningful pullback. A close above the September highs in copper would be bullish accordingly for copper and equities.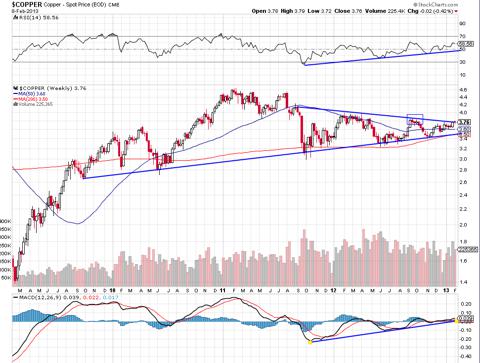 It's interesting that the spread did come in recently in Chinese equities (NYSEARCA:FXI) versus copper, but rather than copper breaking to the upside, Chinese equities sold off last week. Note the strong long-term correlation between Chinese equities (black line) and copper (red and black line)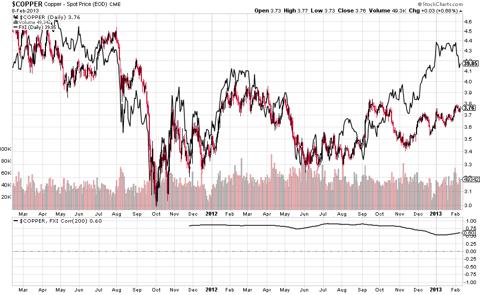 I think lots of people would agree that bonds will not be the best performing asset class anymore. That being said, does one allocate funds previously in bonds to stocks or commodities? The chart below is a ratio of the CRB to the Dow (NYSEARCA:DIA). I think it is interesting as it illustrates that since 2012 stocks have outperformed bonds; and this was a reversal of a trend that was over a decade in the making. The last time this trend changed marked the beginning of the decade long bull market in commodities. At this point I don't think the chart below is conclusive, but it does suggest that stocks may outperform bonds in the long term.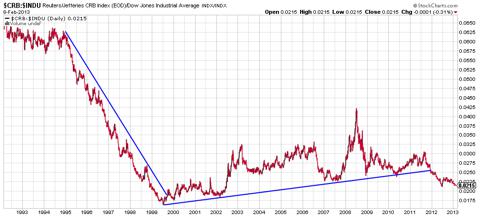 Gasoline (NYSEARCA:UGA) could be an attractive long. The $3.05-$3.10 has acted as resistance, but a close above would be very bullish, especially given the recent consolidation at highs. Multiple technical indicators seems to be confirming the uptrend.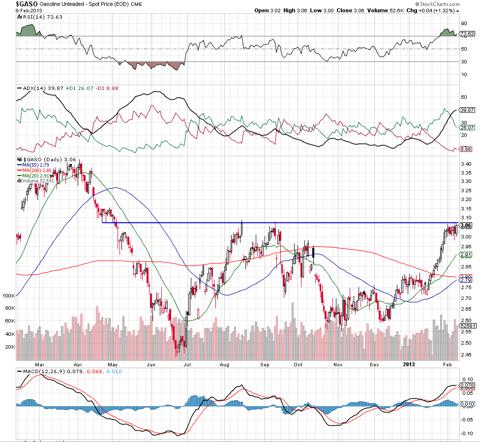 I am still long-term bullish on coal (NYSEARCA:KOL) despite experiencing setbacks in the past week. Just as China is important for copper, it to is important for coal. Chinese consumption of coal is considerable, and you can note that the two products have a high positive correlation. I think coal is currently basing, and in the long term will experience gains already seen in Chinese equities.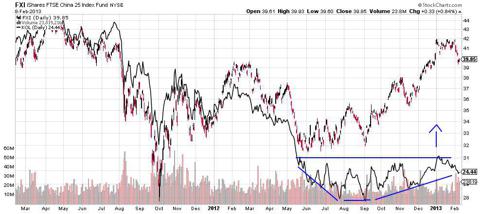 Conclusion:
As I mentioned earlier, dollar direction will be a critical component in the future direction of commodities due to its historically high negative correlation. Just as the commodities have been consolidating sideways, so too has the $USD. A decisive $USD break out in one direction will be significant for commodities and commodity related equities. Specifically I like the basic materials sector and energy and think they will outperform in the next year. I also like precious metals (GLD, SLV) and miners (GDX, SIL) as they offer an attractive risk to return ratio.
I encourage readers who have not yet done so to read articles one and three of this series as all asset classes are related in someway or another.
Thanks to Chris Vermeulen at The Technical Traders for sharing his opinion.
Disclosure: I am long PAL, ZNGA, TLM, UNG, KOL, ANGI, PLCE, DGP, JJC, VXX, VMW, PPLT. I wrote this article myself, and it expresses my own opinions. I am not receiving compensation for it (other than from Seeking Alpha). I have no business relationship with any company whose stock is mentioned in this article.
Additional disclosure: I am short NUS, MED, and RT. I will be looking to add long energy positions this week. I will also be considering all other mentioned trades. My time frame typically is shorter term, from a few hours to a few weeks (swing trades).