Hasbro Inc. (NASDAQ:HAS) is the world's second largest toy maker - after Mattel (NASDAQ:MAT). They're best know for their Monopoly games, but they also have brands like Action Man, and My Little Pony. Hasbro sells some of the world's most popular games, including Dungeons & Dragons and Magic: The Gathering.
Today I will be going through their financial report to determine if it would be a good idea to add Hasbro to my portfolio. (You can view Hasbro's quarterly reports by clicking this link.)
Note: All charts were made by me using Microsoft Excel.
Net revenue
Net revenue has gone up from $3.838 billion in 2007 to $4.089 billion in 2012, an increase of only 6.5% in 5 years. An 8% YoY increase in sales in Latin America couldn't compensate for the 6% drop in sales in the US and Canada and an 8% drop in sales in Europe, causing net revenue to go down in 2012 compared to 2011.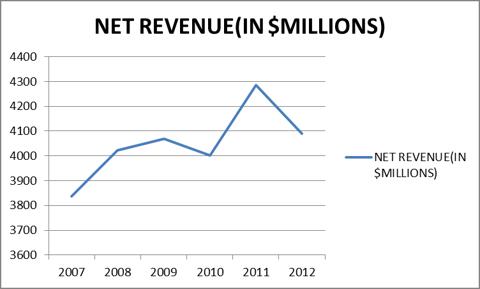 Dividend grows a lot faster than EPS
Hasbro's dividend has gone up from $0.64 in 2007 to $1.44 in 2012, a growth rate of 17.6%. While this seems absolutely amazing, the EPS hasn't gone up that much, increasing from $2.13 in 2007 to $2.58 in 2012. While in previous year the EPS was very slowly growing, in 2012 it dropped for the first time, from $2.88 to $2.58.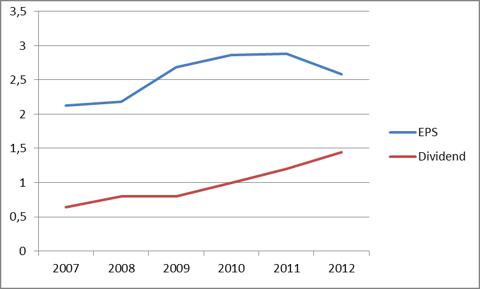 Payout ratio going up sharply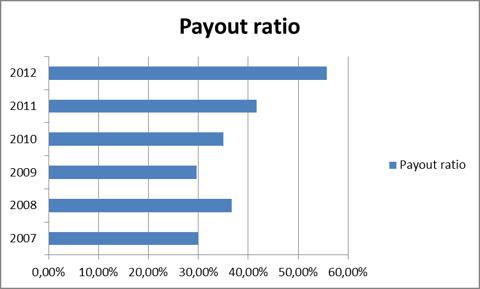 Decreasing EPS while increasing the dividend payouts can only go well for so long. As you can see in the chart above, the payout ratio has gone up from 30% in 2007 to over 55% in 2012.
I won't be buying Hasbro for my dividend growth portfolio
In my opinion, Hasbro's slowing growth in revenue and EPS will not be able to sustain the increasing dividend payout. Cutting the dividend might very well cause a drop in the share price, so I'd rather wait and see. If and when Hasbro manages to get its sales up to a point where they can increase the EPS at the same speed as the dividend, I will consider buying. For now, I'll stay on the sidelines, waiting for better news.
What's your view on Hasbro? Please comment bellow.
Disclosure: I have no positions in any stocks mentioned, and no plans to initiate any positions within the next 72 hours. I wrote this article myself, and it expresses my own opinions. I am not receiving compensation for it (other than from Seeking Alpha). I have no business relationship with any company whose stock is mentioned in this article.