Today we want to focus on two topics which we believe may very well develop into trends. Trends are always hard to spot at the beginning or even before they start, but once they have swung into full force it always seems so apparent in hindsight. The first trend we discuss today is something which has been covered before, but is more of an update. The second trend is something entirely new, which focuses on the swinging pendulum if you will with how Wall Street forces, and sometimes demands, companies allocate their capital and structure. We appreciate your comments and feel free to leave some messages on the topics of uranium rebounding and refiners becoming acquirers of E&P companies.
Commodity prices this morning are as follows:
Gold: $1662.50/ounce down by $3.80/ounce
Silver: $31.365/ounce down by $0.076/ounce
Oil: $95.82/barrel up by $0.10/barrel
RBOB Gas: $3.0405/gallon down by $0.0183/gallon
Natural Gas: $3.255/MMbtu down by $0.017/MMbtu
Uranium
Friday saw Uranium Energy Corporation (UEC) rise $0.19 (8.26%) to close at $2.49/share on volume of 837k. This puts the shares right back up into that $2.50/share area where we liked it before and we remain bullish on the company at these levels. If one can buy it on the dips and trade it, great. If one simply wants to purchase the shares for a long-term hold, even better; for we see a long-term bull market developing in the uranium sector with prices to begin taking off at the end of the year as the 'Megatons to Megawatts' program ends. The company already has a leg up on others in the industry as they are current producers and will be able to add production in Texas at a faster rate than we believe many of the other players will in jurisdictions such as Arizona, Wyoming, Colorado, South Dakota and New Mexico, among others.
Refiners
We have made no secret of our bullishness for refiners over the past few months, especially as it became more and more obvious that rising domestic production was having a positive impact upon their business as margins increased due to costs decreasing. Most of the refiners are at 52-week highs, with a handful at all-time highs, which brings us to an interesting thought this morning. Many of these new 'pure-plays' were spun-off of integrated companies in order to maximize shareholder value, which has been wildly successful. However with domestic production increasing and margins too, at what point do the CEOs and the boards of these refiners look at the situation and say maybe we should buy some oil reserves in order to lock in these prices moving forward?
Valero (VLO) and Tesoro (TSO) have been independents for some time and that is hard to see changing, but Marathon Petroleum Corporation (MPC) and others which have been recently spun out could see the benefits to locking in prices and hedging to some extent. The great thing about the integrated structure was that it allowed for some diversification and a smoothing of profits, for when refining margins were high the E&P segment's were not, and vice versa. We have seen a lot of deals in the oil and natural gas sector over the past few months and to see a move by any of the refiners to invest their cash in some way to buy reserves would not be surprising to us. Yes, at this time it seems counterintuitive and illogical but buying production from some of the juniors which are desperate for cash in order to drill out their leases and achieve HBP status could yield profits down the road.
The chart tells the story: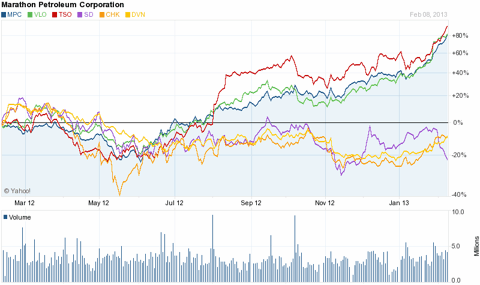 Chart courtesy of Yahoo Finance.
Coal and Metals
Teck Resources (TCK) saw shares tumble $1.31 (3.79%) on Friday to close at $33.21/share after their earnings. It is no secret that miners of coal have had their problems but the good news for shareholders is that Teck is a diversified company with exposure to other revenue streams. JP Morgan downgraded the shares from their previous 'Overweight' rating to 'Neutral' after the earnings and with the road which lies ahead for the company we have to agree at this time. For those who were unable to read the conference call, or who have not read it, it is located here.
Disclosure: I have no positions in any stocks mentioned, and no plans to initiate any positions within the next 72 hours. I wrote this article myself, and it expresses my own opinions. I am not receiving compensation for it (other than from Seeking Alpha). I have no business relationship with any company whose stock is mentioned in this article.