If Yogi Berra was an economic commentator, he may describe January's equity rally with, "It's déjà vu all over again." Although his comment was originally targeted at the home run prowess of Mickey Mantle and Roger Maris, it applies to the recent stock market rally.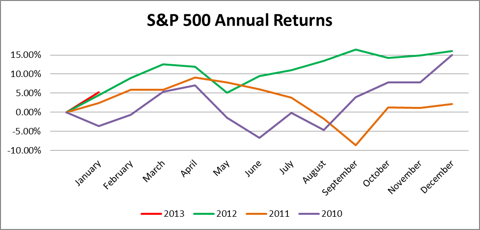 Click to enlarge
Although past performance is no guarantee of future performance, we often gain insight from analyzing the past. No typical year exists for investment markets. There are patterns that occasionally repeat. During 2010-2012, the S&P 500 performed similarly when compared on a monthly basis. The first trimester (January-April) performed best, with an average total cumulative return of 9.33%, followed by the third trimester (September-December) with a return of 8.92%, followed lastly by the second trimester (May-August) with a return of -6.46%. Performance in January 2013 appears to be following a similar path.
This pattern should not surprise most investors because the summer months often produce lackluster stock performance. Although it is impossible to successfully and repeatedly time the market, there are times when investments appear overvalued and undervalued. Successful investment strategies include processes for assessing risk across markets and throughout the market cycle. The Federal Reserve remains accommodative and continues to buy billions of dollars of mortgages monthly in an effort to keep interest rates low. Investors, growing tired of low interest rates and negative real returns (returns adjusted for inflation) from fixed income, are enticed to invest in riskier assets, such as stocks, commodities and real estate.
Although optimism has fueled the stock market rally in recent months, many investors worry about a near-term correction. The economy remains in a fragile, low growth, high unemployment state. As Congress debates issues with the debt ceiling and federal deficit spending, investors may favor the perceived safety of fixed income. If stocks continue this trajectory, investors should reevaluate their portfolio and consider taking some stock profits by April in anticipation of a potential downturn this summer.
Disclosure: I have no positions in any stocks mentioned, and no plans to initiate any positions within the next 72 hours. I wrote this article myself, and it expresses my own opinions. I am not receiving compensation for it. I have no business relationship with any company whose stock is mentioned in this article.