Ever since Apple (NASDAQ:AAPL) released its arguably disappointing Q4 earnings report, the number of articles, blogs and analysis that try to make a case for buying or selling Apple stocks has been overwhelming. While the focus of debate still centers on Apple's smartphone, tablet and computer business at the moment, some analysis starts to gauge Apple's potential in the living room, i.e. how much value Apple can create if it launches a successful smart TV product.
As Apple gains a solid footing in the handset, the tablet and the computer market and as Apple's growth in these segments begins to slow down, it seems natural for Apple to move into another sizable consumer electronics market, where there is still huge room for innovation, for further growth. Apple could theoretically leverage their expertise in hardware design, supply chain management and ecosystem advantage for the new TV business to build another iPhone or iPad story. Plus, the global flat panel TV market is humongous, generating more than $110 billion in revenue per year.
However, the living room opportunity is too small for Apple and does not provide significant upside potential for the stocks, if it continues its business model of selling hardware products in the TV business. (Apple also makes a good amount of profit from software and content, but the size is dwarfed by its hardware profits.)
The Margin Call
The business of selling TV sets has been a notoriously ugly one in the past few years due to its thin profit margin. The weak consumer demand for TVs in the developed markets just exacerbates the situation. The Japanese TV manufacturers are all suffering from plunging consumer demand and the thin margin of the TV business. Sharp is almost on the brink of becoming another Kodak; Sony (SNE) lost money on every TV it has sold for a good number of years; Panasonic (PC) also incurred huge losses from its TV operation. The Koreans are doing better, but even the king of the TV business - Samsung - is only making an operating margin of 5%-7%, well below its double-digit margins in the smartphone and tablet business.
Assuming Apple's smart TV will be a hit and most consumers will bring one home, how is Apple going to cope with the single-digit margin of the TV business? Wall Street analysts are already frustrated with Apple's declining margin due to higher sales of the iPad mini; a further drag on margin from the TV business will just make the company's valuation less attractive.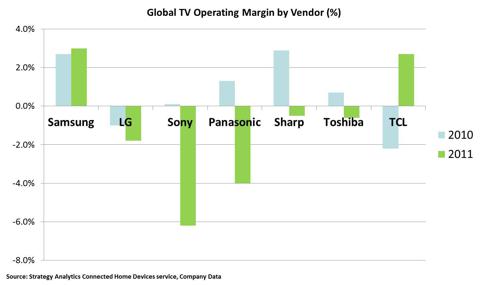 Looking at major TV vendors' operating margins for 2010 and 2011, and even if we assume Apple can significantly outperform the current market leader's - Samsung's - sub-5% operating margin, it is still highly likely that Apple's TV business will deliver an operating margin much lower than the current 30% range. While Apple may arguably be able to manage the supply chain more efficiently than Samsung, who has been in the TV business for years and operates its own display panel business, Apple's new TV also has to charge a considerable price premium to become more profitable. According to Strategy Analytics' estimate, Samsung's TV's ASP in 2012 was around $700 which was also diluted by the massive sales of its mid and low tier models. Considering Apple's new TV will clearly be a high-end model, it is not surprising if the wholesale ASP of Apple's TV goes above $1000, leading to a retail price of $1200 or more. The hefty price tag could well suppress consumer demand, if the basics of price elasticity still hold.
Apple's new TV is also likely to increase its cost in customer service, as it appears to be challenging to provide great Genius Bar experience for products that can hardly be carried by one person.
TV is not a Terrific Growth Story
Apple is widely viewed as a growth company and a growth stock. Its spectacular revenue growth in iPhone and iPad drove the stock price reaching $700 last year. In contrast, the TV business is not a growth story, as the global flat panel TV market saw flat growth in 2012. The US and European TV markets are particularly weak and showed negative growth last year, despite the growth in emerging markets offsetting the decline. There is no sign that the global TV market will show any significant growth in the next few years without any major growth drivers. OLED and Ultra HD TVs will have a positive impact, but nothing material in the near term until the prices can come down dramatically. Admittedly, Apple's TV can be a strong driver to the TV market, but the growth rate is likely to be much milder than the growth seen in smartphones and tablets, as consumers don't upgrade their TVs as frequently as their phones and computers. Moreover, the hefty price and the lack of portability will clearly limit its potential to achieve drastic growth within a short period of time. The growth of Apple's TV can be at best in line with the company's current growth, and it is less likely to catapult Apple back into the high growth trajectory of the past two years.
The Incumbents
Apple's new TV is supposed to dramatically change, if not disrupt, the existing TV industry. Unlike smartphones and tablets, which get all content from the open Internet, TV content is still strictly managed by media companies, broadcasters and pay TV operators. DRM and conditional access are big topics in the TV business.
No matter what strategy Apple will use for its TV product, it has to deal with the incumbents in the TV value chain. If Apple decides just to build a superior platform for Comcast (NASDAQ:CMCSA) and Verizon (NYSE:VZ) to distribute TV content, it is likely that Apple will demand a cut on the content distribution revenue just as it does in the iTunes business. However, pay TV operators will be reluctant to let Apple own the consumer TV experience, let alone offer a cut of their existing income stream. They may end up boycotting Apple's TV by not offering their content on the platform - similar things had happened when Google TV was first launched. If Apple decides to work directly with content producers and disrupt the incumbent pay TV industry, it needs to strike huge and long-term content deals with media companies and broadcasters, presumably in every country if it aims to sell in international markets. Unlike the music industry 10 years ago, the TV and movie production industry is making good money with pay TV companies and is not in desperate search of a life-saving straw. Apple is unlikely to get a 30% cut from the TV programs it distributes through its platform as it does with the music industry.
Let's Do the Math
Now let's do some math to see how big the Apple TV (not the set-top box) opportunity can be. According to Strategy Analytics' last year's survey, 23% of US Internet users expressed some interest in an Apple TV, among which 24% are willing to pay $1200 or more (retail) for the product. This leads to 5.5% of US Internet users who are both interested in and willing to pay for the product at a reasonable price. With 90% broadband penetration, it indicates 5% of US households have both interest and willingness to pay (5.5%X90%), as households without broadband connection are very unlikely to use an Apple TV. And considering consumers usually inflate their interest level in surveys, I would estimate about 3% of US households will buy this product in the first year. This leads us to a sales estimate of 3.45 million units in the US. Let's estimate Apple can sell 2 million and 1 million units in Europe and Asia respectively, assuming they can figure out all the content issue in every country. That puts us with a sales estimate of 6.5 million units globally.
| | |
| --- | --- |
| Apple TV | |
| Unit Sales | 6.5 million |
| ASP | $1,000 |
| Revenue | $6.5 billion |
| Operating Margin | 10%-15% |
| Operating Profit | $650-975 million |
As calculated in the table, with all the optimistic assumptions, Apple's new TV can generate $650-975 million of operating profit for the first year after launch, resulting in a mid-point estimate of $813 million. This is only 1.5% of Apple's $55 billion operating profit in 2012.
As I said, Apple TV's growth will be mild due to TV's long life cycle; as a result the potential upside of Apple's TV business seems small in contrast to the size and growth the company will demand to drive another round of Apple stock rise.
Disclosure: I have no positions in any stocks mentioned, and no plans to initiate any positions within the next 72 hours. I wrote this article myself, and it expresses my own opinions. I am not receiving compensation for it (other than from Seeking Alpha). I have no business relationship with any company whose stock is mentioned in this article.