By Serkan Unal
In recent weeks, insider sentiment has deteriorated sharply, and is currently hovering around the lowest level since late March 2012, according to Vickers Weekly Insider report. In fact, as of the previous week, the eight-week sell-to-buy ratio is at 5-to-1, the most bearish reading since early 2012. The trend of rising insider sales has been noticed in dividend-paying stocks as well, and, according to some market analysts, could signal impending stock price corrections.
Insiders sell shares in their own companies for a number of reasons, including the expectation that stock prices will decline in the near future. As insiders have access to privileged information about their businesses, they are in a better position than the general investing public to decide when it is best to sell the stock in their own companies. Some insiders sell shares in their own companies so as to diversify their holdings. Still, their actions send a signal that the transaction price may be appropriate for a timely sale. However, all insider sales do not necessarily reflect expectations of price declines, as some selling is done on an automatic basis independent of any inside information.
We glanced at last week's stock sales of the companies' ultimate insiders, Chief Executive Officers, and decided to elaborate about four notable sales transactions. All featured stocks yield above 2.0%.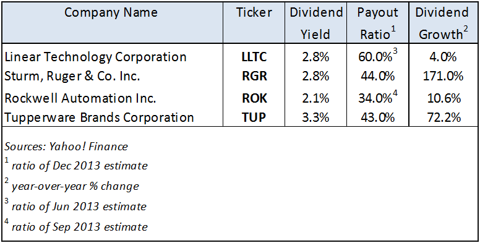 Linear Technology Corporation (NASDAQ:LLTC), a high-performance analog semiconductor company, has climbed to the highest price level since 2007. The company sits on a huge cash load that represents nearly 68% of the company's total assets. The company has an excellent return on equity of 57%. Its dividend payout ratio, using free cash flow as a denominator, is at 46%. The company also has a high net income to free cash flow conversion rate of 1.35. LLTC has 21 consecutive years of dividend growth and is one of the S&P High Yield Dividend Aristocrats. The chipmaker's EPS CAGR is expected to accelerate to 10.5% for the next five years from 4.1% over the past five years. However, with an in-line performance in the previous quarter, based on a sales drop of 8.9% year-over-year, and stronger current-quarter guidance, the company's industrial, communications infrastructure, and automotive operations still remain sluggish. In terms of valuation, the stock is pricey, with a forward P/E of 20.2x versus 18.7x for the semiconductor industry.
On February 6, the company's CEO, Lothar Maier, exercised options on 150,000 shares for $28.97 per share and sold the shares at an average price of $37.04 per share. The stock is currently trading at $37.64 per share. The CEO continues to own some 370,555 shares, or 18% of the insiders' total. According to the last-available 13-F filings, both Jean Marie Eveillard's First Eagle Capital Management and Jim Simons' RenTech increased their respective holdings in LLTC in the third quarter of 2012.
Sturm, Ruger, & Co. Inc. (NYSE:RGR), a firearms manufacturer, is trading at about 8% below its highest-ever closing price. The company has seen a surge in the firearms demand in 2012 and this year so far-with the overall industry background checks, an indicator of sales, running 94.4% above last-year's levels in January 2013 (the background checks data is available in the Smith & Wesson's latest presentation). The demand surge is a response to proposals to introduce universal background checks and a sales ban on assault weapons and high-capacity magazine as a reaction to a series of massacres in the U.S., including the Newtown, CO massacre in mid-December 2012. As a reflection of the booming sales, Bloomberg reports that RGR's EPS could have jumped nearly 52% year-over-year in the fourth quarter of 2012. However, the demand boost in 2012 and so far this year is likely pulling sales ahead, thus subtracting from future sales. RGR is trading at 15.4x forward earnings, well above rival Smith & Wesson's (SWHC) multiple of 8.9x.
On February 6 and 7, the company's CEO, Michael Fifer, sold a total of 25,000 shares at an average price of $54.79 per share. The shares are currently trading at $55.38 per share. While some might assume that those sales were reactions to the ongoing gun debate, they certainly were not. The sales were part of the CEO's automatic trading within the 10b5-1 plan. Tiger cub Chase Coleman (Tiger Global Management) initiated a new position in RGR in the third quarter of last year.
Rockwell Automation (NYSE:ROK) is a provider of industrial automation power, control, and information solutions. The stock is currently trading around its 52-week high and a few percentage points below its all-time high set in April 2011. The company is cash rich, with nearly 23% of total assets in cash and equivalents. Its return on equity is high at 37%. Earlier this month, the company reported revenues on par with analyst expectations and the EPS below consensus estimates. Strong sales in the U.S. and Latin America were offset by the weakness in the Asia-Pacific region, mainly due to disappointments in Chinese sales. Still, the company reaffirmed its 2013 EPS guidance of $5.35 to $5.75, versus the consensus estimate of $5.54. Despite the recent weakness, the company is expected to accelerate its EPS growth to 10.6% for the next five years from 7.8% over the past five years. ROK is trading at 15.8x forward earnings versus 14.0x for the diversified industrials sector, reflecting stronger growth expectations.
On February 7, the company's CEO, Keith Nosbusch, exercised options on 60,116 shares at an average price of $43.90 per share and sold those shares for $90.69 per share. The stock is currently trading at $90.98 a share. At the end of the third quarter of 2012, ROK was the largest holding in the portfolio of Christopher Medlock James' Partner Fund Management.
Tupperware Brands Corporation (NYSE:TUP), a global direct seller of food storage, preservation, and preparation items, has performed very well in recent years. In the last quarter, it beat analyst estimates and guided its fiscal 2013 EPS above the consensus estimate. The company also raised its quarterly dividend by 72.2%. Following the dividend hike, we wrote about the company, highlighting its strengths as well the risk of a near-term price correction. The stock's return on equity is high at 39.5%. The stock is trading near an all-time-high level.
On February 4, the company's CEO, E. V. Goings, exercised stock options on 306 shares at a price of $14.63 per share and sold them at a price of $77.00 per share. The next day, he exercised options on 115,418 shares at an average price of $16.43 per share and sold them for $76.65 a share. On February 6, Goings sold an additional 75,015 shares at an average price of $76.08 per share. The stock is currently trading at $76.40 per share. Goings still owns 211,598 shares or 23% of the insiders' total. Steven Richman (East Side Capital-check out its picks) and Cliff Asness (AQR Capital) were the largest hedge fund investors in TUP at the end of the third quarter of 2012.
Disclosure: I have no positions in any stocks mentioned, and no plans to initiate any positions within the next 72 hours.
Business relationship disclosure: Dividendinvestr is a team of analysts. This article was written by Serkan Unal, one of our writers. We did not receive compensation for this article (other than from Seeking Alpha), and we have no business relationship with any company whose stock is mentioned in this article.