We are always on the lookout for stocks with reasonably cheap valuations along with attractive dividend yields and no significant business risks. A company with consistently double-digit annual earnings growth and a dividend yield north of 7% is always a compelling story to investigate further. Calumet Specialty Product (NASDAQ:CLMT) is one such company with 24% p.a. growth in EBITDA since its 2006 listing and a 7.5% dividend yield.
The company is specialized in crude oil and other petroleum feedstocks refining and is one of the leading hydrocarbon producers with refining assets all across the United States. Its products include Naphthenic base oils, Paraffinic base oils, Aliphatic and Isoparaffinic solvents, USP, Technical and NF grade white oils, Pharmaceuticals and technical grade Petrolatums, Natural Petroleum Sulfonates, Hydrocarbon gels and Polyester-based synthetic lubricants.
The throughput capacity is at 160,000 bpd with 11 facilities and total storage capacity of over 12 million barrels. The capacity has been consistently growing as the company acquired refining assets all over the country on a regular basis. Only in 2012, the company acquired Synlube & TruSouth (Synthetic lube oil production and specialty products packaging), Royal Purple (formulator and marketer of premium synthetic lubricants for industrial and consumer markets) and Montana Refining Company (Capacity: 10,000 bpd). As a result, the products volume in 9MFY12 is already 32% higher than the full-year volume for 2011.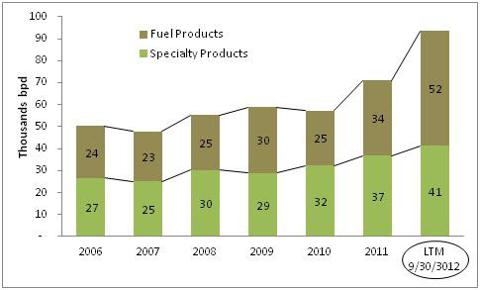 Source: Company Data
The higher product volumes started to reflect in 2012 revenue, which jumped to an average $1 billion per quarter from $ 784 million per quarter in 2011. The top line has been steadily growing since 2009 and for 9MFY12 the company has posted $3,437 million in revenues compared with $ 3,135 for FY2011. The consensus revenue estimates for 4QFY12 stand at $ 1.04 billion putting the full year revenue figures at $4,477 million, 43% higher compared with the same period last year.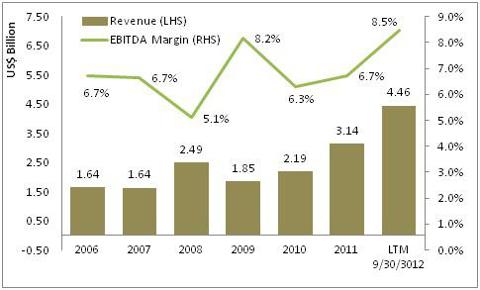 Source: Company Data, Estimates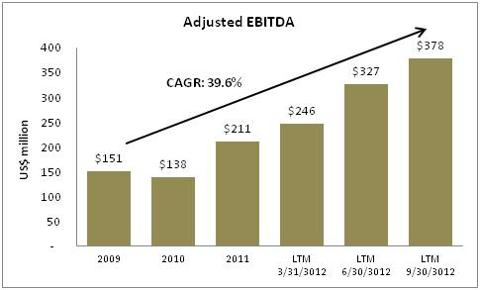 Source: Company Data
CLMT annual earnings bottomed out in 2010 at $0.46 per share from $2.63 per share in 2007 and the consensus earnings estimates for 2012 are put at $3.50 per share, a whopping 256% higher than the same period last year. The company is also quite generous in its dividend payout which has already reached $2.6 per share for FY2012. The capital structure is reasonably strong with the current ratio at 1.89x and over 99% of long-term debt $881 million not due before 2019-2020. This gives significantly higher visibility to the dividend payout ratio being sustained at current levels.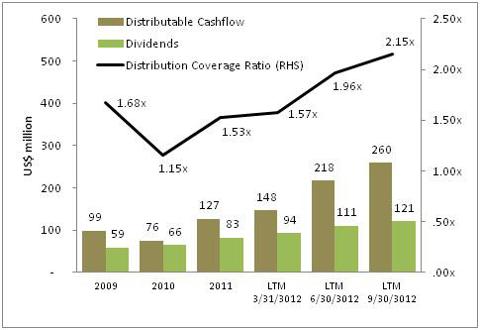 Source: Company Data
The industry average P/E multiple is 12.2x while CLMT is trading at a trailing P/E multiple of 10.6x and a forward P/E multiple of 9.48x only. We would be looking forward to the full-year earnings announcement and guidance from the company on February 13, 2013 as we believe there is still significant upside left despite the recent run-up in price.
Downside Risks:
Maintenance or accidents related plant shutdowns.
Crack spread declining significantly with any slowdown in global growth (although CLMT has indicated its intentions to hedge the crack spread risks).
Value-addition from recent acquisitions does not materialize as expected.
Disclosure: I have no positions in any stocks mentioned, and no plans to initiate any positions within the next 72 hours. I wrote this article myself, and it expresses my own opinions. I am not receiving compensation for it (other than from Seeking Alpha). I have no business relationship with any company whose stock is mentioned in this article.
Disclaimer: The opinion in this document is for informational purposes only and should not be considered as a recommendation to buy or sell the stocks mentioned or to solicit transactions or clients. I do not recommend that anyone act upon any investment information without first consulting an investment professional as to the suitability of such investments for his or her specific situation.