With the S&P 500 up six weeks in a row for a gain of 8.24%, it shouldn't be too much of a surprise that investors are becoming more bearish. However, looking back at prior periods when the S&P 500 was up for six straight weeks shows that an imminent decline is far from a foregone conclusion.
The table below shows the S&P 500's 22 six-week winning streaks since 1970. For each period, we also show how the index performed during the seventh week and over the next month. More often than not, week seven has been positive for the S&P 500 as the index has averaged a gain of 0.51% with positive returns 61.9% of the time. Over the next month, the average change is a gain of 1.03% with positive returns 61.9% of the time. The longest weekly winning streak for the S&P 500 since 1970 was back in 1985 when the S&P 500 was up for 12 consecutive weeks.
Going all the way back to 1928, there have now been 63 six-week winning streaks. Here, too, the S&P 500 has been up in week seven more than half of the time, although the average return in week seven (0.23%) is less than half of the average return of 0.51% since 1970. While the 12-week winning streak in 1985 was the longest winning streak since 1970, the longest winning streak for the index since 1928 was 13 weeks in 1957. Imagine going an entire quarter without a down week!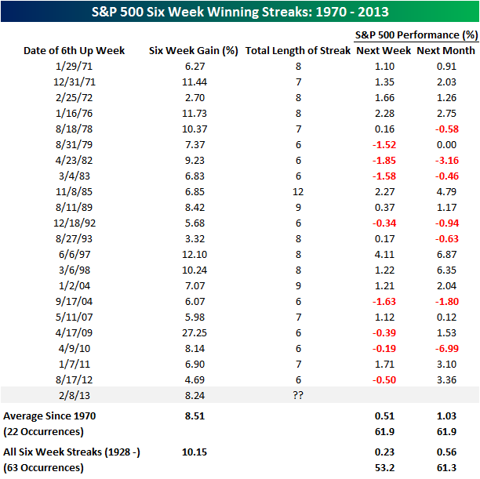 Click to enlarge