Since the beginning of the year, the Consumer Staples (XLP, IYK) sector has outperformed the market by approximately 80 bps. As of February 8, 2013, the sector was up 4.61% YTD against the market's 3.8%. Given that staples typically pay out larger dividends than the market, the total return difference is slightly greater as well (Source: Capital IQ):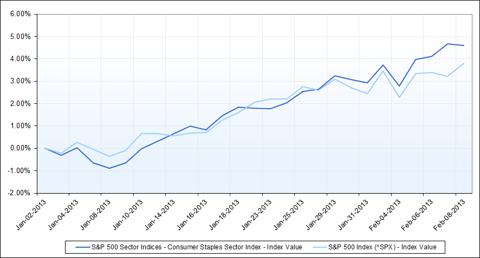 Click to enlarge
In 2012, with the uncertainty in the market, staples were a great sector to be invested in on a risk-adjusted basis. The sector (without factoring in dividends) underperformed the market by 420 bps. With an average risk-free rate of 1.77%, based on the 10-year US Treasury, the Sharpe ratio for the sector was 0.45. Compared to the market, it is higher despite the lower return. The S&P 500 had a Sharpe ratio of 0.21 in 2012. In other words, on a risk-adjusted basis, staples produced double the return despite underperforming. This shows the strength of defensives in 2012 (Source: Capital IQ).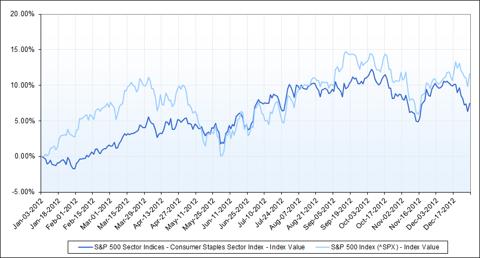 Click to enlarge
The question remains though is if the sector is overvalued based on its risk-adjusted run. If an investor looks at the multiples that the market is willing to own the sector at, staples may appear overvalued. The graph and table below shows the multiples over the last 5 years through the end of January, which could lead investors to believe they are paying too much for the sector (Source: Capital IQ):

Click to enlarge

Click to enlarge
In other words, the current multiples are trading about 1 standard deviation above the 5 year average, and 2 standard deviations above book value. Is it overvalued though? When looking back at the 'bull market' between 2004 to 2007, staples traded at more expensive multiples than today and typically traded around the average (Source: Capital IQ):

Click to enlarge
It would appear as though there is more room for some multiple expansion in the sector if a bull market were to take place. Over the last five years, multiples have remained depressed from older multiples. If investors really believe in a bull market, there is some further upside for staples. However, if there is a trend toward a bull market, expect market participants to look for higher growth sectors than staples. With uncertainty remaining in the market, staples remain a great pick on a risk-adjusted basis.
I believe based on the growth rates and further guidance from management teams that the sector is fairly valued to overvalued despite the potential for bull market multiples to arise. The market has had high expectations for staples stocks. A great example was the pullback in McCormick Inc. (NYSE:MKC) in its last earnings report. Analysts were looking for $3.08 in earnings and $3.35 for FY2013. Management had guided to a high of $3.05 for FY2012 and later guided for earnings of $3.15 to $3.23. If one were to add back in the $0.22 one-time expenses of management, it does meet 2013's expectations. Analysts and the market became increasingly bullish on the stock towards the end of the year but too much. A similar case happened with General Mills (NYSE:GIS) on December 19, 2012 when GIS dropped. This case went along with the market but it dropped more than the overall market, as it finished with a 139 bps difference to finish the year.
It would appear that the market is reverting back to higher multiples for staples but at multiples that did eventually contract due to macro-economy issues. The sector looks fairly valued here. I recommend choosing companies that have not seen multiple expansion as much as the others, have stronger emerging market exposure for higher growth down the road, companies with efficiency programs in place, a growing social trend play or niche market, or small-capitalization companies that may be acquired by the bigger companies. Some of the names I recommend looking into include, Diageo (NYSE:DEO), MKC, HJ Heinz (HNZ), Monster Beverage (NASDAQ:MNST), Hershey (NYSE:HSY), Walgreen Co. (WAG), United Natural Foods (NASDAQ:UNFI), Ingredion (NYSE:INGR), Green Innovations (OTCPK:GNIN), or Costco (NASDAQ:COST). There are other plays that have potential as well.
Disclosure: I am long MKC, HNZ. I wrote this article myself, and it expresses my own opinions. I am not receiving compensation for it (other than from Seeking Alpha). I have no business relationship with any company whose stock is mentioned in this article.