The railroad industry group has enjoyed quite a run recently, being one of the leading groups in this rally we have enjoyed. This is also a lesson on what to watch, as the article will show that the relative strength of the stocks as well as the relative strength of the group is really important, this time even more so than valuations.
Kansas City Southern (NYSE:KSU) and Canadian Pacific Railway (NYSE:CP) have made their shareholders much happier than owners of Union Pacific (NYSE:UNP) and CSX Corp (NYSE:CSX). This was especially the case with CSX Corp, which is essentially flat when you look at price levels a year ago. And when fundamentals and valuation are taken into account, Union Pacific and CSX Corp should have been the stocks to gain more than the two leading stocks, and they seem grossly undervalued, according to their adjusted P/E ratios, forward P/E ratios and PEG.

Source: Finviz, Earnings.com, StreetInsider, Ycharts
Kansas City Southern and Canadian Pacific Railway have shown much better top and bottom line growth in recent quarters than Union Pacific and CSX Corp, with CSX Corp being the worst of them, which might explain the stock performance.




Source: Earnings.com, Ycharts, StreetInsider
Relative Strength
Important thing I look at when I trade and invest is relative strength. Two leaders have clearly shown tremendous strength. Dorsey relative strength is shown on the charts below. The value of the indicator is calculated each day by dividing the price of the security by the price of the index. You can read more on the indicator here. It is showing how much the stock is overperforming/underperforming the broad index. You would want to see the relative strength indicator reaching new highs together with the stock price. If the relative strength line is under the previous high, it shows that the stock is underperforming the index, and hence is a poor choice, despite the price reaching new high. In other words, you would be better off buying the index than the stock.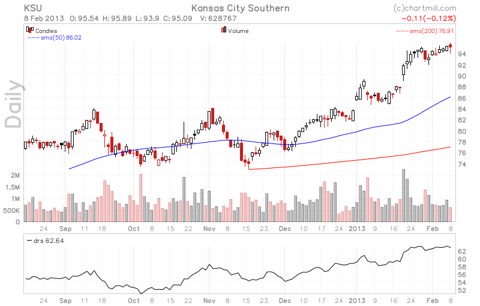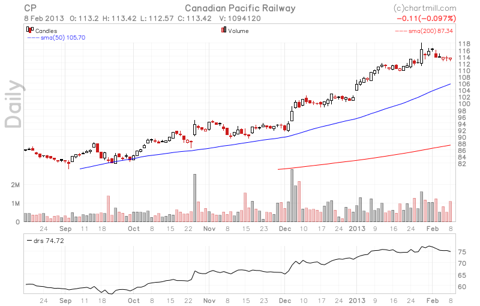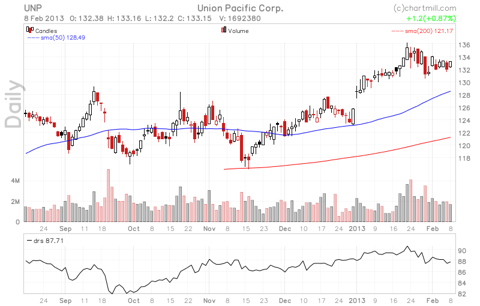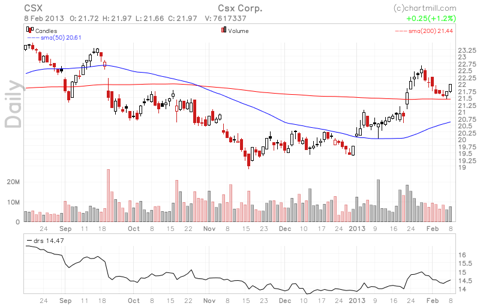 Source: Chartmill
As the charts show, Kansas City Southern, Canadian Pacific Railway and even Union Pacific have made new relative strength highs with new price highs, showing that they were a better choice than the index, and CSX Corp has proven to be a very poor choice, with relative strength going lower over time.
Conclusion
Investing and trading is very complex. You must look at various factors when you make decisions. From broad market movement, sectors, industry groups to individual stocks, it is important to know which sectors, groups and stocks are leaders and which are laggards. Growth levels, fundamentals and valuation are extremely important, but price performance and relative strength should be closely watched, and can make a large difference in your portfolio performance.
Disclosure: I have no positions in any stocks mentioned, and no plans to initiate any positions within the next 72 hours. I wrote this article myself, and it expresses my own opinions. I am not receiving compensation for it (other than from Seeking Alpha). I have no business relationship with any company whose stock is mentioned in this article.