This is a fairly basic NAV calculation and so the results are not completely accurate. Still, it gives a rough idea about the valuation of Exxon Mobil (NYSE:XOM). NAV is a major valuation metric for the oil and gas industry and you can feel free to use it yourself when deciding whether to buy a stock or not. It does get the job done alright.
Oil and gas industry experts may argue that the NAV is mostly used to analyze upstream oil stocks and whether it is an appropriate valuation tool for a major integrated oil stock like Exxon. I've got news for them: XOM is actually heavily involved in the upstream business line. Take a look at this graphic from the company's most recent annual report.
Exxon Mobil Financial Highlights

Click to enlarge
Here is the conservative case for the NAV: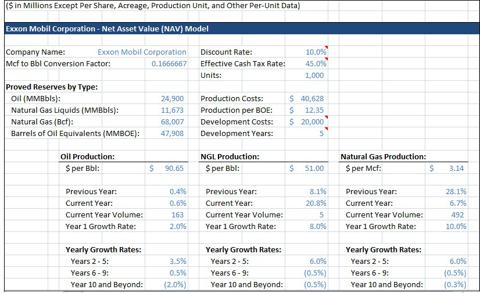 Click to enlarge
With the conservation NAV, I stick to the crux of what the NAV is and that is a complete opposite of the Discounted Cash Flow (DCF) analysis because it assumes that assets will get depleted - a fair assumption to make in the oil and gas industry. The proved reserves by type, production and development costs and the discount rate and effective cash tax rate are pulled from the company's 10K.
As of today, Exxon Mobil is the largest producer of natural gas in the United States with a daily production of 3,712 mmcf. This is the reason why the NGL and natural gas production yearly growth rates do not taper off the way oil production does.
Excel users will notice these explanations in the comments section of the two Excel sheets available for download. Here is the conservative NAV for you. (XOM-NAV-Conservative Analysis - Google Docs)
We take Year 1 as 2013 and then project cash flows for 20 years and therefore we end with the year 2032.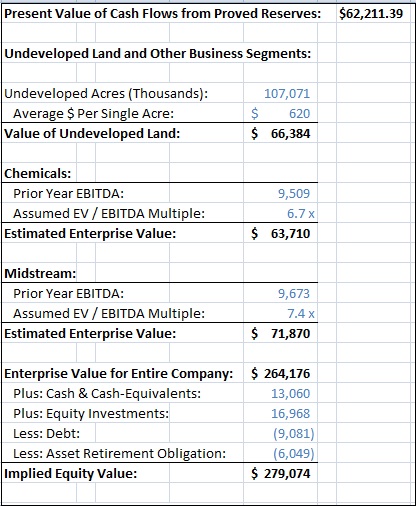 Source: XOM 2011 Annual Report
First we estimate the PV of Cash Flows from the Proved Reserves using some advanced Excel skills that can be seen on the Excel sheet that I provided for your convenience.
XOM has stepped up the gas pedal on the acreage with its acquisition of Celtic exploration, the Alaskan infrastructure development and the purchase of Denbury's Bakken shale assets. This is mainly responsible for the value of undeveloped land to be estimated at $66.4B.
The EV/EBITDA Multiple for the chemicals and midstream sector are 6.7x and 7.4x respectively.
Exxon Mobil is sitting on a pile of cash of $13.06B and it is fairly common to see cash hoards and large amounts of debt in big oil stocks such as these.
The NAV per share I obtained after this extensive analysis was $62.02. There is almost a $30 differential between the NAV and the current trading price.
If you want to bet on oil and gas prices, Exxon is the perfect stock. At the same time, even big oil companies such as Exxon have very little control over these commodity prices and instead focus on the production and reserves aspect.
Next is the optimistic case that I included because I am bullish on XOM: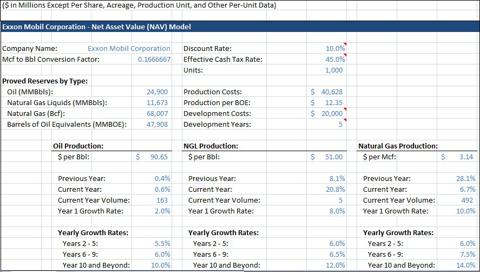 Click to enlarge
The environmentalists and renewable energy enthusiasts may disagree but Forbes is quite certain that oil and natural gas will be the main energy sources for at least another century before the two begin to taper off.
Exxon Mobil is very enthusiastic about its future growth and this is quite justifiable given the population growth and energy demands that are expected to skyrocket as more people move towards higher income brackets. Right now, five billion people on the planet do not have internet access. Even oil stock investors will realize that there is going to be a huge need for energy in the next 20-40 years.
This is the reason why it makes sense to project growth rates at 10% or more for 2022 and beyond.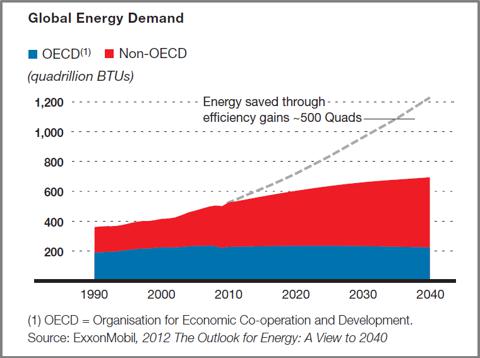 Click to enlarge
Source: XOM 2011 Annual Report
In the optimistic case, the NAV per share works out to $70.69 and there is still an $18 differential between this value and the current stock price. Here is the detailed optimistic NAV per share calculation for you.
(XOM-NAV-Optimistic Analysis - Google Docs)
I wouldn't be surprised if revenues turned out to be much higher even in the near term since Exxon has considerable oil and gas finding capabilities and the technology to boot. There is potential for high rewards in exploration and production, but they come with increased risks.
The Rosneft deal that will see XOM exploit 85B barrels of hydrocarbons in Russia is definitely an encouraging sign for the company's shareholders.
Bottom line: Exxon Mobil is a "buy"
There is a lot to love about Exxon Mobil. For instance, in the energy industry it has the highest "Returns on Capital."
Exxon - 24.2% Return on Average Capital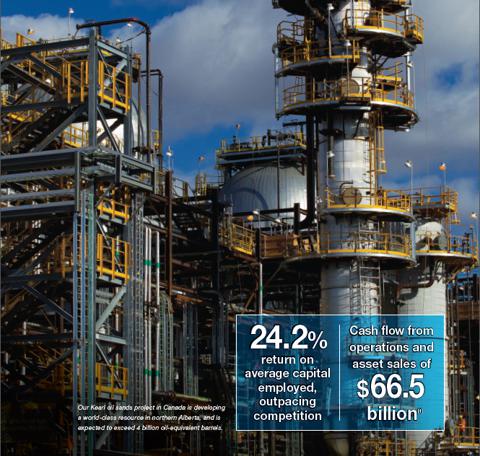 Click to enlarge
Exxon is also renowned for having the oil industry's highest financial margins.
The current P/E ratio of 9.07 and dividend yield of 2.59% makes this stock very attractive for value investors. XOM has seen strong dividend growth over the last five years along with EPS growth of 3.56% in the same period; EPS of 9.69 is wonderful as well.
The one issue is that the EPS is not considered as much in firms that are heavily involved in exploration and production as the large number of deferred taxes skews the EPS values. There is also the interest expense on the large amount of debt that skews the EPS. Oil companies commonly have lots of debt in the books since cash flows are extremely volatile.
The large capital base is to be admired and the qualitative elements like the management team have been responsible for keeping the ROA at 13.2% and the ROI at 25.2%.
The NAV is really another lens into exploring this giant oil stock. The NAV can be an effective tool as often times we can gather something most market participants don't know. At the same time, it can be restrictive and the traders who don't use it might gather better information sometimes.
In the case of XOM, there is conflicting information, but the reputable sources are quite unison on oil and natural gas production being around for some time to come. Oil production will fall to half the current level only in another 50 years according to Forbes estimates. Additionally, natural gas production will continue to provide energy for the planet well into the 22nd century.
The NAV like any other valuation tool is full of assumptions and other things. Nevertheless, it has its plus points - one of the big advantages is its use in sensitivity analysis since commodity prices are so dynamic in this industry. The most important thing to do for oil and gas investors is to familiarize themselves with NAV, a major valuation metric for the energy industry.
Background information on Exxon Mobil was pulled from various publications and the quarterly and annual reports served as the sources for the figures used in this equity research report.
Disclosure: I am long XOM. I wrote this article myself, and it expresses my own opinions. I am not receiving compensation for it (other than from Seeking Alpha). I have no business relationship with any company whose stock is mentioned in this article.