Peter Lynch loved fast growth stocks as they offer the best opportunity for "10-baggers." Mr. Lynch knew that there came a time when you should get off the express though, especially when the story is changing. That time is now for Amazon. In Peter Lynch's "One Up On Wall Street," he details when it is time to sell a fast-grower and Amazon fits the description to a tee.
Amazon's (NASDAQ:AMZN) fourth-quarter conference call made it clear that its precipitously decelerating revenue growth trend was not only a 2012 issue, but will continue to provide growing pains in 2013. The problem lies in its core e-commerce business (1P & 3P), which is 96% of total revenue. Amazon's e-commerce growth is not only declining on a percentage basis, it is also declining on an incremental revenue dollar basis - a very foreboding signal. With e-commerce guidance for Q1 set to about 18% revenue growth, the seventh-straight quarter of declining year-on-year growth, Amazon is at risk of no longer being considered a growth company. Amazon's declining growth may not be due to missteps by the company, as the top line execution is to be marveled at, but simply the law of big numbers rearing its ugly head and driving reality into the results. Investors long the stock at its current bloated level have to now believe that the company can either rekindle revenue growth above 25-30% annually, or that management can do something it has never done and prove it can consistently deliver valuation-appropriate earnings levels and growth.
Figure 1: Amazon Declining Global E-commerce Growth and Declining Incremental Revenue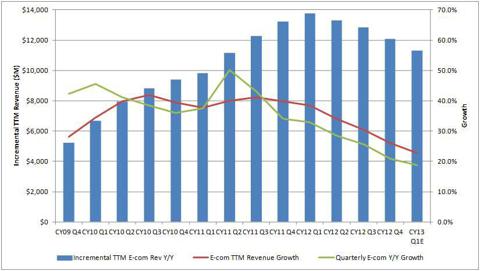 Amazon E-commerce Trailing-Twelve-Month (TTM) percentage revenue growth peaked in CY10 Q3 (red line in Figure 1). The red line value lags the green line (quarterly Year/Year growth rate) by about two quarters. This implies that within two quarters, Amazon TTM E-commerce revenue growth will drop below 20%. The blue bars are incremental TTM e-commerce revenue that Amazon has added to its base. This value peaked a year ago, and including this quarter's guidance will have dropped four straight quarters to 18% less than peak value (or $2.4B less). While most companies would be thrilled to add $11.3B over 12 months in new revenue, this value for Amazon delivers less than half the growth now as it did in 2011. From Figure 1 it is clear that Amazon is having a harder and harder time either finding or executing on incremental revenue opportunities within e-commerce. To supplement the declining e-commerce growth, Amazon has diversified into a number of expensive alternate businesses, most of which are not necessarily synergistic and have formidable competitors. These include the creation of its own tablet line (Kindle Fire), Web Services (AWS), Streaming Video (Amazon Instant Prime), Movie and Show production, App Store (Amazon App Store and Coins) and digital music (AutpRip) just to name a few.
Figure 2: Amazon North America E-commerce Revenue Growth vs. Total U.S. E-commerce Sales Growth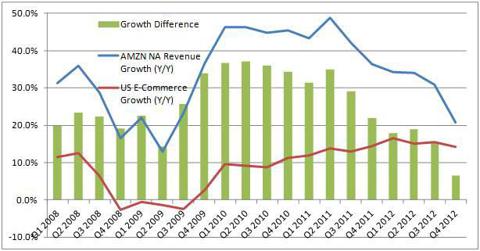 Amazon Total Merchandise Volume (TMV) [1P sales + 3P partner sales (assuming 11% AMZN commission)] reached 38.4% market share in North America during Q4. Combined with eBay's (NASDAQ:EBAY) 15.7% TMV market share the two leading online retailers now have 54.1% share of the North American Market. The two companies absorb nearly all new North American e-commerce dollars by averaging 91.6% combined incremental market share in 2012 (AMZN at 73.5% and eBay at 18.1%). Figure 2 displays total U.S. e-commerce sales growth (red line) versus Amazon's North America growth (blue line). The green bars in Figure 2 represent the delta between Amazon growth and market growth. Typically, once companies exceed 25-30% share (Q3 2011 for AMZN) the law of large numbers forces company growth to quickly approach market growth. U.S. e-commerce growth has average 10.7% growth over the past six years, so look for Amazon growth to be limited by market growth (+/-) by mid 2013.
International e-commerce growth has also been a major pain for Amazon, as this is not only a significantly larger market than North America (about $630B vs. $186B in the U.S.), but a faster-growing one as well (forecasted at about 19% annual average for the next couple of years). Amazon's growth in this market has had similar declines to North America as competition in Europe and China has limited Amazon upside.
Figure 3: Amazon International & North American E-commerce Growth Comparison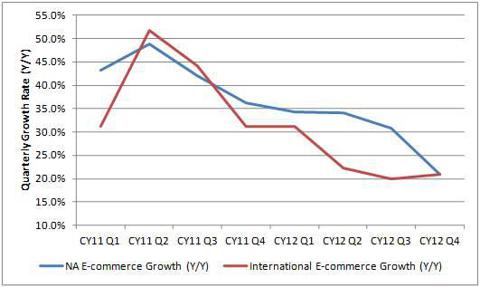 Peter Lynch Would Sell Amazon Under These Circumstances
Let's place what we just learned about Amazon's growing pains in the context of Peter Lynch's philosophy on when to sell high-growth stocks. Here are Peter's signs (in italics) that you should sell a "fast grower" (along with my comments):
Companies that "enter the end of the second phase of rapid growth," namely the beginning of declining revenue growth

Amazon is there (See Figure 1).

Stock that "diworseify" to desperately find new sources of growth outside of their core strengths

Reference new Amazon businesses above

P/E continues to expand to reach "absurd and illogical levels" where it far exceeds even the best earnings growth forecasts

Forward P/E Multiple for 2013 Earnings has risen from 31 in 2011 to 177 today (see Figure 4).

Top executives and several key employees are leaving the company to work at competitors
The last sign I quote directly from Peter Lynch: "If forty Wall Street analysts are giving the stock its highest recommendation, 60 percent of the shares are held by institutions, and three national magazines have fawned over the CEO, then it's definitely time to think about selling."

21 out of 30 AMZN analysts rate as strong buy, 2 at buy and 7 as hold
67.4% of outstanding is held by institutions, and 19.6% is held by insiders
CEO Jeff Bezos is widely thought of as America's best CEO, and selected by Fortune magazine as the 2012 Business Person of the Year.
Figure 4: Amazon 2013 EPS Forecast history vs. Price and P/E Multiple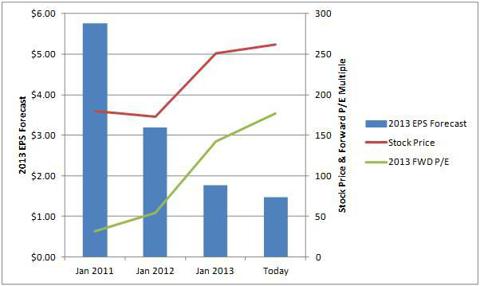 Conclusion
Amazon is having growing pains as it has become limited by the growth of its core end market in North America and severe competition in international markets. While Amazon Web Services is an impressive business, at 4% of sales it does not have a significant impact on growth. With revenue growth slowing drastically, management needs to quickly shift to demonstrating consistently accelerating profits or else its current bloated valuation will have no basis. While bulls like to point to the increasing gross margin line as proof that management can improve bottom line performance, this author and others (in previous articles) have shown that Amazon has simply shifted cost from above the gross margin line to below it and therefore net margin remains disappointing at best. This is a classic application of Peter Lynch's theory on when to sell a "fast growe.r" Once growth in a company begins to abate, the air leaves the pumped up balloon very quickly and usually without warning.
Disclosure: I am short AMZN. I wrote this article myself, and it expresses my own opinions. I am not receiving compensation for it (other than from Seeking Alpha). I have no business relationship with any company whose stock is mentioned in this article.