Last week, Annaly Capital Management (NLY) reported GAAP net income for the fourth quarter of 2012 of $700.5 million or $0.70 per share, compared to $445.6 million or $0.46 per share for the same quarter the prior year, and $224.8 million or $0.22 per average common share for Q3 of 2012. The Company also reported that it had a book value of $15.85 per share at the end of 2012.
Without the effect of the unrealized gains and losses on agency backed interest-only residential mortgage-backed securities ("RMBSs"), interest rate swaps and the extinguishing of some convertible senior notes, net income was $465.1 million or $0.46 per share, compared to $525.3 million or $0.54 per share for Q4 of 2011, and $449.8 million or $0.45 for Q3 of 2012.
During Q4 of 2012, the Company disposed of $13.2 billion of its investment securities, and the company realized a gain of $122.4 million from the disposals. This $13.2 billion in security sales is higher than the $10.3 billion sold in Q4 of 2011 and the $7.3 billion in Q3 of 2012. The asset disposals during Q4 also represented just over 40 percent of Annaly's $32.3 billion in total security disposals within 2012.
Though Annaly does try to make profit off of the buying and selling of its portfolio, many of its sales are compelled through prepayment rights that are built into the securities. Annaly buys agency mortgage paper that is backed by federal agencies. Other well-known agency mREITs include American Capital Agency Corp (AGNC) and Hatteras Financial (HTS). Index ETFs for mREITs include the FTSE NAREIT Mortgage REITs Index ETF (REM) and the Market Vectors Mortgage REIT Income ETF (MORT), though both of these ETFs also hold other types of mREITs, including non-agency, commercial and hybrid mREITs.
The standard agency mREIT model holds leveraged portfolios of agency-backed paper in order to attempt to profit on the difference between borrowing costs and the yield paid out by that paper. Agency-backed mortgages are guaranteed by government-sponsored entities such as Fannie Mae (FNMA.OB) and Freddie Mac (FMCC.OB) and pay a yield that is usually slightly higher than a similar length Treasury.
Mortgage bond investors risk losses when buying debt for more than par, or above the bonds call rate when it is above par. Declining interest rates have pushed up the prices of previously issued long term debt, including agency paper. Historically low rates have made the portfolios held by most agency mREITs susceptible to a significant book valuation haircut through prepayment losses.
Annaly and other similarly situated agency mREITs may now realize gains when they are disposing of RMBSs purchased long ago, but the lost assets are generally not currently replaceable. Moreover, though the sale might result in a gain, the prepayment price is highly likely to actually result in a decline in book value.
Last quarter, Annaly initiated a $1.5 billion stock repurchase plan and the Company repurchased approximately 27.8 million shares of its outstanding common stock for a total cost of $397.1 million during Q4 of 2012. The Company also repurchased a significant amount of outstanding 4% convertible notes in 2012. The notes are convertible into shares of common stock at a rate that increases as the Company pays dividends, so Annaly's ownership of them should help reduce some future share dilution caused by the potentially growing count of shares.
Annaly currently has a fortified bid to acquire Crexus (CXS), a commercial mREIT that Annaly already owns 12.4 percent of, and that is managed by FIDAC, a wholly owned subsidiary of Annaly. During Annaly's conference call for its Q4 2012 report results, Annaly management indicated enthusiasm at absorbing Crexus and noted several reasons why.
Annaly's CFO and Treasurer, Kathryn Fagan, indicated broad optimism about both agency and commercial markets. Fagan stated that "in our bid for CreXus, we are looking at relatively attractive cash-on-cash returns relative to the agency position in a leverage return profile, and what the risks associated with that are, and we tried to balance all of that. The agency trade is a hugely positive place to be irrespective of its most recent fundamentals."
Annaly's CEO, Wellington J. Denahan, also added that:
"By virtue of potentially sitting on Annaly's balance sheet I think it just opens up the possibilities for CreXus going forward. CreXus is somewhat limited in its capital base currently and the spectrum of opportunity should be exponential sitting on top of Annaly's balance sheet. One of the great advantages of being on Annaly's balance sheet is the fact that we are getting tremendous amount of principal pay downs that are coming every single month and we can allocate to share buyback, we can allocate to new purchases, we can de-lever, we can allocate to the commercial space and it's fairly regular basis which CreXus in its current position does not have that option."
Fagan also commented on its relationship with Crexus and Chimera (CIM), a non-agency residential mREIT with which Annaly has a similar relationship to the one it has with Crexus. Fagan noted that:
"Annaly's participation has been as an equity owner in those companies, and part of the reason for the CreXus transaction is that we do need to remove some of the conflicts I guess, of being able to expand those positions on our own balance sheet while we have these public companies out there that we manage."
Fagan's statement indicates that if Annaly would want to accumulate non-agency RMBSs now or in the future, that the company should likely have a similar conflict that may potentially obligate Annaly to acquire Chimera, or otherwise modify its relationship with CIM. Nonetheless, Annaly is unlikely to bid for Chimera at least until after it completes its bid for Crexus, and also possibly until after Chimera resolves some of its ongoing accounting issues.
We should hear more information about Chimera this week. Chimera now has until February 15 to file its still truant 2011 Annual Report on Form 10-K, so the company should either finally file it or again seek an extension. Chimera received a 30-day extension last month, following a four month extension provided by the NYSE in September.
For the fourth quarter of 2012, Annaly's average assets annualized yield was 2.45 percent and the company's annualized cost of funds was 1.50 percent, which creates an average interest rate spread of 0.95 percent. This was a 76 basis point decrease from the 1.71 percent spread in Q4 of 2011, and a seven basis point decrease from the 1.02 percent spread in Q3 of 2012. Annaly's weighted average asset's yield was 2.75 percent and its weighted average cost of funds was 1.55 percent, for a weighted average spread of 1.20 percent.
Annaly's leverage at the end of the fourth quarter of 2012 was 6.5:1, up from 5.4:1 a year earlier and 6.0:1 the prior quarter. Part of Annaly's increase in leverage was likely due to the company's declining spreads and a desire to maintain a high yield, but another significant cause is also likely that accelerating prepayments have the potential to reduce the size of an agency mREIT's assets in proportion to its debt.
93 percent of Annaly's portfolio was composed of fixed-rate agency mortgage-backed paper, while adjustable-rate agency RMBSs made up the other seven percent. This is unchanged from the prior quarter.
Annaly's constant prepayment rate for the fourth quarter of 2012 was 19 percent. Though this rate is significant, it is actually below the 20 percent CPR for Q3 of 2012 and also lower than the 22 percent CPR sustained in Q4 of 2011. Annaly had $5.8 billion in total net premium at the end of Q4, which was up from $5.4 billion the prior quarter and $3.3 billion a year earlier. The Company had approximately $11.9 billion under management at the end of 2012.
Below is a chart of Annaly's present and historic net premium balance, as well as its constant prepayment rate and its premium balance as a percent of equity (chart provided by Annaly in its Q4 2012 report supplement).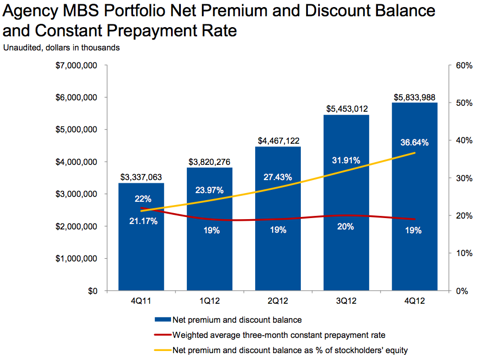 The growing percent of Annaly's equity that is net premium underscores some of the potential danger that continuing high rates of prepayment may have to Annaly's book value. The ability of these agencies to issue new low yield debt and prepay old obligations is apparently an important objective for the Federal Reserve. Beyond that already existing effect of borrower refinancing, in the summer of 2012 the Federal Reserve announced it would buy $40 billion worth of mortgage securities per month and has done so since then.
The additional mortgage paper demand should increase market prices to a level at which calling prior debt is simply prudent refinancing. Also, the corresponding low interest rates should help influence more borrowers to refinance, which will only further trigger prepayments of some mortgage paper. Defaults will also accelerate prepayments, because the government agencies often buy out non-performing agency-backed mortgages after about 120 days.
One of Annaly's largest competitors, AGNC, has managed to maintain substantially lower prepayment rates than its peers. AGNC's portfolio's constant prepayment rate was 10 percent for Q4 of 2012, and the company has kept its rate relatively stable at that level through the last 12 months, while Annaly has had a CPR hovering around 20 percent. Part of the reason AGNC has been able to do this is because the company often preemptively repositioned its portfolio into lower coupon MBS and HARP securities, which are less susceptible to prepayment risk, and lower loan balance securities that help reduce the impact of the decline in long-term interest rates on prepayments.
Given Annaly's recent prepayment rates, spreads and leverage rates, it appears Annaly may need to reduce its dividend in 2013. Based on its last reported spread and leverage rates, Annaly appears more capable of to paying out a seven to eight percent yield. Annaly has reduced its dividend in five of the last six quarters and appears likely to reduce its dividend more-so in 2013 unless its spreads widen. Annaly is expected to next report its quarterly dividend in mid to late March, with a record date in late March.
Annaly is clearly looking to commercial paper and Crexus to help it widen its spreads, but the company is also looking to reduce its dividend burden through buying back shares. Repurchasing shares while they trade at a discount to their book value appears a conservative use of prepayment funds, while buying more mortgage paper on the open market is likely to yield lower quality paper at a higher price. Annaly's shares currently trade at about a seven percent discount to its last reported book value.
Agency mortgage REITs were among the best-performing asset allocations after the onset of the financial crisis in 2008 and 2009, but the industry fell on tough times in the second half of 2012. Agency paper had significant sensitivity to the recent fiscal cliff matter and is also sensitive to the coming debt ceiling issue, which could peak at the end of February.
Agency-backed paper is a quasi-treasury and anything that will change the interest rates and/or credit rating of U.S. debt will have a similar effect upon agency paper. Fiscal cliff fallout could cause agency mREIT valuations to decline in the coming weeks. In the summer of 2011, when the debt ceiling was last at issue, mREITs sustained significant declines, only to quickly rebound after the problem was temporarily solved. A similar situation may soon occur.
Owing to the risks associated with agency mREIT leverage and the potential peaking of treasury valuations, exposure to the asset class should be limited to a reasonable percentage of a portfolio based upon risk profile, time-horizon, income needs and other investments. Additionally, most REIT dividends are taxed as regular income and not at the lower corporate dividend rate, making them substantially better performing investments when held within tax deferred or exempt accounts.
Disclosure: I am long CIM, NLY. I wrote this article myself, and it expresses my own opinions. I am not receiving compensation for it (other than from Seeking Alpha). I have no business relationship with any company whose stock is mentioned in this article.