This week is the one-year anniversary of the last significant short-term lift in gold prices in 2012 before the start of gold's 3 month meltdown into its May lows.
During this period last year, gold lost 15% of its value as measured in the [[GLD]] ETF. Prices fell from the late February high of just over $174 to the May low around $148.45.
It then took from May 2012 until October 2012 to recover back these gains. And since touching $174 price level again in October 2012 in GLD, gold has been in an orderly price oscillation down to what is now close to the $159 level on GLD.
Some bears are calling for gold to trade even lower, into the GLD $155 price area before staging a significant price turnaround. These gold bears are apparently looking at, among other things, last spring's price weakness, banking on similar price action this year, and also banking on no international financial or geopolitical upsets occurring this spring that might move gold higher in the interim.
Gold bulls are apparently expecting longer term trend lines and supports to hold this season, and a rally to potentially spark from this $155 to $160 levels in gold.
This week and next may help settle the issue. They may also decide what gold price levels the key cyclical price support may launch from in this year's broadly anticipated July Presidential Cycle (4 year) price low and Regime Change Cycle (8 year) price low coming in phase and due this summer.
GLD ETF: A 200-Day OHLC Chart with Key EchoVectors Illustrated
A Chart With Active Quarterly and Bi-Quarterly Price Vectors Illustrated Generated From Current Coordinated Focus Echo-Back Time Points.
Coordinated Echo-Back Time Points:
1. Friday 2/8/13 to Friday 11/9/12 to Fri 8/10/12, and
2. Monday 2/11/13 to Monday 11/12/12 to Monday 8/13/12.
Colors Of Coordinated EchoVectors Illustrated On Chart
Solid Blue: Quarterly EchoVector (QEV)
Dotted Blue: Quarterly Coordinate Forecast EchoVector
Solid Peach: Bi-Quarterly EchoVector (2QEV)
Dotted Peach: Bi-quarterly Coordinate Forecast EchoVector
Dotted Pink: EchoVector To the 11AMEST EBD HOUR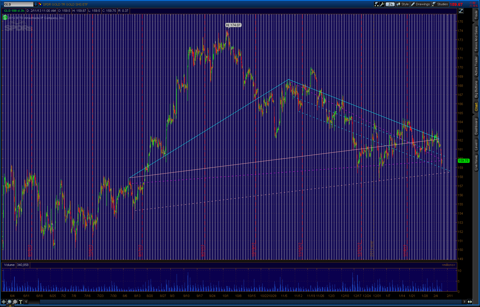 Click to enlarge
(Click to enlarge)
Disclosure: I have no positions in any stocks mentioned, but may initiate a long position in GLD over the next 72 hours. I wrote this article myself, and it expresses my own opinions. I am not receiving compensation for it. I have no business relationship with any company whose stock is mentioned in this article. I may initiate a short-term swing trade in gold metals towards the end of the week to potentially cover the following week.