On January 30, 2013, JPMorgan Chase (NYSE:JPM) raised $850 million by issuing 34 million shares of a new 5.45% perpetual fixed rate preferred, Series P. The position is currently trading OTC under the ticker symbol JPMSL and is expected to begin trading on the NYSE within 30 days under a new ticker (which is yet to be determined).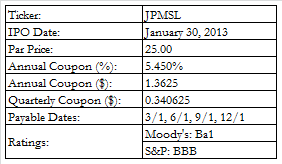 Source: Data from JPMSL Prospectus
Capitalization Ratios
As seen below, JPMorgan is a "well-capitalized" financial institution and its ratios are trending further into the "well-capitalized" space:


Source: Data from JPMorgan Quarterly Filings
Impact of New Preferred
Based on the $850 million in new preferred equity and an assumed 20% risk weighting on assets, the new Series P preferred will improve the Total Risk-Based Capital Ratio by 6bps, Tier 1 Capital Ratio by 7bps, and the Tier 1 Leverage Ratio by 4bps.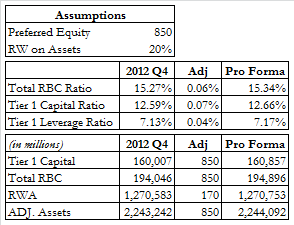 Source: Data from JPMorgan 2012 Q4 Earnings Report
Relative Value
JPMorgan has two other traditional preferreds outstanding - JPMorgan Chase 5.50% Series O (Ticker: JPM-D) and JPMorgan Chase 8.625% Series J (Ticker: JPM-I).
(click to enlarge)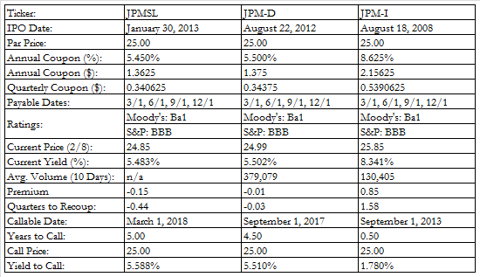 Source: Compiled by Ryan Brennan, Data from prospectuses, Market data from Yahoo!
As of closing on Friday, February 8, JPMSL was trading with a current yield of 5.483% while JPM-D and JPM-I have current yields of 5.502% and 8.341%, respectively. The Yield-to-Call tells the real story of these different preferreds, though, as JPMSL has a YTC of 5.588%, JPM-D 5.510%, and JPM-I 1.780%. JPM-I has such a low YTC because it is callable on September 1, 2013. With a coupon of 8.625%, it should be assumed that JPMorgan will call JPM-I - especially considering where they are able to issue new preferreds.
JPM-I Price Trend
For anyone who is still caught up in the current yield of JPM-I and wants to ignore the Yield-to-Call, take a look at the closing price of JPM-I since July 1, 2011. I've added in a trendline - I'll let you decide if the market thinks that JPM-I is going to be called: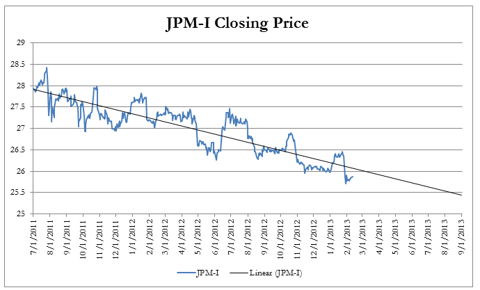 Source: Closing price data from Yahoo!
Liquidity
Both JPM-D and JPM-I trade with a good deal of liquidity - JPM-D's 10-day average volume is 379,079 and JPM-I's is 130,405. JPMSL has not traded on the NYSE yet - it can currently be considered illiquid but will trade with much more volume when it moves to the NYSE.
Next Dividend
The next dividend payment for all three positions will be June 1. JPMSL pays its first dividend on that date while JPM-D and JPM-I both traded ex-dividend on January 28.
Larger First Dividend
With an IPO date of January 30, JPMSL is going to have a larger dividend payment on June 1 than it normally would. This is because there is an extra month of accrued interest - four months instead of three. This happened with JPMorgan's last preferred security (JPM-D) as well, and is something that affects all new issues (sometimes with a smaller first dividend payment). Wells Fargo (NYSE:WFC) issued their 5.20% Series N in mid-August and made its first dividend payment in December, the same occurred with State Street's (NYSE:STT) 5.25% Series C. However, sometimes the accrual period is shorter than a full quarter and the first dividend is therefore smaller - a few examples of this are Regions Financial's (NYSE:RF) 6.275% Series A which IPOed on October 25 and paid its first dividend on December 15, PNC Financial Services Group's (NYSE:PNC) 5.375% Series Q which IPOed on September 17 and paid its first dividend on December 1, and First Republic's (NYSE:FRC) 5.625% Series C which IPOed on November 15 and paid its first dividend on December 28.


Source: Dividend information from Yahoo!
Final Thoughts
JPMSL and JPM-D offer very similar return profiles. JPMSL has a slightly lower current yield but has a higher Yield-to-Call. With the first dividend payment of JPMSL going to be larger than a typical quarterly payment, it offers some short-term benefit that will offset the slightly lower current yield when compared to JPM-D. By purchasing JPMSL at a discount, there is no premium risk and with the liquidity in JPM-D and JPM-I, there is no reason to think that there won't be sufficient liquidity in JPMSL once it starts trading on the NYSE. If potential investors are worried about the liquidity, though, you can always wait to buy it after it begins trading on the NYSE so that you have had time to assess the liquidity of the position.
Prospectus: A copy of the JPMSL prospectus is available on EDGAR by either searching for company filings or by following this link.
Risks of Preferreds: Prior to investing in any bank preferreds, I recommend that potential investors make sure they understand the risks and nuances associated with the asset class. An overview of these risks is available in Navigating The Risks Of Buying Bank Preferred Stocks.
Disclosure: I am long JPM, WFC, STT, FRC, PNC, RF. I wrote this article myself, and it expresses my own opinions. I am not receiving compensation for it (other than from Seeking Alpha). I have no business relationship with any company whose stock is mentioned in this article.