Amgen Inc. (NASDAQ:AMGN) is one of the world's leading biotechnology companies. It specializes in the discovery, development, and commercialization of therapeutics designed to treat unmet medical needs, primarily in the anemia, inflammation, and oncology spaces.
Over the past five years, safety issues have decimated Amgen's ESA franchise (Aranesp and Epogen), once the company's largest and fastest growing business. However, Amgen has emerged from this debacle in healthy shape. The company's two other blockbuster biologic franchises (Enbrel and Neulasta), each exceeded $4B in sales in 2012. Meanwhile, denosumab (branded Xgeva in cancer, Prolia in osteoporosis) achieved blockbuster status this year, with sales of $1.2B, in only its second full year on the market.
On Thursday last week, Amgen outlined its long-term strategy during a Business Review meeting with analysts and investors in New York. Amgen's analyst day contained few surprises, but illustrated the company's solid fundamentals and future growth potential. Established franchises should continue to outperform, particularly Enbrel, while Amgen's pipeline, international expansion, and biosimilar programs support long-term growth. 2013 EPS guidance was bumped up by $0.20 due to a Q1 tax adjustment. Therefore, it seems that Amgen offers a superior profile to pharma peers, and that shares are undervalued without any contribution from the pipeline.
Amgen is in a unique position to capitalize on major advances in drug discovery and biologics manufacturing.We are making strategic investments to drive long-term growth and deliver for both patients and shareholders.

- Robert A. Bradway, chairman and chief executive officer of Amgen.
Amgen's most misunderstood franchise is Enbrel, which remains the leading biologic in Rheumatology and Dermatology, delivering $4.24B in 2012 sales, and exiting Q4 on a $4.6B annual run rate. Given an open pricing environment, increased DTC advertising, an expanded salesforce, and leading 37% NRx share in a Rheumatology segment growing at 20% Y/Y, Enbrel is expected to post at least single-digit CAGR through 2017. As margins improve post-Pfizer co-promote expiry, Enbrel is expected to drive even more meaningful upside to Street EPS estimates.
In addition, there are many drivers for the long-term growth. As such, Xgeva and Prolia continue to be important growth drivers; Prolia's growth accelerated in Q4 following a salesforce expansion and increased DTC (Dot Counting Test) effort, while Xgeva is the first oncology launch in the last 5 years to achieve more than $1B sales within 2 years. Amgen also emphasized other growth drivers, including plans to expand into emerging markets, especially Japan (2016) and China (2015).
Moreover, Amgen's pipeline currently contains AMG785, an anti-sclerostin antibody that promotes bone growth and looks like a potential blockbuster, and AMG145, an anti-PCSK9 antibody with significant potential for treating severe hypercholesterolemia.
Looking forward, Amgen's core franchises should continue to exceed expectations and earnings and cash flow should grow faster than revenues, aided by cost savings. Meanwhile, Amgen has committed to a policy of returning cash to shareholders (dividends and stock buybacks) while avoiding major M&A, and investing in internal R&D (18-20% of revenue).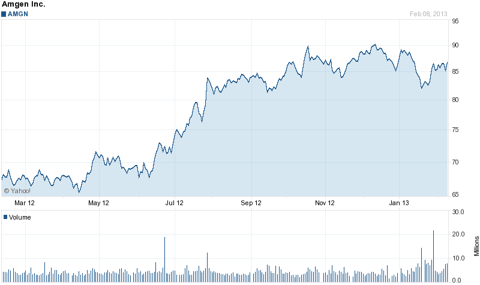 Disclosure: I have no positions in any stocks mentioned, and no plans to initiate any positions within the next 72 hours. I wrote this article myself, and it expresses my own opinions. I am not receiving compensation for it (other than from Seeking Alpha). I have no business relationship with any company whose stock is mentioned in this article.
Additional disclosure: Biomed Group is a group of investment professionals, and writers. This article was written by Amit Cohen. We did not receive compensation for this article, and we have no business relationship with any company whose stock is mentioned in this article. This information is not to be construed as an offer to buy or sell any security mentioned on this article. We have no positions in any stocks mentioned, and no plans to initiate any positions within the next 72 hours.