Diagnostics and pharmaceutical company Opko Health (OPK) continues to see ongoing buying pressure on February 11, 2013. By midday, the company had experienced volume above its 3-month average as the stock rose more than 3% to $6.70. In recent days, the company has experienced increased volatility as fears of the stock being overbought have come to light.
On February 8, fellow Seeking Alpha contributor Richard Pearson, who has publicly declared his short position in the company, appears to have sparked a short-lived jolt in the stock price as his article found here was released. The article called for a pullback in the price pointing towards recent insider selling as the likely catalyst. As reported by the South Florida Business Journal found here, the stock proceeded to drop over 10% on heavy trading on Friday.
The increased volatility and heavy volume prompted a quick response from management in an apparent effort to stave off additional selling pressure. In their response to the rumors of insider selling found here, the press release cites that the company's Chief Accounting Officer Mr. Adam E. Logal exercised common stock options and proceeded to sell shares due to "pressing family circumstances." The press release continues to acknowledge that "no other sales by company officers or insiders are currently contemplated."
Why the quick response to the warning of insider selling remains particularly pertinent to Opko Health is largely due to the unique nature of the insider transactions found at the company. As I wrote in my article found here, Opko's CEO Dr. Phillip Frost remains a person of heavy interest to investors. The billionaire leader of the company has been heavily purchasing large tracts of shares on the open market. This has been an ongoing routine on a near daily basis for several years. Such unusual purchasing with consistent regularity has largely been taken as an indicator of his confidence in the company's success.
Since its response on Friday to the warning of Mr. Logal's sales, the company's management appears to have relayed another convicting sign of confidence to shareholders. In particular, Dr. Frost appears to have translated the same confidence he's asserted in his past purchases by following up with an unusually large purchase made the same day on February 8, 2013. Seen in the Form 4 filing found here, Dr. Frost purchased throughout the day 110,000 shares at an average price of $6.33. As seen in the table below, this resulted in an amount of shares purchased on the open market that is nearly three times as much as his recent transactions in Opko have averaged.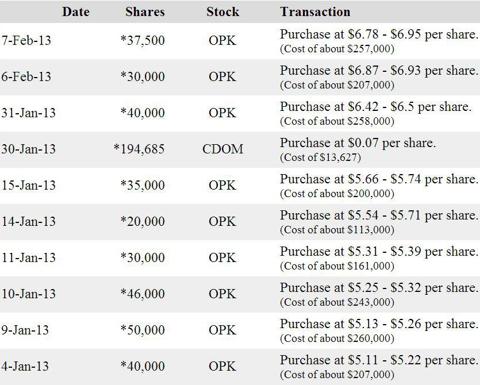 Click to enlarge
(Click to enlarge)
Taken together, it appears as if management is asserting a strong statement that the company remains undervalued at these levels. As I've asserted in the past, investors would do well to continue monitoring the insider transactions of Opko Health. Thus far, the direction of the share price remains highly correlated to the purchases of Dr. Frost. As a result, his recent purchasing conviction appears to suggest that now is still not the time to have an open short position in the company despite the recent sales by Mr. Logal.
Disclosure: I am long OPK. I wrote this article myself, and it expresses my own opinions. I am not receiving compensation for it (other than from Seeking Alpha). I have no business relationship with any company whose stock is mentioned in this article.