Issuing preferred stock would reduce the income available to Apple's (NASDAQ:AAPL) common stockholders.
In an SEC filing an Apple investor has suggested that if Apple issued $50 billion of perpetual preferred stock with a 4% yield, it could increase the common stock by $32. Further it suggested that the preferred stock could be distributed at no cost. Every decision has a cost, and the cost to common shareholders if $50 billion in preferred stock were issued would be a reduction of income available to common shareholders by $2 billion or $2.13 per share. Would reducing earnings per share available to common stock add value? If $200 billion in preferred stock was issued at a 4% yield then the reduction in income available to common stockholders would be $8 billion or roughly $8.52 per share. The more preferred issued the less available to common shareholders.
According to Yahoo Finance the 2013 estimate is $44.75 and 2014 estimate is $50.90. At today's closing price of $468 it is trading at 10.5x 2013 earnings per share and 9.2x 2014 earning per share. Reducing the estimates by the $2.13 for a preferred dividend and keeping constant price-earnings ratio would generate a price of $448, or $20 below current levels. This could be offset by the value of the preferred of $50 billion, or a net $30 billion gain. Unfortunately I am not convinced investors would flock to an Apple preferred with a 4% yield given that the common stock currently yields 2.3%. In fact if the common dividend of $10.60 was increased by the $2.13 to $12.73 and it traded at a 2.3% yield the stock would trade at $553. Simply increasing the common stock dividend might add more value than complicating the capital structure with a preferred issue.
Apple followed the wishes of shareholders with a share repurchase plan that transferred owner's cash to departing shareholders. It spent $1.950 billion and its market value declined. Long-term investors may want to review what happened the last time Apple engaged in share repurchases.
When Apple repurchased shares in the 1990s the stock price and net income declined. The following figures have not been adjusted as they come from the 1994 SEC filing.
In 1992 the average cost of treasury stock was roughly $53, 4 million shares repurchased for $212.6 million. Net income was $530.373 million. The following year, 1993 net income declined to $86.589 million. Net income rebounded in 1994 to $310.178 million. This was 41.5% below the 1992 level. The 1994 stock price low was $22.50 or a 59% decline from the 1992 average treasury stock cost. The 1994 high of $38.125 was roughly 30% below the average cost of the 1992 treasury stock purchase.
If Apple's stock price repeated the 1992-1994 fall from its 2012 high price of $705 then it might decline to between $289 and $493 over the next few years. Not saying it will happen, but what could happen if history repeated.
Let's review the share repurchase authorizations and net income.
July 1999 the Board of Directors authorized the purchase of up to $500 million worth of shares.
November 1992 the Board of Directors authorized the purchase of up to 10 million shares.
September 1990 the Board of Directors authorized the purchase of up to 10 million shares
Net Income (000)
*1990 - 474.895
1991 - 309,841
*1992 - 530,373
1993 - 86,589
1994 - 310,175
1995 - 424,000
1996 - (816,000)
1997 - (1,045,000)
1998 - 309,000
*1999 - 601,000
2000 - 786,000
2001 - (25,000)
2002 65,000
*share repurchase plans authorized.
Notice what happens to net income after the Board of Directors authorized the share repurchase plans? It marked a high water mark for net income, didn't it? In fact after a few years net losses occurred, didn't it?
Why should Apple issue preferred stock when it could increase the dividend on its common stock? Here is one idea. Keep the current base dividend and supplement it with payout out of say 40% of earnings per share. This would permit shareholders to benefit from good times and permit the firm to build cash for the bad times or for reinvestment in the business or for acquisitions.
This is the section of the proxy statement concerning the elimination of "blank check" Preferred Stock.
Elimination of "Blank Check" Preferred Stock

The Company's existing Articles permit the Board to issue shares of preferred stock having voting, conversion and other rights to be determined by the Board in its sole discretion. This is referred to as "blank check" preferred stock because it does not require shareholder approval. The Company has not issued shares of preferred stock since 1997, when it issued 150,000 shares of Series A Non-Voting Convertible Preferred Stock. Those shares were redeemed in full shortly thereafter. The Board does not intend to issue preferred stock in the future and believes that it is appropriate to eliminate this provision from the Articles. If the proposed amendment of the Articles is approved by the Company's shareholders, any future issuances of preferred stock would require shareholder approval.
What is the matter with having shareholder approval for the issuance of preferred stock? This is a shareholder friendly move, isn't it?
How has the share repurchase worked to date?
A share repurchase plan was announced on March 19, 2012 with the stock closing at $601.10. The stock moved higher and hit $705 on September 21, 2012, before declining to $435 on Jan 25, 2013. Apple has transferred $1.950 billion of owner's money, or roughly $2 per share to departing owners. At today's closing price of $468 each $1 used to repurchase stock has seen the stock price fall $66. Looks like the stock sellers have enjoyed the better return, doesn't it?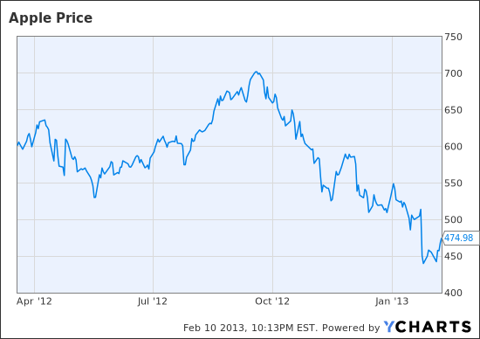 AAPL data by YCharts
If having too much cash is an issue, does that mean mutual funds, hedge funds and or private equity with a large cash balance should (will) return it to owners? Or alternatively not charge a fee on cash? Given that lending basically shut down a few years back having a large balance might be considered a good thing.
Should Apple expand its share repurchase program and or issue preferred stock, then I would avoid the issue. However, should Apple increase its dividend or announce a dividend policy of say paying 40% of net income then it might be an interesting long consideration.
Feel free to leave a comment if you agree or disagree with anything.
Disclosure: I have no positions in any stocks mentioned, and no plans to initiate any positions within the next 72 hours. I wrote this article myself, and it expresses my own opinions. I am not receiving compensation for it (other than from Seeking Alpha). I have no business relationship with any company whose stock is mentioned in this article.