The refiners have been on fire. In September, I wrote an article highlighting some positive attributes in the sector from a fundamental, technical and macro perspective. I believed it to be a rare opportunity where all three factors were converging and pointing in a similar direction. In this article, I want to examine the catalysts behind this strong move and reasons I believe future weakness in the sector will be an opportunity to buy.
Since the market bottom in late November, many in the sector are up more than 50%. Basically all the names in the sector populate the 52-week high list attracting the attention of technically oriented traders. The fundamentals are quite favorable as refiners are able to use domestically produced oil and sell it abroad at healthy premiums.
Two Spreads driving profits - Crack and Brent-WTI
Two factors impacting refiners are the crack spread and the Brent-WTI spread. The crack spread reflects the profits a refiner can extract from crude oil when it breaks crude down into gasoline and petroleum products such as kerosene, diesel, heating oil, aviation fuel, etc. Recently, the crack spread has been steadily rising.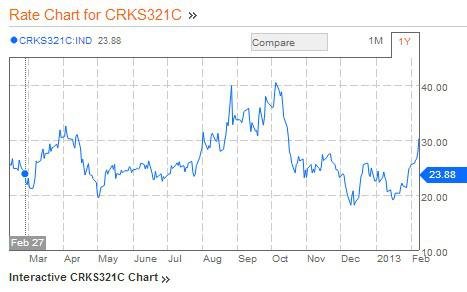 Another bullish tailwind for the refining stocks has been the performance of the Brent-WTI spread. This spread has been widening in response to increased domestic production as well as mideast tensions, which make Brent crude more expensive. Thus, the Brent-WTI spread also becomes an effective hedge against any future flare ups in the mideast.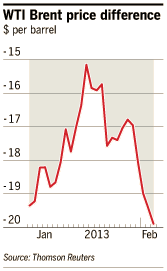 Another commodity closely tied to refiners is gasoline. The prospects for the U.S. economy seem to be improving as economic data seems to be confirming the market's optimism regarding the domestic economy as discussed here. Not only is the SPDR S&P 500 ETF Trust (NYSEARCA:SPY) nearing its all-time highs but more economically sensitive sectors such as small caps, transports, and cyclical stocks are outperforming with the small caps and transports already exceeding all-time highs.
This outperformance is a reflection of traders anticipating better economic conditions. Clearly with a stronger economy, gasoline demand should increase. Refining capacity is pretty inelastic and already there is little idle capacity as capacity has pretty much stayed flat in the last three decades. Already, this dynamic is evident in charts of gasoline prices.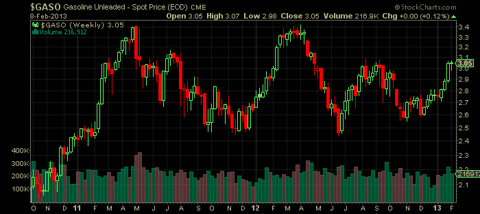 Technicals
With the refiners hitting 52-week highs, I am sure they have been attracting the attention of technical traders as well. These are charts with prices moving up on strong volume. Since November, there have been signs of strong demand as the pullbacks have been mild. Following strong upward pushes, it is normal for some selling to come into a stock, instead persistent demand has created sideways consolidation. According to Bill O'Neill this is a bullish signal and one sign of institutional accumulation.
Following are weekly charts of Western Refining Inc. (NYSE:WNR), HollyFrontier Corp. (NYSE:HFC), Alon USA Energy Inc. (NYSE:ALJ), Tesoro Petroleum Corporation (NYSE:TSO) and Valero Corporation (NYSE:VLO).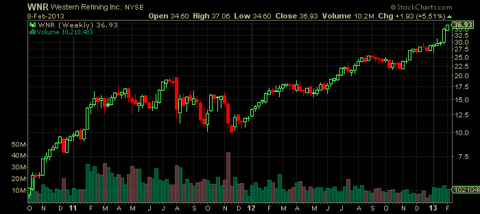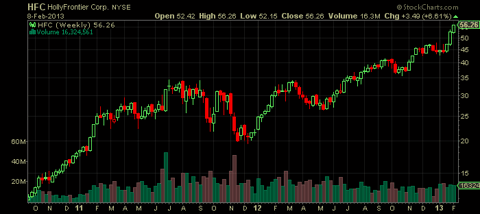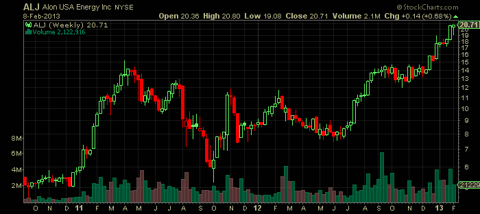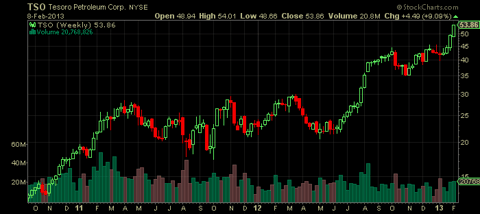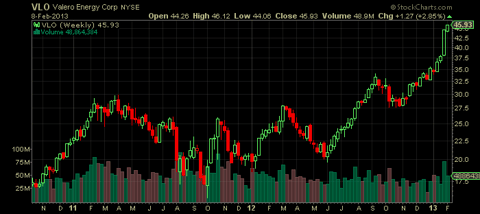 Conclusion
These stocks have been in a strong uptrend since early 2012 and are almost now moving parabolically. Therefore, a natural concern is whether or not we are near exhaustion. Given the strong signs of accumulation, impressive earnings, reasonable valuations, and favorable macro tailwinds, I don't believe that the refiners' run is over. Although bears can argue that these positives are now reflected in stock prices.
Despite my optimism over the intermediate term, I don't think its prudent to chase these stocks at these extended levels. Instead, I would wait for some sort of correction due to profit taking or a broader market pull back. An orderly pullback or consolidation would encourage me that accumulation is ongoing and demand remains healthy.
Disclosure: I have no positions in any stocks mentioned, and no plans to initiate any positions within the next 72 hours. I wrote this article myself, and it expresses my own opinions. I am not receiving compensation for it (other than from Seeking Alpha). I have no business relationship with any company whose stock is mentioned in this article.