Unless you were vacationing in Barbados, you probably noticed the epic rally to kick off the year. It's left half the investing world stunned and angry for not having participated while the other half is stunned and skeptical after opening up their January account statements.
As formerly-bearish newsletter writers re-appear, one by one, in the bullish camp, those left behind have grown considerably more vocal and nasty in their bearishness. If anything, the debate is as vicious and ugly as ever.
But is this rally bogus?
Let's take a look at the internals and some other forgotten indicators to see if we can answer this question.
Credit risk
Nobody really talks about the TED spread anymore. It still does what it did back in the volatile days, though, right? It's a way to get a basic sense of credit risk in the markets (to the extent that credit risk poses a problem within the markets right now, anyway.)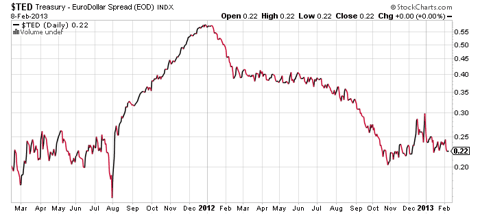 Click to enlarge
It's still nowhere near the highs of the European Debt Crisis, but the weird thing is that it has been slowly, steadily creeping up since November. This is interesting because the market has been rallying pretty much non stop since the election.
Other credit indicators are telling somewhat similar stories -- that the market isn't really spooked right now but that the trend is quietly moving towards a potentially more jittery place.
Risk Appetite
In the last few years, the euro/yen cross has become another one of my favorite indicators for the total level of global risk aversion. When it goes up, it usually means that investors are in a risk taking mood and when it falls (a preference for the "safety" of the Japanese yen) it means that investors are feeling more risk averse. Be careful using it as a market indicator, though. It's usually a little early.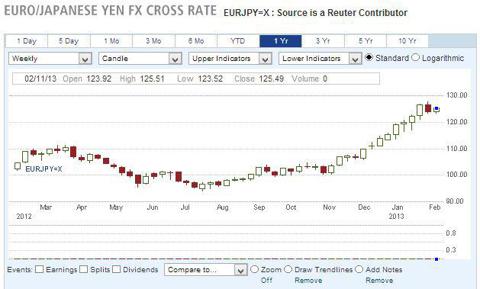 Click to enlarge
And you can see just how early it was. It was clearly trending higher through last November, and in hindsight, would have been a nice arrow in your quiver if you were looking to fight the herd and be bullish before the fiscal cliff talks.
Obviously, all sorts of crazy stuff is going down in the land of Japanese monetary policy right now. And that's why this spread has broken out to tremendous levels. It's tough to sort correlation from causation with things like this, but perhaps this strange market rally has more to do with a weak Yen than we've been giving it credit for. In any case, this indicator is super excited, just like the market. So maybe keep your eyes peeled if and when the EUR/JPY cross takes a breather. This thing is almost always early, so perhaps this is be the warning light you're so dearly looking for right now.
Investor sentiment is absurdly high right now. AAII bullishness got as high as 52% at the end of January! That survey is one of the favorite contrarian indicators of many Industry insiders. When it gets super-super-bullish it often means that a correction is near. Wall Street always prefers the safety of the herd. But as of the latest reading, only 42% are bullish with 29% bearish. Those levels aren't significant enough to really do anything about.
And then there is the percent of stocks above their 200-day moving average.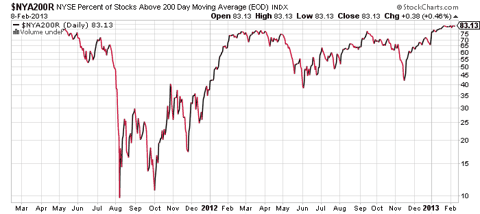 Click to enlarge
Wow.
This is basically as high as this indicator ever gets. There is no other way to slice it: the market is very extended right now.
The percent of stocks over their 200-day moving average is another good contrarian indicator, and it's one of the best barometers in the world to tell you when the market is overbought and when it's oversold. It's not easy to do, but generally speaking, it's a whole lot more profitable to buy the market when it's oversold and sell it when it's overbought. Last November and last June were better times to buy the market than today or last summer. Late 2011 was a fantastic time to buy, of course. You had to combat a terrified market psychology, however.
While this indicator doesn't give timely signals, it provides an exceptional backdrop for the current market psychology. If you can use this in conjunction with a tool like the Euro-Yen cross or Relative Strength Index, it can be very powerful.
Next there's this Bank of America Bull/Bear Index that's been making the rounds thanks to prominent linkage over at Business Insider: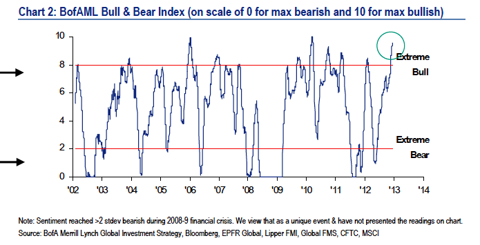 Click to enlarge
Investors are more bullish than in 99% of all periods since 2002.
'nuff said.
Finally, here's the S&P 500 bullish percent index.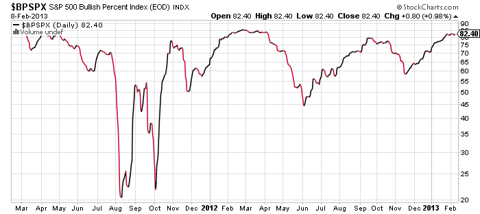 Click to enlarge
This one looks very similar to the chart of stocks above their 200-day moving average. But it's constructed differently. It's basically the percent of stocks showing point & figure buy signals. In short, everything is flashing buy! buy! buy!
Anyway, there's a lot going on under-the-radar in the market right now. The market internals all suggest massive strength and investor enthusiasm. But as I wrote over at Cognitive Concord a couple of weeks ago, the history of markets is cyclical. Not linear. Markets don't go in one direction forever. Generally, it's more profitable and safer to fade these indicators. Directionalism aside, I also outlined a basic, rock-solid strategy to keep you sane during market gyrations. (HINT: it's called intelligent asset allocation. You may have heard of it. It works.)
This market is being carried higher by momentum and momentum stocks right now (and maybe that weak Yen). When that changes, it can change both quickly and dramatically.
If you're bullish, you're obviously in the market. Go ahead and stay in the market. Or damn the torpedoes and go full speed ahead with the SPY. Though for what it's worth, you may want to at least consider some puts, especially with the VIX at such halcyon levels. If you wait until the market starts quaking, the cost of that insurance is going to spike and you'll wish you picked some up hedges back when they were super cheap.
Personally, I think a better 6-12-month tactical trade is to step to the sidelines for now, or if you're aggressive, think about an inverse ETF like the Proshares Short S&P (NYSEARCA:SH). You can also pick up some bonds in the meantime too. Something like the Barclay's 3-7 Year Treasury Fund (NYSEARCA:IEI), which should get a nice little kick if the market freaks out a bit and interest rates dip back down again. The 10-20 Year Treasury Bond Fund (NYSEARCA:TLH) will give you even more oomph in that instance and something like TLT (20yr+) can be used effectively by all you real pros out there.
In my Alpine Advisor portfolios, I've been freeing up cash since January. In fact, the Global Growth portfolio is at 10% cash right now. Depending on how this next week unfolds and whatever else I see in the EUR/JPY cross, I may move that up to around 20%, which is probably about as much cash as anybody would ever want to have in a balanced, global growth portfolio. At least as long as the planet's not in the middle of a credit crisis. I'm happy sitting on my hands until the market internals relax from such extremely bullish levels. I have a sneaking suspicion this won't be the last chance I get to buy the market at 1500.
That all requires some patience, though, which is difficult. It requires you to master your fear of getting left behind and it requires you to buy when things are looking ugly. Nobody said this making money thing was going to be easy, despite Ben Bernanke's heroic efforts to make it so.
Disclosure: I have no positions in any stocks mentioned, and no plans to initiate any positions within the next 72 hours. I wrote this article myself, and it expresses my own opinions. I am not receiving compensation for it (other than from Seeking Alpha). I have no business relationship with any company whose stock is mentioned in this article.