The financial industry is recovering. Balance sheets of banks and insurers are improving and this is slowly getting reflected in their stock price. I see this as a multi-year trend. Financial companies like Bank of America (NYSE:BAC), Citigroup (NYSE:C) and AIG (NYSE:AIG) are still trading below book value. There is a long way to go before they come even close to valuations seen in the past (1.5 to 3 times book value). My portfolio has a significant exposure (around 60% of my portfolio) to Bank of America , Wells Fargo (NYSE:WFC) and AIG. Recently I have been looking at companies that would allow me to make a financial sector investment without directly adding to my holdings in the major banks or insurers.
One of the companies that attracted my interest is Fiserv, Inc. (NASDAQ:FISV), a leading global provider of financial services technology serving approximately 16,000 clients worldwide. The company provides account processing systems, electronic payments processing products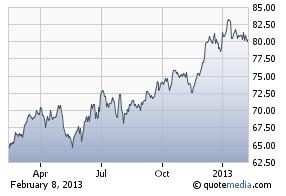 and services, internet and mobile banking systems, and related services. More than one in three U.S. financial institutions relies on Fiserv for account processing solutions. It has the leading share in the top 100 U.S. financial institutions for online banking, bill payment and P2P payments. Its services moves more than $1 trillion in payments and handles more than 20 billion digital transactions annually. FISV generates around $4.5 billion in revenue with a net profit of $575 million.
Graph 1: 10-year diluted EPS trend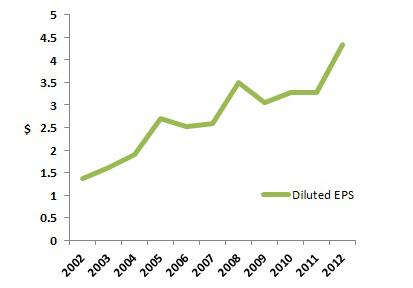 The EPS share trend shows that this is a very predictable company. Even the 2008/2009 financial crisis didn't impact EPS significantly. Earnings per share have a CAGR of 10% in the last 10 years while going through one of the worst financial crisis in the last decades. Predictability is one of the critical factors to consider when making a longer-term investment in a company. The 10-K documents filed on the company's website show that the revenue in the same period has only increased with 75% to around $4.5 billion. Fiserv was able to grow EPS significantly compared to revenue by increasing margins and aggressively buying back stock. Return on equity has been above 15%, while at the same time the company has reduced financial leverage (total assets / equity) from 4.8 to 2.6.
The balance sheet makes me slightly cautious. The net debt of $3.1 billion is just below equity ($3.2 billion). Net tangible equity is negative with the total amount of goodwill and intangible assets being more than $5 billion. The company can handle this as its business model requires a very low working capital level (almost 0). Minimal capital requirements are necessary to run and maintain the business. The average annual capital expenditure over the last five years has been $191 million. Average operating cash flow over the same period is $870 million. The company is a free cash flow generator, generating more than $5 in free cash flow per share.
Fiserv has a 'sticky' business model. The core processing systems and services provided to banks are used to maintain deposits and accounts. Banks subscribe for these services for a three- to five-year period. The majority of these services is necessary to operate and is non-discretionary in nature. Switching cost are high (think about retraining employees and integrating the outsourced services into the organization). More than 82% of revenue is generated through these repeatable services with gross margins of 45%. The financial institution revenue base is diverse with the 50 largest clients representing less than 25% of the annual revenue.
I am impressed with the way management has allocated capital. The acquisition and divesture strategy focused on growing the core processing business and acquiring products it can cross-sell. It sold all of its non-banking businesses like its former insurance business. Over the last years the company made three strategic purchases. The recent acquisition of Open Solutions will further strengthen its industry leading position in core processing. The CheckFree acquisition in 2007 gave the company first mover advantage in the electronic bill payments and the CashEdge acquisition in 2011 opened the market for person-to-person payments. Sensible prices were paid for the acquisitions, for example Open Solutions was purchased for slightly more than 8 times EBITDA.
There is no policy of returning capital to shareholders though dividends, neither expects the company to start paying a dividend anytime soon. Capital is moved towards an aggressive stock buy-back program. More than $2 billion has been spent in the last five years on buying back stock and reducing the share counts with 15%. Another 6.2 million shares (~4%) are authorized for re-purchasing under the current program.
Fiserv is the dominant market player for core processing services. The biggest competitors are Fidelity National Information Services (NYSE:FIS) and Jack Henry (NASDAQ:JKHY). Fidelity's recent merger with Metavante gives it the same scale as Fiserv. It is not operating at the same level yet. Margins are significantly lower than Fiserv's (gross margin of 32% versus 42% and operating margin of 19% versus 23%). Jack Henry margins reach the same level as Fiserv's. It doesn't have the same scale as Fiserv, with revenue only being 25% of Fiserv's. In an industry with high switching cost and limited players, scale is an advantage. Fiserv has both scale and the highest margins. This is a great competitive position.
The Outlook for 2013 is promising. Following is the outline presented together with the Q4 2012 and full year results:
"Fiserv expects total adjusted revenue growth for 2013 to be in excess of 10 percent and adjusted internal revenue growth to be in a range of 3 to 4 percent. The company also expects adjusted earnings per share to be in a range of $5.88 to $6.07, which represents growth of 15 to 18 percent over $5.13 in 2012"
The company is trading with a P/E of 18 and EV/EBITDA of 10. I try to be disciplined in my investment decisions and not initiate positions for more than 8 times EV/EBITDA. If the stock price would come down then I see this as a great investment to benefit from the financial industry recovery. I have added Fiserv to my watch list.
Disclosure: I am long BAC, AIG, WFC. I wrote this article myself, and it expresses my own opinions. I am not receiving compensation for it (other than from Seeking Alpha). I have no business relationship with any company whose stock is mentioned in this article.