Raptor Pharmaceuticals Inc. (NASDAQ:RPTP) is an emerging biotechnology company focused on developing treatments for rare diseases. It will know on April 30th if its lead product, RP-103, has been approved by the FDA or not. It is designed to treat nephropathic cystinosis (NC), a rare and deadly genetic disease that causes the accumulation of cystine (an amino acid) in the cells of tissues and organs throughout the body, including the kidneys, liver, eyes and brain. NC is usually diagnosed within the first year of birth, and if untreated, can kill within the first decade of life. Some of the major symptons include poor eyesight (photophobia), stunted growth and kidney problems (Fanconi Syndrome). This article will look at why I believe Raptor's RP-103 is a superior treatment to the current standard of care, and why upcoming catalysts for the drug may cause a run-up to begin in the company's stock price as it moves towards it PDUFA date.
Issues With Current Treatment
The only current treatment is Mylan's (NASDAQ:MYL) drug Cystagon, which works as an immediate release capsule containing the compound cystaemine, which reduces the levels of cystine in the body's cells and aims to delay if not fully prevent NC's destructive tendency. While effective, non-compliance with Cystagon by patients is a significant problem. Two main factors cause this. The first is the strict dosage schedule of Cystagon, which must be taken once every 6 hours, which is understandably, very inconvenient. Bearing in mind that the majority of patients are children and adolescents, this means that every single night, their sleep must be disturbed in order to take the drug.
This non-compliance is further compounded by the pungent odor that is emitted from the body as a result of Cystagon's sulfur-based compound and the drug's foul smell. Other side effects include nausea, stomach pain and anorexia. Due to the stomach-based problems associated with Cystagon, among NC patients, there can be a high dependency on proton pump inhibitors to reduce the level of excess stomach acid produced due to Cystagon. These factors that cause problems with patient compliance can eventually lead to a poor effectiveness of treatment, which in turn, leads to a poor quality of life as the drug is not used as intended.
RP-103/Procysbi
This is where Raptor's RP-103 (which will be marketed as Procysbi) comes in. While it uses the same compound as Cystagon, that being cysteamine, Raptor has developed the drug in a enteric coated microbead capsule that has a delayed release function, designed to be taken twice daily by the patient (once every 12 hours). This immediately cuts out the nightly dose that is so hated by current users of Cystagon. Furthermore, in a related clinical trial for RP-103, Raptor established bioequivilance between taking the drug as a capsule orally, and having the contents sprinkled over applesauce, where it was shown to be tasteless. Raptor had found that many of its younger patients were too small to swallow the capsule whole. This eliminates the second main problem with Cystagon, that being the foul odor that the drug causes to be emitted from the body. This is primarily due to Raptor designing RP-103 to bypass the stomach and become active in the duodenum. Patients have also spoken of the pungent taste of Cystagon, and have several "recipes" that they mix a powered capsule with to somewhat disguise the taste. RP-103 has been proven to be tasteless.
In July of 2011, Raptor completed its Phase III clinical trial for RP-103 and announced it had reached its primary endpoint, establishing non-inferiority to Cystagon. The trial also showed that RP-103 reached this endpoint on a lower total daily dose than the current approved treatment. Of the 41 patients who were enrolled in RP-103's Phase III trail and the 38 who took part, 38 have voluntarily enrolled in an safety extension study and to continue taking RP-103, signaling to me their belief that it is a superior treatment to Cystagon, which they would have previously taken.
Raptor also announced with its Phase III results that the number of its patients taking proton pump inhibitors (PPI) fell as they moved to RP-103 from Cystagon. PPIs are the strongest form of medicine to combat excess stomach acid, an unpleasant side effect from taking Cystagon. The excessive use of PPIs has never been far from the headlines, with the FDA going so far as to issue a public warning regarding their use. Raptor reported that ''all but one patient out of all the patients who used proton pump inhibitors (''PPIs'') while on the Cystagon arm, did not use PPIs on a regular basis while on RP103.'' This is further proof that RP-103 is a preferable treatment option to Cystagon, as the excess stomach acid side effect of Cystagon was not found to exist with RP-103.
Going into the April 30th PDUFA date, investors should be aware that this is RP-103's second PDUFA, the first being January 30th. Toward the end of December 2012, Raptor announced that the FDA had extended the review period until April 30th, the normal 3-month time frame. The company noted that the FDA had not asked for any additional studies, but wanted more time to review information that was submitted after October 2012, within three months of the original PDUFA. Raptor's RP-103 has been granted orphan drug status from both the FDA and the European Medicines Agency (EMA), a decision I believe underlies their belief that an improved treatment is required for NC.
Catalysts
Last November, three months from Raptor's original PDUFA date, the stock began to run. As you can see on the chart, this corresponded almost exactly with the date of its last conference on November 14th.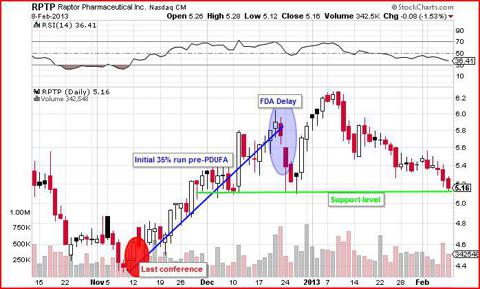 Coincidentally, Raptor is presenting on February 13th and 14th, this coming week at the 15th Annual BIO CEO & Investor Conference and at the Leerink Swann Global Healthcare Conference, respectively. I regard these two events as pretty important catalysts for Raptor. Adam Feuerstein has said of the former that ''the Bio CEO & Investor Conference has really grown in stature and importance over the last several years.'' And with three months to go until the FDA makes their decision on RP-103, these conferences could prove the perfect spark to ignite investor awareness of Raptor's impending PUDFA and start a run-up. The stock has been bleeding for the last month, and staying above the $5 floor is crucial going into this week.
Raptor submitted a Marketing Authorization Application for RP-103 to the EMA in March of 2012, and the EMA's decision is expected in Q1 2013, providing another big catalyst for Raptor's stock in the coming months.
Raptor Bulls And Bears
Some notable investors and institutions hold opposite views of Raptor and of Procysbi's potential to take over Cystagon's market share. Following the December 2012 PDUFA delay by the FDA, Oppenheimer was quick to point out that while the delay was a short-term negative, it presented a buying opportunity for Raptor bulls, and it maintained its "Outperform" rating. Wedbush was also quick to reiterate its rating of "Outperform," and maintained its price target of $10. The average analyst price target for Raptor is $9.86.
In an interview last July, JMP Securities gave RP-103 an 80% chance of approval based on the positive Phase III trial results and the orphan drug indication. It went as far as to assign a price target of $12 to Raptor, pending FDA approval, with peak sales in the U.S. of $60 million and ex-U.S. sales bringing in $93 million. Bear in mind that NC is believed to only affect about 2,000 people in the world, with 500 in the U.S. and 800 in Europe. This peak sales estimate is giving RP-103 a price of between $200,000 and $300,000 per patient per year.
This is a massive premium to the current cost of treatment, with Cystagon costing $10,000 per patient per year. Adam Feuerstein is skeptical about Raptor's ability to convince the parents of the kids with NC to change from Cystagon to Procysbi. Getting the doctors who treat NC patients on their side will be crucial in this regard.
One notable negative aspect of Raptor, in my view, is the lack of insider purchases over the last year. While insider transactions are by no means an accurate portrayal of management's sentiment (look at Celsion's insider buys before its PDFUA denial last month) about its own company, it is nice to see the chief officers put their money where their mouth is.
However, for an emerging biotechnology company with no approved products, Raptor has a notably large institutional share ownership, with 44% of the float held by institutional holders and mutual funds. Among its biggest institutional holders are Columbia Wanger Asset Management and Vanguard Group, the latter notable for its eye for picking biotechs. This large institutional ownership of shares instills confidence, in my view, and instills confidence where the lack of insider purchases reduces it.
Going Forward
Raptor's RP-103 doesn't require the dreaded middle-of-the-night dose, is tasteless and can be taken in powered form mixed in with food, doesn't demand as high a necessity for PPIs, and doesn't cause the body to emit the same foul odor that Cystagon does. Raptor's drug will be much more convenient to take, which will lead to a high patient adherence and compliance level, which will in turn, lead to a higher standard of treatment. Given both the FDA's and the EMA's designation of orphan status to the drug, I believe that RP-103 has a very good chance of being approved on April 30th.
Raptor is investigating the possibility of using RP-103 as an eyedrop in order to reduce the cystine levels in the eyes of NC patients. It is also currently in Phase II/III trial for RP-103 to treat Huntington's Disease, which affects up to 30,000 people in the U.S. Clinical data is expected in the first half of 2014. The trial has 96 patients, and is being conducted in eight clinical sites in France with a grant from the French government, and is sponsored by Centre Hospitalier Universitaire d'Angers. Raptor has also received orphan drug status for RP-103 for treating Huntington's.
Also in Raptor's pipeline is the use of RP-103/104 for the treatment of Non-alcoholic Steatopheatits (NYSEARCA:NASH), a progressive liver disease that currently is untreatable. Conviva is another Raptor drug, and its use is being investigated in the treatment of ALDH2 deficiency, a disorder that inhibits patients from metabolizing alcohol efficiently. Updates on the trial results from these products will be interesting and bring further awareness about Raptor.
Investors should be aware that Raptor does not have any approved products, and a lot of weight will be given to the FDA's decision regarding RP-103, given its prominence in the rest of the company's pipeline. If approved, its ability to convince doctors and patients to switch from a $10,000 per year, already effective treatment to a $250,000 a year treatment in order to essentially stop smelling bad and stop having every night's sleep disturbed will be pivotal to the company's success. I am bullish on RP-103's prospects of approval, and believe that Raptor's presentations at two important conferences this week could start the run-up to its PDFUA on April 30th. It is important to remember, though, that like with all biotech companies, a high level of risk is involved with trading the stock, and all investors should do their own due diligence, using this article merely as a base of information.
Disclosure: I have no positions in any stocks mentioned, but may initiate a long position in RPTP over the next 72 hours. I wrote this article myself, and it expresses my own opinions. I am not receiving compensation for it. I have no business relationship with any company whose stock is mentioned in this article.