With today's most recently released short interest in Sirius XM (NASDAQ:SIRI), the numbers couldn't be more clear. Sirius XM has exceeded 400 million shares short as of the end of the last reporting period in January.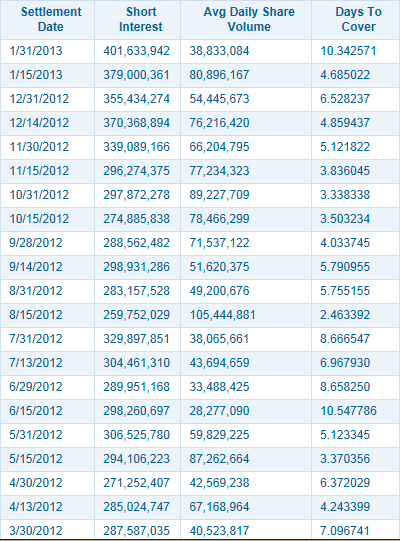 Why is this important for investors to consider?
First, I want to be clear that I do not in any way feel that this short interest number is made up completely of individuals betting against the stock. Short interest is simply the number of shares short at any given time, but there is no data to support how much of this short interest is hedged or part of other more elaborate plays on the bullish or bearish sides.
It is expected by some, myself included, that a large part of this short position is actually hedged by the $550 million in Sirius XM convertible notes. These notes recently had a change of control provision activated, which could provide the holders with significant numbers of shares. If these holders wished to "cash out" now, they could short the stock, take the cash, and accept the shares after March 1st.
The downside to this if it is true? The potential for a short squeeze of epic proportions, as some seem to be looking for, is diminished. The upside? The shares are already "sold" into the market, and upon bond conversion they will simply cancel out, thus there will be little to no selling pressure with shares flooding the market as bond holders seek to cash in. They've already cashed in in advance.
As a long, I prefer that the note holders are hedged short already. The selling pressure has gone through, and there should be little to no surprise "dumping" of shares if they choose conversion.
But I do feel that a significant number of these "shorts" come from technical traders seeking to capitalize on expected moves down in Sirius XM's share price, and those traders are the very same ones getting burned time and again with Sirius XM. Why? Because the stock has been under heavy accumulation for the better part of the last 8 months. Take note of what I wrote two weeks ago when short interest was last reported. Beyond this information, news has been coming through that institutions have been loading up on shares of Sirius XM. Winslow Capital initiated a brand new position of nearly 125 million shares at the end of 2012. That's over $700 million pushed into the stock on top of Liberty Media's (NASDAQ:LMCA) buys.
And on top of this, Sirius XM may have begun its $2 billion share buyback program. I expect this to be done carefully and at certain levels so as to help to ensure that the share price continues to appreciate, and does not exhibit wild swings up or down. I do not expect Liberty Media to participate in the buybacks to start, and because of this, many shares, perhaps even all shares, will likely be bought from the public tradeable float in this "first round."
So Consider This:
$2 billion being bought back in a $20 billion market cap company may not sound like much, but when you consider Liberty owns around 50%, and institutions currently own around 30%, that leaves only around 20% in the public float. That's $4 billion worth of stock. If it is these shares that are to be repurchased, then the impact on Sirius XM's share price could be considerable.
Also to be considered are money flows. A quick look at Avafin's money flow chart should send a very clear message. Sirius XM is under very high accumulation, pushing the bought/sold ratio up to extremely high levels. That ratio was 3.87, with $72 million flowing into the stock on February 11th.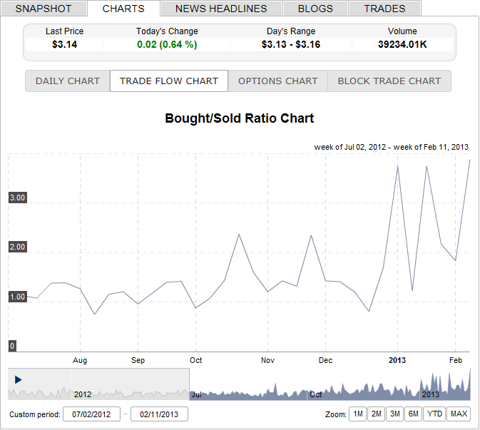 Click to enlarge
My advice to shorts remains the same as it has been for a long time now. Cover immediately if you are not hedged. Although the equity has been trading horizontally for several weeks, what is going on behind the scenes is simply pumping more, and more, and more cash into the stock. At some point, something has to give, and I expect Sirius XM to "give" to the upside very soon.
Disclosure: I am long SIRI. I wrote this article myself, and it expresses my own opinions. I am not receiving compensation for it (other than from Seeking Alpha). I have no business relationship with any company whose stock is mentioned in this article.
Additional disclosure: I am long SIRI January 2014 $2 call options.