The average stock in the Russell 3000 is already up 7.61% in 2013. Below is a chart showing the average performance of stocks in each sector in the Russell 3000. As shown, energy stocks are leading the way thus far in 2013 with an average gain of 9.76%. Healthcare stocks rank second, with an average gain of 8.63%, while consumer discretionary stocks rank third at 8.39%. On the downside, telecom stocks have been the weakest, but even they are averaging a gain of 2.17% year to date.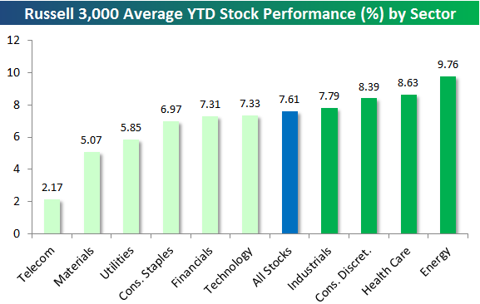 Below are the 50 best-performing Russell 3000 stocks so far in 2013. Keryx Biopharma (NASDAQ:KERX) leads the way with a gain of 152.67%, followed by Netflix (NASDAQ:NFLX) at 92.13% and Caesars Entertainment (NASDAQ:CZR) at 81.94%. Furiex Pharma (NASDAQ:FURX) and Hyperion Therapeutics (NASDAQ:HPTX) round out the top five. A few other notables on the list of 2013's big winners include SunPower (NASDAQ:SPWR), Zynga (NASDAQ:ZNGA), Trulia (TRLA), Zipcar (ZIP), and Take-Two Interactive (NASDAQ:TTWO).
Take a look through the stocks on this list if you have a chance. Chances are that many will still sit atop the list at the end of the year with even bigger gains.