Cisco Systems (NASDAQ:CSCO) the iconic networker that was one of the premier bubble babies of the late 1990s, reports its fiscal 2nd quarter 2013 results after the bell Wednesday.
Per ThomsonReuters, analyst consensus is looking for $0.48 in earnings per share on just over $12 billion in revenues for expected year-over-year growth of 2% and 5%, respectively.
Sequential growth would be 2% revenue and 0% EPS growth if consensus is met.
Excluding the dividend, CSCO was up 8.6% in 2012, and is already up over 8% year-to-date since 12/31/12.
In its fiscal first quarter, CSCO's growth was generated by its new product segments such as video, wireless, and datacenter, while the traditional switching and routing businesses were down 2% year-over-year. In the first quarter 2013, CSCO's revenues and EPS rose 6% and 14%, respectively.
CSCO's story isn't much different than any other mega-cap tech from the late 1990s: the core growth drivers of the last decade have settled into mid-single digit organic growth rates, as the company struggles to invest in other areas to drive better growth.
Cisco tried set-top boxes and the flip-camera and a number of other segments, but if you look across technology, the Big 3 are now mobile, social and the cloud.
CSCO's margins have started to stabilize at 62% (gross margin) and 27% (operating margin), which we think is a necessary component to help the P/E ratio expand on the stock.
However, the most compelling aspect to CSCO's valuation remains its cash-flow: trading at 8(x) cash-flow as of the November quarter, but with almost $5 billion or $8.50 per share in cash, "ex-cash" CSCO is trading at 6(x) cash-flow, which really helps smooth out the operating bumps and the volatility in revenues and earnings.
CSCO's Historical Revenue and EPS growth
Rev gro

y/y

EPS gro

y/y

1/13
5% (est)
2% (est)
10/12
6%
14%
7/12
4%
18%
4/12
7%
14%
1/12
11%
27%
10/11
5%
0%
7/11
3%
-7%
4/11
5%
0%
1/11
6%
-8%
10/10
19%
17%
7/10
27%
39%
4/10
27%
40%
1/10
8%
25%
10/09
-13%
-14%
7/09
-18%
-23%
4/09
-17%
-21%
* Source - Internal spreadsheet and quarterly earnings reports
The long-term average over this period is 5% revenue growth and 8% EPS growth.
Remarkably, looking at the consensus of forward analyst estimates for EPS and revenues, here is what the projections show:
fiscal y/r

Rev

growth

EPS

growth

2015
6%
7%
2014
6%
7%
2013
6%
5%
* Source: ThomsonReuters consensus estimates
The new ventures for Cisco, like Datacenter, or Enterprise Wireless or Video, are the emerging growth segments, but they are still too small to make formidable dent for a company that is generating $48 to $50 billion in annual revenue.
We think CSCO is pretty fairly valued at its current price near $21 per share. Our internal model values CSCO at $21, while Morningstar puts a fair value on CSCO near $24.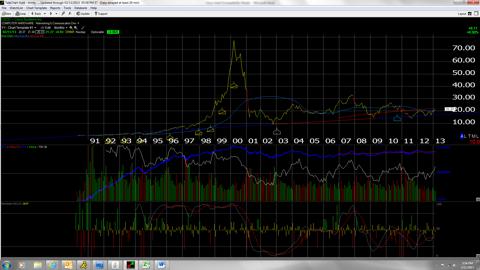 CSCO's monthly chart is very interesting: a trade on heavy volume over $22.05, and the stock could run quite easily to $25 per share.
However, I don't see how that happens without 10% EPS growth on better revenue growth, and that must be sustainable, and not erratic and spotty, as we've see from the table over the last 4 years.
We have a very small position in the stock in one client account. The cash-flow valuation is very compelling, but it is tough to say what drives faster growth in coming years, as CSCO battles the erosion of the core switching and routing business with newer, emerging technology areas.
Disclosure: I am long CSCO. I wrote this article myself, and it expresses my own opinions. I am not receiving compensation for it (other than from Seeking Alpha). I have no business relationship with any company whose stock is mentioned in this article.