Mexico is the new focus of the Latin American economies, as the banking industry is in a growth spurt. Investors could consider a Mexico-focused exchange traded fund for diversified portfolios as the middle class expands and wages rise.
"The demand for bank stocks in Mexico is very large right now," said Gerard Cassidy, an analyst at RBC Capital Markets. "When you look at global asset managers and then look at Latin America, Mexico is the new 'in-region' to be in. And within that, the best way to play the country's economy, of course, is through a bank. There aren't many banks that are publicly traded in Mexico."
There are only two publicly traded banks in Mexico currently, and Santander Mexico (OTC:GFRSF) is one of them. There are $58 billion in assets and about 1,000 branches in Mexico, and the Spanish parent company still owns 75%, reports Marie Beerens for Investor's Business Daily.
The iShares MSCI Mexico Investable Market Index ETF (NYSEARCA:EWW) allocates about 11% to the financial sector, and about 11% to commercial banks domiciled in Mexico. The fund has about $2.2 billion in assets under management and costs about 0.52%.
The Mexican economy is forecast to grow 4% in 2013, more than Brazil and Chile. The biggest contributor to Mexico's banking sector is expected to be the credit sector. Along with the growing middle-class and rising wages, the economy in Mexico is in a good position. The manufacturing sector makes up about 18% of the economy.
"This is important," explains Gerard Cassidy, RBC analyst. "Mexico has a well-educated workforce when it comes to manufacturing jobs, and so companies are very willing to commit capital into Mexico to build out manufacturing plants.
The biggest threat to the economy in Mexico is inflation, with a targeted rate of anywhere from 2% to 4% expected in 2013. Since the Mexican economy is export driven, some of its success depends on the health of developed nations such as the U.S.
iShares MSCI Mexico Investable Market Index ETF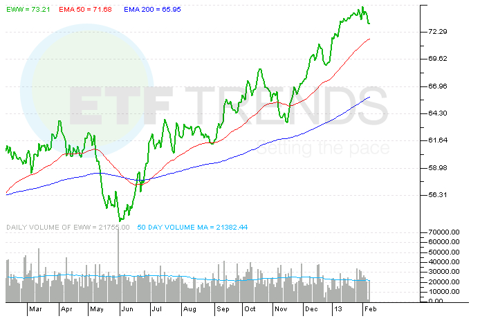 Click to enlarge
Tisha Guerrero contributed to this article.
Disclosure: I have no positions in any stocks mentioned, and no plans to initiate any positions within the next 72 hours. I wrote this article myself, and it expresses my own opinions. I am not receiving compensation for it. I have no business relationship with any company whose stock is mentioned in this article.