Introduction
In my first article (click here), I presented a comparison of dividend portfolios that were published here on Seeking Alpha (SA). In one of my comments I stated a greater desire to see more portfolios for a larger sample size for comparison. However, I realized that perhaps I should make this contribution myself which is the reason for this article to present my dividend growth strategy and portfolio. My goal is to initiate discussion about the strategy and the stocks that have been selected.
Purpose
My greatest desire is that this portfolio achieves financial independence for my family by the time I plan to retire or before then. I have approximately 30-35 years before retirement. This time frame will allow me the time to replace my current salary with an equal dollar amount through the use of dividend paying stocks. As a family, we had monthly expenses last year that averaged $3,500 however, over the last 5 months, we reduced our expenses to $3,100 per month (all figures are in Canadian dollars however since the USD and the Canadian dollar have been trading at parity, these figures are basically equivalent). In my retirement, I would desire a slight greater amount of monthly income than this to compensate for additional expenses such as vacations, hobbies and others. My goal for dividends generated per month would be approximately $4,000 or $48,000 per year.
Success for this portfolio will be defined by the growth and accumulation of dividends. I have adopted the mentality found from the article "The Psychology of Dividend Growth Investing: Defining Success" (click here) by contributor Dividend Growth Machine which states:
"As a dividend growth investor, my primary goal is to create a sustainable, rising stream of dividend income over time. To determine whether I am successfully pursuing that goal, I can compare the dividends received in one time period (e.g., a quarter or a year) with those from the previous corresponding time period.
If my dividend income has increased from quarter to quarter and from year to year (and not simply due to the purchase of additional dividend growth stocks with new capital), then I think it is reasonable to define that as "success." With that definition in mind, I can then measure my success by seeing whether my portfolio's overall rate of dividend growth exceeds the rate of inflation or matches a desired dividend growth rate. Of course, I can also define failure as not achieving growth in dividend income over time, which would prompt changes in my portfolio to re-establish dividend growth.
Focusing on my dividend income stream allows me to define and measure success based on tangible returns that are directly related to my primary investing goal. I do not feel compelled to change my investing strategy based on the market's behaviour as long as my dividend income stream continues to grow. Psychologically, I find that I am better able to keep my emotions in check and stay disciplined in my investing, paying more attention to how my companies are doing than to how their stock prices are fluctuating. "
I do believe this is the principle mindset for this portfolio however, I do also believe in acquiring some capital gains. First and foremost I do believe as other SA contributors believe that as companies continue to grow than capital appreciation should also increase over the long term. However, I do believe that selling a position that as increased significantly during a short period of time is worth selling in order to take the capital gains. More on this is found in my buying/selling section.
Management
I work full time and as a result, do not have all the time in the world to research every stock with the depth that I would like. I have created a spreadsheet to perform my quantitative analyses where I obtain my information from MSN Money, Morningstar (.com and .ca) and Reuters.com. I will continue to follow Seeking Alpha to provide additional quantitative analysis as well as qualitative information. Seeking Alpha and David Fish's CCC lists will also be my primary sources for obtaining new dividend stock ideas to consider for my portfolio.
To remain current on news related to my companies, I have and will subscribe to receive emails from Google News regarding the name of the company or its ticker. Following Seeking Alpha will also provide important news and I have subscribed to receive email alerts for my companies of interest. I am also subscribed to a few financial newsletters (most of which are free).
I use Sigfig.com as a portfolio manager at the moment. This site provides a large amount of information regarding portfolio performance as well as good analysis. This site which is available only online also provides news on my stocks. However, because it is still growing and improving, and as such it has not yet provided considerable information for Canadian Stocks. I am not yet able to sync my brokerage account either which unlocks further resources in the site that could help me save money. The other is Stock Portfolio Manager that is found on David Fish's site (click here). This is a desktop program that should also provide detailed analysis including sector diversification. Both programs will be evaluated and on may ultimately be selected to manage the portfolio.
The initial investment will total $23,000. My goal is to invest $500-$1,000 of new capital per month into the portfolio. Due to the limited amount of the initial investment, I will not be able to purchase sufficient shares to register for a DRIP plan. Questrade, my online brokerage service, does not allow partial share purchases either. All dividends obtained will be returned as cash until a full share can be purchased and then a DRIP plan can be initiated. Until that time, dividends will be pooled together with the new capital to purchase additional shares.
Purchases of new positions or further purchases into existing positions will be limited to a minimum of 500$ but 1000$ would be more appropriate. Questrade charges a minimum of 4.95$ per transaction. The transactions fees equal 0.99% for a $500 purchase or 0.495% for a $1,000 purchase. Although these rates are much lower than the Management Expense Ratios (MERs) I was paying for my mutual funds (which were about 2.5%), I would prefer to keep my expense rates near 0.5%.
The portfolio will be rebalanced on a yearly basis. I have adopted the diversification recommendations from Parsimony Investment Research (click here for the article) which recommends:
1. Maximum position for a stock is 3-5% of the total portfolio,
2. Maximum industry position is 15-20% of the total portfolio,
3. Maximum "high yield" exposure is 20-30% of the total portfolio, and
4. Maximum portfolio beta less than 0.75%.
Portfolio reviews will be done on a quarterly basis to ensure that each stock continues to contribute to the portfolios purpose.
Buying/Selling
When purchasing stocks, a fair value will be determined by researching the fair values found on:
1. FAST Graphs,
2. Morningstar.com
3. Buy zone's published from Parsimony Investment Research,
4. Buy zone's published from Valuentum, and
5. SA contributors
However, there are times in which these sources have considerably different values. As a result, the fair values will be included in an excel spreadsheet where the average price will be calculated. Stocks that approach the fair value price will also be assessed against other factors such as momentum and oscillator figures to determine whether the stock price is likely to decrease further. I don't want to "time the market" but I do want to make my best efforts to obtain value for money. Market corrections, recessions, ex-dividend dates, and possibly earnings reports may facilitate some buying opportunities.
There may be times when there is a great opportunity that does not conform. These opportunities will still be considered as there may be times where one needs to "step outside the box" however a small position may be initiated until the opportunity has developed a proven dividend track record or it may become part of the capital gain opportunities. Such companies may have less than a 10 year history of paying dividends but they may also have initiated a strong dividend policy or have great potential for future dividend growth.
When selling a position, I will follow similar considerations as other dividend growth investors:
1. A decrease, elimination or postponement (without a justifiable and supportable reason) in the dividend will trigger a sell.
2. Circumstances that threaten the dividend such as continuous declining revenues (two years' worth of declines will be a red flag) and serious changes in company metrics (of particular interest is debt and whether the company is increasing its debt and whether it is capable of paying its debt). These circumstances however will be considered and evaluated in light of the current market conditions and whether other companies within the same sector and industry are experiencing similar circumstances.
3. The company is losing market share, deterioration of moat, competitiveness and or other announcements made by the company that is unfavourable to investors.
As I stated previously, I believe that selling a position that has significantly increased in a short period of time is worthy of being sold in cash in on some capital gains. I have been following Parsimony investment Research, and recently read an article by the Canadian Dividend Growth Investor (click here), and found comments that were supportive by many SA contributors, I feel that if a stock increases significantly (at least 5 times if current dividend yield) over a short period of time (e.g. minimum of 6 months to a maximum of 9 months), then I would sell approximately 75% of my position in the stock. This capital gain can then be reallocated into a dividend stock that is currently trading within a reasonable valuation which will replace some of the dividend income lost by selling this position.
Stock Selection
My focus for stocks is limited to US and Canadian stocks since I would have to pay a 35% tax upon any foreign income even if it is inside a tax sheltered account. I have also read several sources indicating that Canadians should not purchase MLPs since there are some serious tax complications. I have two accounts where my portfolio will be held. My Registered Retirement Savings Plan (RRSP) will hold all my US stocks since Canada and the US has a tax treaty that prevents dividend payments and capital gains from being taxed until they are withdrawn. The RRSP is similar to a 401K plan. For the time being my Canadian Stocks will also be placed into the RRSP until I have sufficient space in my Tax-Free Savings Account (TFSA). My TFSA will hold my Canadian REITs which is tax-sheltered also and funds can be withdrawn at any time without penalty. However, I will tend to hold stocks with lower volatility and less risks of capital deterioration since any capitals losses in the TFSA will not qualify for the Capital Losses Tax Credit on an income tax return. This tax credit does apply for capital losses in an RRSP however. For Canadian investors, I suggest going to the taxtips.ca website for valuable information regarding which accounts investments should be held.
Stocks that will not be considered for the portfolio include tobacco and alcohol as these go against my own ethical beliefs.
I have established a three tier system for the stocks in the portfolio. The first tier is labelled "Core Holdings" which are companies that have proven and I expect to consistently grow their dividend. These companies will be the first priority in purchasing and adding positions in the future and I expect to hold long term positions.
The second tier is my Secondary Holdings where I hold a smaller position or a short term position for capital gains. These companies do not have the same track history as the core holdings but could show great potential. These stocks may in time find themselves in the Core Holdings particularly if any of the stocks from the Core Holdings has to be replaced.
The Third Tier is the Wait List where these companies have no positions, but can be ready to jump into a either the Core or Secondary Holding. This will ensure that if any of the companies in the Core or Secondary Holdings are removed, there is a company ready to advance. The Wait List will also serve to help me keep my eye out for new opportunities.
Table 1 presents the list of stocks that are found in the Core Holdings. I should note that the dividend yield is accurate as of February 5th. The Core Holdings have a total of 23 stocks with an average yield of 4.23% and a beta of 0.80 which is 0.05 more than desired as outlined above. However, since Kraft did not have a published beta, this may further changes things positively or negatively. Each stock within the Core Holdings would hold less than 5% of the total portfolio if funds are equal. High yield stocks (dividend yield > 6.00) equate to only 13.04% of the Core Holdings.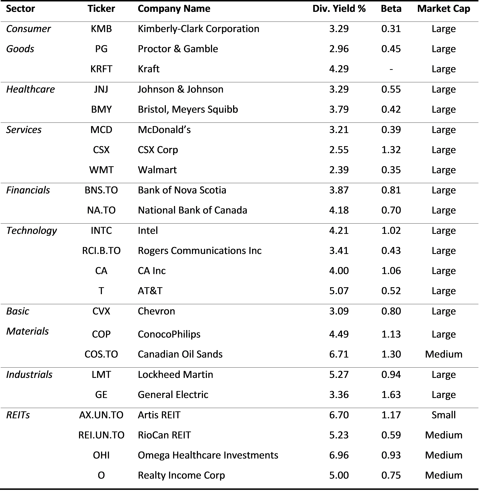 Click to enlarge
Stock Tickers in Table 1: KMB, PG, KRFT, JNJ, BMY, MCD, CSX, WMT, BNS.TO, NA.TO, INTC, RCI.B.TO, CA, T, CVX, COP, COS.TO, LMT, GE, AX.UN.TO, REI.UN.TO, OHI, O.
Table 2 presents the list of stocks that are found in the Secondary Holdings. There are 11 stocks in these holdings with a dividend yield of 4.19% and has a beta of 0.99. The Secondary Holdings generally have betas above 1.00 and may influence the Core Holdings if some of these stocks were included there which may become a concern.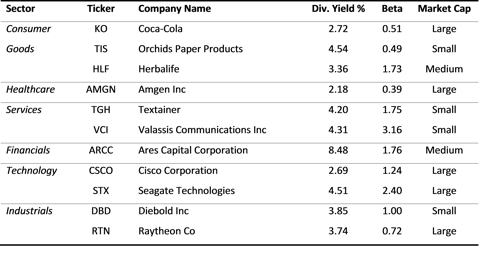 Click to enlarge
Stock Tickers in Table 2: KO, TIS, HLF, AMGN, TGH, VCI, ARCC, CSCO,STX, DBD, RTN.
Table 3 presents the list of stocks that are found in the Watch List. The Watch List currently holds 21 stocks.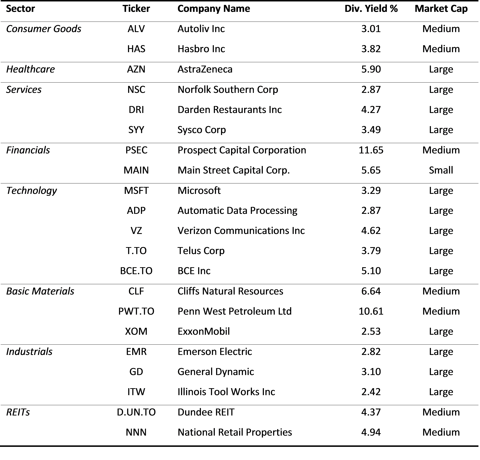 Click to enlargeStock Tickers in Table 3: ALV, HAS, AZN, NSC, DRI, SYY, PSEC, MAIN,MSFT, ADP, VZ, T.TO, BCE.TO, CLF, PWT.TO, XOM, EMR, GD, ITW, D.UN.TO, NNN.
Diversification
The Core Holdings is diversified with more stocks found in the technology sector and REITs. Figure 1 presents the sector diversification for the Core Holdings. The Core Holdings does not have a particular sector that is above 18% and most sectors are represented except for utilities. There is also some international diversification with 6 Canadian stocks which represents 26.09% of the portfolio while the other 17 stocks are US representing 73.91% of the portfolio.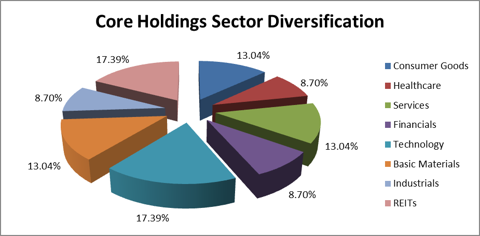 Click to enlarge
The Core Holdings is heavily invested in large cap companies. However, there are some small and medium cap sized companies present (see Table 1 for the specific companies). Figure 2 presents the market cap diversification for the Core Holdings.

Click to enlarge
Figure 3 (Secondary Holdings) and Figure 4 (Watch List) present the respective market cap diversification. These figures show a larger number of small and medium sized cap companies that are being considered.

Click to enlarge

Click to enlarge
Conclusion
I feel that this portfolio is a good starting point to create dividend income to achieve my long term goals. One thing that was purposefully excluded was utilities as I was uncertain about their long term growth prospects and whether or not they belong in a dividend growth portfolio.
I feel the biggest risk regarding the portfolio is the beta which may continue to rise depending on which Secondary Holdings are purchased. Most of them tend to have a higher beta than the desired 0.75 which would increase the volatility of the portfolio. The lower beta is meant to remove emotional decisions in selling positions. When the stocks are jumping every which way, a new investor could become anxious. Obviously capital preservation is very important since this is hard earned money and I know for myself, emotions could get the best of me at times.
As a new dividend investor, I really have been developing this portfolio on my own, and your comments and suggestions are more than welcome so that I can continue to learn about things I could improve or strategies you have employed. I have much that I can learn from you all. I also hope that this has helped some new investors as they proceed along a similar path of learning, pondering, weighing in and deciding how to proceed in building a strategy and portfolio.
Disclosure: I am long CA, COP, CSCO, CSX, DBD, DEM, GE, INTC, JNJ, KO, LMT, MCD, OHI, STX, T, TGH, TIS, VXUS. I wrote this article myself, and it expresses my own opinions. I am not receiving compensation for it (other than from Seeking Alpha). I have no business relationship with any company whose stock is mentioned in this article.
Additional disclosure: I am also long on COS.TO, NA.TO, AX.UN.TO and REI.UN.TO which are traded on Canada's TSX index.All figures and information regarding stocks were derived from MSN Money, Morningstar and Reuters.When the the stocks in Core Holdings are fairly valued, I will initiate a position.