On of the things that makes investing in Sirius XM (NASDAQ:SIRI) so enjoyable is the little guessing game that Liberty Media (LMCA) has thrown into the mix since way back in 2009. As is often stated, and as is well known, Liberty Media technically saved Sirius XM from bankruptcy in 2009 and in return received 40% of the company for what was essentially a loan.
For those that saw the light back then and jumped on board with Liberty Media, you have seen your shares appreciate by at least 1000% to date. If you have followed the news and speculation surrounding your investment in Sirius XM, though, you've been on a wild rollercoaster ride through a wacky fun house of guessing games. Every rock has been overturned, and every nook and cranny has been explored, nearly to death.
Sirius XM is now in the later stages of this speculation. The company has grown considerably, become a cash flow powerhouse, and the share price has gone from pennies, to a recent $3.25 a share. Liberty has gone to a controlling stake, and the remaining questions have to do with Liberty's plans from here forward.
One of the major points of remaining speculation? Whether or not Liberty Media will participate in Sirius XM's recently announced $2 billion buyback plan.
I'd like to focus on that buyback. To understand where I am coming from please take a moment to read two articles I wrote, one on December 20th, and one on October 31st. Two important ideas to take away from both of those articles are the following :
I expect a Sirius XM share repurchase program initiated once Liberty Media goes to control to keep Sirius XM's credit rating stable. I do not expect this program to introduce debt beyond what Sirius XM can handle in terms of repayment. In other words, I do not expect that Liberty Media will increase leverage to the point that Sirius XM receives a damaging credit rating downgrade within the next two years. I expect that leverage will be brought up considerably, but I do not believe it will be brought up to the point that S&P downgrades Sirius XM's credit rating.

Is it possible that Liberty Media over leverages, brings down Sirius XM's credit rating, and then spins the company after extracting as much cash as possible? Of course it's possible. Is it probable? No. Why? It goes right back to the fact that Sirius XM is such a giant part of Liberty and because I hold the assumption as true that Liberty does not wish to damage Sirius XM.

What I feel makes the most sense, is for Liberty to leverage Sirius XM to reasonable levels.
Sirius XM is the crown jewel of Liberty Media's collection of companies, and makes up the vast majority of its market cap. Because of this, the valuation of Sirius XM directly impacts the valuation of Liberty Media in a very big way.

While Liberty Media has spent $1.5 billion to acquire those 655.8 million shares at an average cost of roughly $2.29 each, the fact of the matter is that each of those shares is now worth more at the current share price near $3 per share. If one assumes $3 per share, in order to get the $1.5 billion in "bait" back, Liberty media only needs to sell back 500 million shares. Given that the share price will likely rise through to buyback period, I would expect Liberty to sell back less.

It should be noted that since the writing of these articles, Liberty has spun out Starz (NASDAQ:STRZA) and thus "shrunk" Liberty Media. This has, in turn, caused Sirius XM become an even greater portion of Liberty Media's value.
It should be noted that I do not expect Sirius XM to "only" buy back $2 billion in stock. I consider this $2 billion an initial round, of sorts, and would expect further buybacks to be announced in the future. In order to come to conclusions about how the first $2 billion in buybacks are handled I think it's important to step into Liberty's shoes and ask "what's best for Liberty?"
It has been speculated that Liberty will sell back on a 1 for 1 basis into the buyback plan, resulting in roughly half of the $2 billion going into Liberty's hands. Why? Because statements have been made suggesting Liberty would like to get the "bait," or around $1.5 billion spent to acquire 10% of Sirius XM to go to control, back. I agree with that, but here's where I pause. The following assumption is made with the idea that Liberty does not wish to have this cash back immediately and thus has some flexibility in its participation.
Consider first the current distribution of shares of Sirius XM.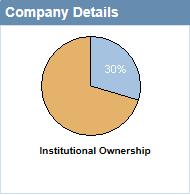 From strongest hands to weakest hands. 50% Liberty Media ownership. 30% institutional ownership. 20% "float."
Current rough values of each position? With a $20 billion market cap, Liberty Media $10 billion, institutions $6 billion, and float $4 billion.
If we use my assumption that Liberty is not in any sort of rush to get that $1.5 billion back, then what benefits Liberty the most?
The answer is simple. And keep in mind this is a "forest" estimation and not a "tree by tree" analysis. By allowing Sirius XM to buy back shares from the float, Liberty can sit back, relax, and allow its percentage ownership in Sirius XM to grow on its own. How much? $2 billion bought from the float will reduce outstanding shares by roughly 10% at current pricing and will very likely increase the share price on those remaining shares. If the impact is a 10% share reduction coupled with a 10% increase (and I feel I am underestimating here) in share price, the end result is the following for Liberty Media :
| | |
| --- | --- |
| Initial Stake | 50% |
| Initial Value | $10 Billion |
|   |   |
| Stake After Buyback | 55.6% |
| Value After Buyback | $12.23 Billion |
The math for this is as follows :
Initial Stake (50%) / Remaining Percent After Buyback (90%) = Stake After Buyback (55.6%)
Initial Value ($20B) X Expected Appreciation (10%) = Value After Buyback Total ($22B)
Value After Buyback Total ($22B) X Stake After Buyback (55.6%) = Liberty Value After Buyback ($12.23 Billion).
Financial wizardry? Perhaps. This certainly is a highly speculative bit of writing. But by not participating in the buyback Liberty can and likely will grow the value of its stake, and in this example Liberty grows the value of its stake by an amount greater than the buyback itself. If Liberty participated in the buyback from the start on a 1 : 1 basis? The results would not be as good. Liberty would remain at 50%, and the impact on the float would be roughly half. In this case, assuming 5% appreciation, Liberty would walk away with a value of $11.5 billion (Initial Value + $1 billion sold back + half of $1 billion appreciation). By selling now Liberty would lose out on future appreciation of the share price, future effects of buybacks, and future effects of company performance.
The key here is whether or not Liberty feels that buybacks will increase the share price of Sirius XM, and whether or not Sirius XM will perform as a company in a fashion which increases the share price as well. If the price of Sirius XM is seen by Liberty as something which will appreciate faster than Liberty can gain on that cash elsewhere, and if Liberty has no pressing needs for cash in other areas, then Liberty could be content with not participating in the buyback. Thus Liberty reaps increased rewards through share price appreciation coupled with an increasing stake in the company for $0 investment on Liberty's part.
I see this as a complete win win situation for Liberty. Liberty can increase its stake organically, and get the "bait" back towards the end of the buyback period if Liberty chooses to go the Reverse Morris Trust route so that it does not spin out cash with the company. Time will tell how this plays out.
Disclosure: I am long SIRI. I wrote this article myself, and it expresses my own opinions. I am not receiving compensation for it (other than from Seeking Alpha). I have no business relationship with any company whose stock is mentioned in this article.
Additional disclosure: I am long SIRI $2 January 2014 call options.