There is no doubt that Clorox (NYSE:CLX) is benefitting from this season's terrible Flu, common cold, and Norovirus season. With so many viral bugs circulating in our homes, workplaces, malls, stores, planes, trains, and automobiles, consumers have been buying many of the cleaning products that Clorox offers to help halt the spread of these nuisances.
The company beat its earnings expectations for Q4 2012 by 14.8%, reporting an EPS of $0.93 vs. an estimate of $0.81. Top line quarterly revenue increased 8.5% year-over-year, while quarterly earnings increased 17.1% year-over-year. Clorox pays a respectable dividend of 3.2%. Clorox raised its dividend every year for 35 straight years, giving the stock a dividend champion status.
All of this is great until we look at the valuation. Clorox looks clearly overvalued with a trailing P/E of 18.87, forward P/E of 17.31, and a PEG ratio of 2.19. Although those figures aren't terrible, they do fall above the market's average. The real kicker in terms of valuation is the price to book ratio of 189. Even an overvalued stock such as Amazon (NASDAQ:AMZN) has a price to book ratio of 14.42 that pales in comparison to Clorox's p/b ratio. Clorox's competitor, Colgate-Palmolive (NYSE:CL), has a price to book ratio of 24 which also pales in comparison. Another competitor, Procter and Gamble (NYSE:PG), has an attractive price to book ratio of 3.16. Interestingly, if Clorox was trading at Procter and Gamble's price to book ratio, its stock price would be only $1.36. That thought is scarier than the Norovirus.
When looking at the Clorox balance sheet, we see $445 million in cash and $2.67 billion in debt. Another ugly figure is the debt to equity ratio of 4,775. As a comparison, Procter and Gamble has a debt-to-equity ratio of about 50, while Colgate-Palmolive has a debt-to-equity ratio of 219.
Now, I'm not calling for the demise of Clorox. However, I just want to point out to investors that the stock looks extended at current levels and may be at risk for a correction. It's just not trading at attractive levels right now.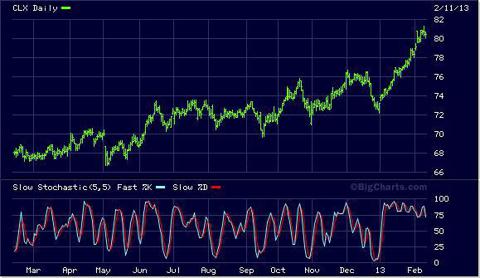 On a positive note, Clorox is expected to grow earnings annually at 8.5% for the next five years. This is in-line with the expected growth of the S&P 500.
With all of this in mind, I'm not in favor of shorting Clorox, but I also don't see it as an attractive buy right now. Procter and Gamble looks like the better pick in this space in my opinion. PG sports a 3% dividend yield, has a much more attractive price to book ratio, and is expected to grow earnings annually at about 8% for the next five years.
Disclosure: I have no positions in any stocks mentioned, and no plans to initiate any positions within the next 72 hours. I wrote this article myself, and it expresses my own opinions. I am not receiving compensation for it (other than from Seeking Alpha). I have no business relationship with any company whose stock is mentioned in this article.