As uncertainty tugged at the broader market over the last few months, the PowerShares Water Resources Portfolio (NYSEARCA:PHO) steadily made gains in our Sector Momentum Tracker rankings. From October 28, 2008, to January 20, 2009, PHO moved from the No. 61 position to No. 45 in our rankings, a strong move spurred by the outperformance of PHO relative to the total market. For the three months ended January 23, PHO's NAV return outperformed the S&P 500 by more than 14%. As nervous investors channel investments into "products you can't live without," PHO could continue its advance into 2009 as a rebalanced portfolio and legislative initiatives help the fund gain its footing.
Many investors still consider commodities a safe haven in an uncertain market.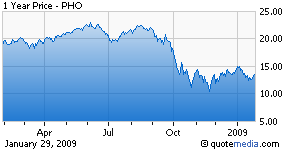 While PHO's theme may be an unusual one, water is arguably the world's most important "commodity"—everyone needs it, and there is a limited supply. PHO, PowerShares' first water ETF, was the first of its kind, launching in 2005, more than a year before any of its current competition. PHO's 31 components are derived from the Palisades Water Index, which seeks to identify companies that focus on providing potable water, treating water, and developing technology and services directly related to water consumption.
PHO's recent recovery comes after a difficult period for the fund and the market in general. From August 15, 2008, to November 20, 2008, the value of PHO's shares dropped more than 50%—falling from $22.42 to $10.43 during that period. Since late November, however, a steady recovery has taken place in PHO, and shares have risen more than 21% to their January 23 price of $12.67. While PHO can be viewed as a commodity or utility play, the recent improvement in PHO has been credited to its use as an infrastructure play as the new administration took office in January. Infrastructure projects are one of the means that President Obama plans to use to bolster the economy.
The largest component in PHO's underlying basket, Itron (NASDAQ:ITRI), constitutes 5.64% of the fund's assets. In addition to providing services for water meters, ITRI also provides metering for electricity, gas and heat. Since Inauguration Day, lobbyists for electrical utility companies such as ITRI have shown up in droves in Washington, hoping to benefit from the $11 billion pledged by President Obama to improve our electrical-transmission system. Stephen Sanders, a managing partner at securities firm Stevens Inc., favors ITRI as a recipient of federal funds, because the company is already making money in the sector. While ITRI's water-metering business might not be the primary factor that boosts PHO's top holding, owners of the ETF will benefit from the company's diversification.
PHO's second-largest holding, Danaher Corporation (NYSE:DHR), also provides diversification beyond simply water services. DHR, which constitutes 5.29% of PHO's portfolio, designs a wide range of professional, medical, industrial and consumer products. Success in the professional instrumentation segment of DHR's business, which includes the production water-quality instruments and industrial water treatment solutions, helped the company to report better-than-expected results on January 26.
While PowerShares' other water resources offering, the PowerShares Global Water Portfolio (NYSEARCA:PIO), does not include ITRI or DHR in its top ten holdings, these companies are present in the portfolios of the other two available water ETFs. As PowerShares launched PIO in mid-2007, Claymore and First Trust debuted their water resource offerings, the Claymore S&P Global Water Index ETF (NYSEARCA:CGW) and the First Trust ISE Water Index Fund (NYSEARCA:FIW). The four water ETFs track different indexes, but DHR comprises an almost identical portion of CGW—5.26%—as it does PHO. While Claymore's FIW excludes DHR from its top ten components, it does allocate 4.21% of the portfolio to ITRI.
Despite the similarities among PHO, CGW and FIW, there are several important factors that investors should examine before selecting a U.S.- focused water fund. For a three-month period ending January 23, PHO's NAV returned 2.63%, while CGW's NAV returned -0.31% and FIW's NAV increased an impressive 7.32%.
While comparing returns will be useful for prospective water investors, it is also important to compare the relative liquidity of the water ETF funds before deciding which one best fits individual needs. The three-month average trading volume for PHO is 582,242 shares daily, compared with 73,262 for CGW and 19,937 for FIW, according to data available on yahoo.com. The longer track record for PHO has helped the fund to become more liquid than the competition, an important factor for skittish investors who might need to get in and out of the fund with relative ease.
Another important measure is concentration and exposure. PHO has 31 components in its basket, with the top ten components accounting for nearly 46% of the fund's assets. FIW has almost the same number of components as PHO—37 in total—with the top ten holdings accounting for approximately 40% of FIW's assets. CGW has considerably more components, 49 in total, but rather than reducing your exposure to any one component, CGW's methodology places more than 62% of the fund's assets in the top ten components. Together with measures of liquidity, an examination of the concentration and exposure of the available water ETFs is useful for those investors looking to exploit upcoming infrastructure trends in 2009.