When it comes to recommending investments, investors want to be in the best. Whether it be best growth, best balance sheet, or any other item, investors like the best. So when I look at certain industries, I like to look at what companies are in that space. When it comes to medical devices and equipment, surgical robot maker Intuitive Surgical (NASDAQ:ISRG) has been a leader for years. Intuitive is known for the da Vinci Surgical System. The company is a profit machine, offers strong growth, the cleanest balance sheet out there, and sky high margins. Today, I'll show why Intuitive Surgical remains best of breed.
Recent results:
A couple of weeks ago, Intuitive announced its fourth quarter and full-year results. Intuitive is known for blowing out earnings estimates and they did so again. In the 4th quarter, the company had revenues of $609.3 million, blowing out estimates for $584.4 million. On the earnings per share front, the company reported $4.25, which beat analyst estimates for $4.04. Over the past four quarters, the company has beaten earnings estimates by an average of 5.5%. This company doesn't beat by a penny or two. It beats by nickels, dimes, quarters, or more. The stock rose 9.4% on the positive news.
Strong growth history:
For the full year in 2012, Intuitive Surgical reported revenues of nearly $2.18 billion, up more than $421 million over 2011 levels. That represented revenue growth of about 24%. Intuitive is still growing at a solid pace, with analysts expecting mid-to-high-teens revenue growth this year and next. The following chart shows the company's revenues since 2006, with the 2013 and 2014 numbers being the current analyst estimates.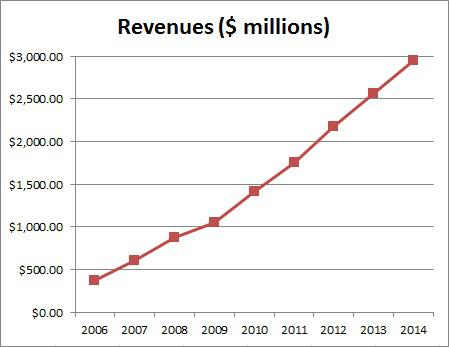 In 2006, the company had less than $373 million in yearly revenues. In 2014, the company could top the $3 billion mark. The current estimate is for $2.95 billion, but we know how conservative analysts have been.
The same can be said for earnings per share. The following chart shows Intuitive's GAAP earnings per share from 2006 to 2012. Earnings per share have gone from less than $2 per share to nearly $16 in 2012. This isn't exactly small growth.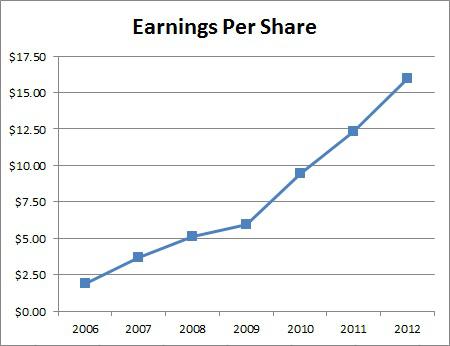 Now part of that growth was due to a tax break earlier in 2012, so if you were to look at Yahoo Finance's page, it shows $15.98 as the trailing 12-month figure, which is the correct GAAP figure. However, on the earnings page, it shows the adjusted figure of $15.04, because this is the adjusted number - the one analysts use.
For this reason, my chart above does not show the 2013 and 2014 estimates for earnings per share like my revenue one did, due to the difference. So here is what analysts think. After an adjusted $15.04 in 2012, analysts see $17.65 in 2013 and $20.59 in 2014. Roughly a year ago, when I called Intuitive a potential $700 stock in less than two years, analysts were looking for just $16.94 in 2013 earnings. I've been saying that $18 is definitely possible in 2013, and analyst estimates have been rising to reflect that.
A high margin business:
Intuitive Surgical is a very profitable business. As you can see from the margin table below, the company has gross margins over 70%, operating margins over 40%, and profit margins over 30%. These are the full-year GAAP margins for the company.

Product gross margins have come down slightly in the last two years, which is a little concerning given that product sales represented a little more than 84% of the company's total in 2012. However, service gross margins have come up nicely in the past two years, softening some of the blow. I'm more concerned with operating margins, which have increased strongly in recent years. The company has been able to effectively control operating costs, which have declined from 35.52% of revenues in 2009 to just 31.77% of revenues in 2012. Net profit margins jumped a bit in 2012, and part of that was due to a tax break. If the tax rate rises in 2013, profit margins will decrease, but if the company is able to increase operating margins some more, that decrease should be rather small.
The key takeaway here is that this company is very profitable. For every dollar of revenues coming in, the company records profits of 30 cents. There aren't a lot of businesses that can say that. Additionally, with the strong revenue growth I mentioned above, total profits will continue to soar. I wouldn't be surprised to see the company hit $1 billion dollars in yearly profits in the next two or three years.
An amazing balance sheet:
When it comes to clean and impressive balance sheets, you won't find many better. Of the companies that I follow, I think Intuitive has the best all around balance sheet when looking at financial metrics. The table below shows some key balance sheet data at the end of the past three years, as well as the change from the third to fourth quarter of 2012. Dollar values are in millions.

While the debt (liabilities to assets) ratio increased from the third to fourth quarter, the jump was very small. Intuitive Surgical has nearly $8.50 of assets for every $1.00 of liabilities, and the company has no outstanding debt. The current ratio is at an extremely healthy level, and working capital is at an all-time high.
The company also increased its cash and investments pile (which includes cash and equivalents, short and long-term investments) by over $200 million in the fourth quarter alone, and nearly $750 million on the year. Of that cash pile, $2.466 billion, or 84.45%, is located domestically. Thus, it is available for the company's buyback plan and any potential dividends the company might wish to pay down the road. Intuitive only has about $454 million located outside the United States, and does not intend to repatriate any of those foreign earnings at this point. Unlike many large technology companies, most of Intuitive's cash pile is held within the United States.
Having a large cash pile will help the company to buy back stock going forward. The company already has an active buyback program, and they bought back $53 million worth of shares during the fourth quarter for an average price of $524.21, well below where the stock currently resides. At the end of the fourth quarter, the company had approximately $330 million left on its current buyback plan. If Intuitive starts buying back more shares, they will be more than able to offset executive option dilution, which could start to decrease the outstanding share count. The buyback plan is already helping earnings per share, and it will continue to do so in the future.
Not a large short base:
With Intuitive beating estimates a lot and producing decent growth rates, this name is not a name short sellers have been very interested in. Even with a valuation that looks really high, which I'll get to later, the number of shares short in this company has not been above 3 million in the past year. That's less than 8% of the roughly 40 million shares outstanding. I put together the following chart showing the short count since mid May of last year.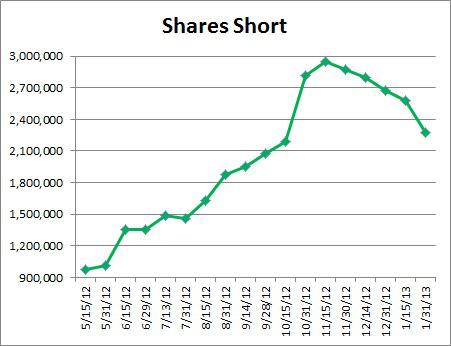 You will notice that the number of shares short did rise later in the year, especially after the company's third quarter earnings report. The company stated it would be facing some headwinds going forward, and that sent the number of shares short spiking. However, it started to quickly come back down, even after notorious short seller Citron Research issued a negative report, which sent shares from $550 to $480. Over 400,000 shares short were covered in January alone. The number of shares short has come down roughly 23% from the mid November high.
The moral here is that there are not too many non-believers in this company. The end of January number of shares short represented less than 6% of the outstanding share count. That's not really a large number, when you consider the number of growth companies out there that have 20%, 30%, even 50% of more of their outstanding share count short. I'm not saying that this stock can't drop, especially around earnings reports. What I am saying is that there aren't too many that believe this company is in trouble going forward.
The valuation argument:
There are some out there that question the valuation that Intuitive's stock trades at. On the face of it, it does seem high when looking at the number. However, as I've detailed above, this is an industry leader with strong growth, high margins, a stock buyback, and an amazing balance sheet. Sometimes you have to pay a premium for a company like this, and investors have been willing to in the past. I don't see a reason why they wouldn't in the future.
The following table shows the high and low price-to-earnings multiple this company has traded at over the last seven years. I've calculated the multiple by using the high and low share price for the year, as well as the actual earnings reported by the company for the year (where they ended up being). For example, in 2008, the company reported $5.12 in earnings per share, had a high share price of $357.98, and a low share price of $110.35. The 2012 numbers use the $15.98 earnings per share figure.

As you can see, the high P/E number has come down over time. This company isn't trading for the 50, 70, or even 90 or more times earnings it used to. It isn't even trading for 40 times that year's earnings. The low P/E number did come up in 2012, which I think is due to the loyal base of shareholders. Between those that love the company and the stock buyback, this stock doesn't stay depressed for long. I think that the stock will continue to trade for 30-35 times earnings for this year at least, and I'll have more on what that means later on.
Intuitive going forward:
When it comes to this stock over the next year or two, there will be a few items I will focus on the most.
The first item is obviously the growing revenues and earnings. As I stated above, the company could do more than $3 billion in revenues in 2014. Even if the net profit margin comes down slightly, profits will soar as well. A 29% profit margin on $3 billion in revenues is a lot more in net income than a 30% profit margin on $2.2 billion in revenues.
Increasing profits will lead to an increase in cash flow, which will boost the company's cash and investments pile as well. That cash pile was up to $2.92 billion at the end of last quarter, and will likely exceed $3 billion this quarter (it might have already done that). Depending on how well they do this year and how much stock they buy back, I would expect the cash pile to exceed $4 billion during the first half of 2014.
Having a huge cash pile will be extremely beneficial to shareholders going forward. At present, I believe that the company has enough cash that it could buy back 10% of outstanding shares at current prices and still have enough cash left for normal operations, plus a margin of safety. I believe that the company's buyback will continue at a solid rate going forward, and may even accelerate. With the company almost printing cash at this point, they can easily announce an expansion to this buyback when the current program ends.
It is also possible that the company could start paying a dividend within the next couple of years. I don't expect this dividend to start out rather large, as it probably will start around 1% annually. However, as cash flows continue to increase, the dividend will likely increase. I don't see this stock being a dividend monster anytime soon, but I would not be surprised if they started paying a small dividend sometime in the next five years.
Conclusion - tremendous potential ahead:
Intuitive Surgical has been one of the best growth stories of the best decade, and the future is just as bright. The company is still growing at a decent clip and there are many things to like about them. High margins will allow profits to continue rising briskly, which generates a ton of cash. That increased cash pile makes the balance sheet better and allows the company to buy back its stock, which benefits earnings per share.
In 2013, analysts expect $17.65 in earnings from Intuitive Surgical. Given how the company consistently beats estimates, I don't think $18.00 is out of the question. If we see any economic improvement in Europe or the company buys back more stock, $18.50 or more might not be out of the question. I provided the following table to show what the stock could trade at depending on an earnings level (on top) and price-to-earnings multiple (on left), with the yellow areas representing prices higher than Monday's closing price.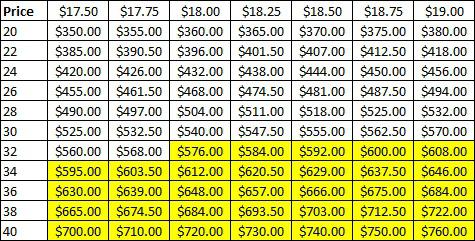 If Intuitive Surgical does $18.00 in earnings during 2013, I think it will trade for at least 35 times earnings this time next year, assuming there isn't some "game-changing event" that occurs. That gives a price of $630, which is a little higher than the median analyst price target of $620 currently. However, if we see an earnings number of $18.50 or higher, I think that valuation expands, and I still think $700 is possible within the next 12 to 18 months. Intuitive Surgical remains best of breed, and that means there is tremendous potential ahead.
Disclosure: I have no positions in any stocks mentioned, and no plans to initiate any positions within the next 72 hours. I wrote this article myself, and it expresses my own opinions. I am not receiving compensation for it (other than from Seeking Alpha). I have no business relationship with any company whose stock is mentioned in this article.
Additional disclosure: Investors are always reminded that before making any investment, you should do your own proper due diligence on any name directly or indirectly mentioned in this article. Investors should also consider seeking advice from a broker or financial adviser before making any investment decisions. Any material in this article should be considered general information, and not relied on as a formal investment recommendation.